Biographies of insurgents
Major Wacław Chojna, codename "Horodyński"
---
Wacław Chojna,
also known by codenames "Majewski", "Młotek", "Świerczyński", "Świerk", "Horodyński"
soldier of the Home Army (AK) in the rank of Major.


Wacław Chojna was born on 4 August 1907 in Zaslav, Volhynia. His father Cezary was a state official and mother Helena Paschalis-Jakubowicz, of the Jakubowicz coat-of-arms, was a great-granddaughter of an exiled insurgent from the January Uprising of 1864. He had a younger brother, Kazimierz.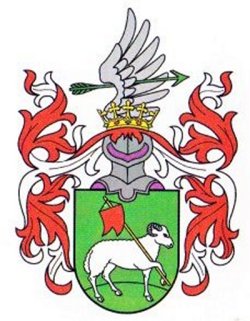 Jakubowicz coat-of-arms
Wacław attended the State Gymnasium in Ostroh in then Eastern Poland (Wolyn) and as of the fifth grade the State Gymnasium in Zdolbuniv, where in 1927 he obtained his high school diploma, for which he sat exams in subjects including Latin and Greek, in which he excelled.
In 1928-1930, he attended the Artillery Officer Cadet School in Toruń.


Completion certificate from the cadet school and officer's commission
After completing the school in August 1930, he was posted to the 4th Cuiavia Light Artillery Regiment (4. PAL), where he was soon promoted to battery commander. The regiment was stationed in Inowrocław.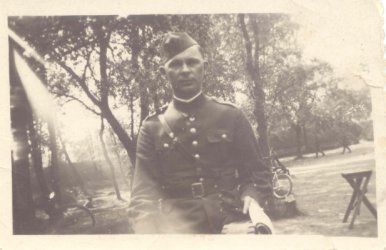 Second Lt. Wacław Chojna at military exercise in 1933
Wacław Chojna loved sports, he practised fencing, equestrian vaulting, show jumping,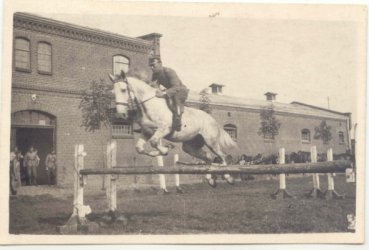 Wacław Chojna at an equestrian tournament in 1933
skiing, skating, gliding. He paid little attention to material things: in 1939 he won a lottery jackpot - all that he bought with it was a pair of new skis; he was too busy with his sports to bother depositing the rest of the money in a bank or investing it. With the coming of the war the money lost its value.

Glider pilot licence
He was also a keen hunter and won several fox hunts on his favourite white horse "Blackie".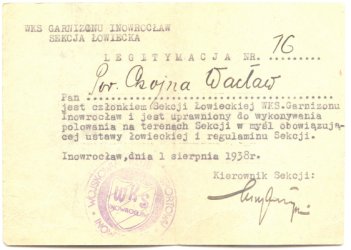 Wacław Chojna's hunting card from 1938
In 1934, Lt. Wacław Chojna married Maria Dzikiewicz.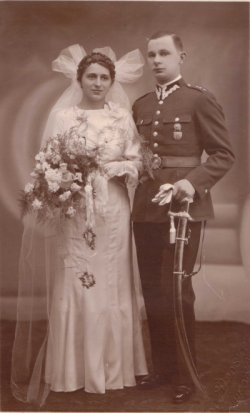 Wedding photograph 1934
In December 1936, his first daughter, Krystyna, was born, and in January 1938, his second daughter - Anna.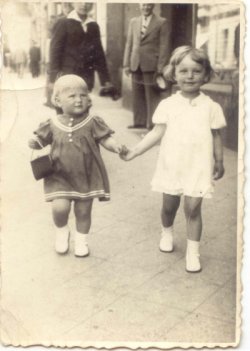 Krystyna and Anna, daughters of the Chojna family, spring 1939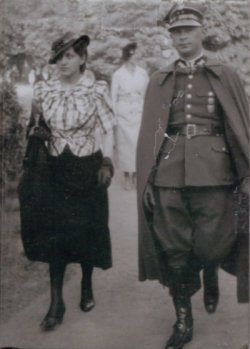 Lt. Wacław Chojna with wife Maria in Solanki, 1936
He also travelled together with his father-in-law, Andrzej Dzikiewicz, Inowrocław-based painter and sculptor.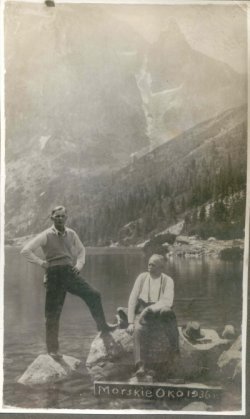 Wacław Chojna with Andrzej Dzikiewicz at Morskie Oko, 1936
During the September Campaign of 1939, Lt. Wacław Chojna commanded two batteries, was deputy commander and acting commander of the 1st Squadron 4.PAL (4th Cuiavia Light Artillery Regiment) 4th Infantry Division of the Pomeranian Army led by gen. Władysław Bortnowski. Together with his troops he fought in the Battle of Bzura. In his report on the September Campaign of 1939, he complained about the poor equipment they were armed with (e.g. a Spanish revolver from World War I). His account of the September Campaign is kept at the Polish Institute and Sikorski Museum.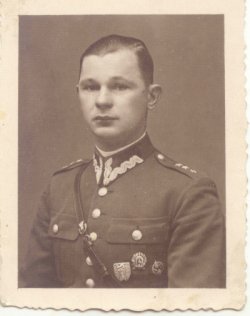 Lt. Wacław Chojna, 1939
Following defeat in the battle, he was taken prisoner. During the train ride with other prisoners-of-war to the Oflag, he escaped from the transport near Kutno. In spite of heavy fire, he got away unscathed. He took shelter at a farm where he was turned in by the farmers, given up to the Germans and rearrested.
He ended up in a provisional detention camp for POWs, where he started simulating an illness and got moved to a facility for sick prisoners. He got released with a forged typhoid diagnosis issued by a German doctor who aided his escape (after being shown a photo of Chojna's two daughters, who were the same age as his own).
He got to Inowrocław, where he got a job as a manual worker in a soda factory in Mątwy. He was soon warned that the Gestapo had taken an interest in him. In this situation, he left for Warsaw in November 1939.
He stayed with his first cousin - Zofia née Kęstowicz, and her husband Stanisław Colonna-Walewski. Stanisław Colonna-Walewski was a director at the vodka factory Haber Busch-Schiller. Already by November 1939, he had joined the Union of Armed Struggle (ZWZ), into which he recruited Wacław Chojna in December of the same year. He himself got arrested by the Gestapo in 1942 (one of his neighbours informed on him for keeping secret documents in a hiding place under the stairs). He was interrogated at the Gestapo torture chambers of the Pawiak prison and ended up in the Auschwitz concentration camp, which he survived.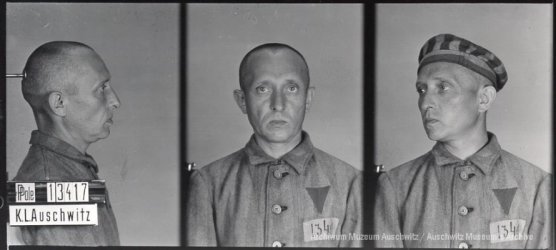 Stanisław Colonna-Walewski's camp identification photos
During the occupation, Wacław Chojna was also assisted by other relatives in Warsaw. His first cousin Maria Jakubowicz-Dettloff put him up and fed him. During the war, she lived at ul. Kozietulskiego 1/8 in the district of Żoliborz. The flat belonged to her brother and sister-in-law, Zygmunt Jakubowicz and Irena Kępińska. Maria's brother, who defended Warsaw as a pilot in 1939, was captured by the Germans and spent the rest of the war at Oflag Woldenberg Ost, liberated by the Russians in 1945. His wife Irena, a pre-war lawyer at the Ministry of Foreign Affairs, withdrew from Poland in 1939 with Józef Beck and went to London, where she remained until the end of the war. Her father, Władysław Kępiński, a friend of the Archduke Karol Olbracht Habsburg, was taken from the manor in Moszczanica to Dachau and then Mauthausen Gusen concentration camps. Maria's husband, Col. Włodzimierz Dettloff, commanded a cavalry regiment in Płock in 1939. He was taken into German captivity and sent to Oflag Woldenberg West, which was liberated in 1945 by the Americans.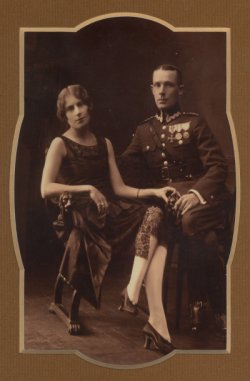 Maria Jakubowicz and Włodzimierz Dettloff in 1935.
Between 1943 and the outbreak of the Warsaw Uprising, risking her own life and ła that of her daughters, she hid three Jews in the apartment: Stanisława Rybińska, Marianna Schowans and an orphan girl. Her daughters spent a lion's share of every day in queues trying to get food for the three fugitives. Poland was the only country under Nazi occupation where death penalty or a sentence to Auschwitz for helping the Jews was sanctioned towards entire families. Many thousands of Poles died this way.
Wacław Chojna also got help during the occupation of Warsaw from the brother of his father-in-law, Jesuit priest Władysław Dzikiewicz, who during the Warsaw Uprising was the parish priest at St. John the Baptist Cathedral in the Old Town (and earlier was the General of the Jesuit boys' boarding school in Chyrów). He helped organise food for the Home Army, too.
After the outbreak of the war, Maria Chojna with her daughters and the wives of other officers followed the army to Warsaw. The military supplied them with horse-drawn carriages, so they were able to take their most prized possessions with them. Halfway there, the convoy was bombed. By chance, they encountered German troops stationed nearby and their commander behaved gallantly towards officers' wives, warning them of heavy fighting in and around Warsaw. They had to turn around. Maria Chojna on the way back decided to leave chests with her possessions (silver, china, paintings) for safekeeping at the village where her nanny came from. All the chests had mysteriously disappeared by the time the war ended. Throughout the whole journey they witnessed continuous bombing of the civilian population, Maria herself miraculously survived one such episode. She returned to Inowrocław on foot with a 1.5-year-old and a 2-year-old daughter and no possessions, selling off her jewellery on the way to pay for food and shelter. No sooner had they got back than the Germans evicted them from their home, and the same thing happened to her parents; all got sent off to the town of Radomsko. Under these circumstances, they found refuge at her father's brother's, Michal Dzikiewicz, in Kraków.
Michal, a doctor in the Army, was scheduled to escape with government officials to Romania during the surrender of Lwow to the Soviets in 1939. However he miraculously ran into his own wife and small son (who had miraculously survived heavy Nazi bombings of civilians while they had been spontaneously searching for Michal). In the end they all decided to return home to look for their two missing daughters. Together with thousands of soldiers and inhabitants of Lvov he witnessed young Jews shooting at the Polish army, who chose to take side of the occupying Soviet forces.
Wacław Chojna barely managed to come to Krakow to visit his wife and family as Gestapo was always on his trail. During brief visits his small daughters had to call him an 'uncle'.
Even in those first few months of the German occupation, many underground resistance movements spontaneously sprung up. In January 1940, Wacław Chojna joined one of them: The Union of Military Action (Związek Czynu Zbrojnego - ZCZ).
In the spring of 1940, out of the farmers'' underground organisation "Racławice", a new group emerges and starts operating independently: the Polish Armed Organisation (Polska Organizacja Zbrojna - POZ). Many young officers join its ranks, devastated by the September defeat and quite critical of the wartime conduct of superior officers.
POZ is joined by many smaller underground organisations: The Polish Fighting Squad (Polska Organizacja Bojowa), the Military Organisation of Freedom "Sign" (Wojskowa Organizacja Wolności "Znak"), part of the Union of Military Action (Związek Czynu Zbrojnego - ZCZ), part of Secret Army Poland (Tajna Armia Polska - TAP), part of National Defence Guards (Gwardia Obrony Narodowej - GON), part of the Military Organisation "Wolves" (Organizacja Wojskowa "Wilki") as well as part of "Reveille" ("Pobudka"). The new fortified organisation took the name of the Polish Armed Organisation "Sign" (POZ "Znak").
Among other officers, Lt. Wacław Chojna also joined the ranks of POZ. The Commander of the First District Warsaw-city was Commissioned Capt. Wacław Janaszek ("Jaryna", "Radomski", "Bolek"). The chief-of-staff was Capt. Stanisław Steczkowski "Zagończyk" and head of the Second Unit - intelligence and counter-intelligence, Capt. Wacław Chojna ("Świerczyński", "Świerk", "Majewski", "Młotek", "Horodyński"). The staff remained in this form between March 1940 and December 1941. In December 1941, Capt. Wacław Chojna was appointed commander of the Warsaw poviat for POZ. The POZ district Warsaw-city trained sappers, drivers, gunners. Capt. Wacław Chojna formed and trained an artillery squadron in Legionowo.
The Polish Armed Organisation POZ starts cooperating with ZWZ as early as in spring 1940, following the directive of the ZWZ Commander-in-Chief, Gen. Stefan Rowecki "Grot". The two organisations prepare to merge. Some of the POZ officers are also active in ZWZ structures at the same time. The Commander of the First District POZ Warsaw-city, Commissioned Capt. Wacław Janaszek joins the "subversion staff" of the ZWZ Union of Retaliation (later known as 'Kedyw'-Kierownictwo Dywersji-Directorate for Subversion). He is responsible for the coordination and joint tactical operations of ongoing active combat. In April 1941, Capt. Wacław Chojna joins ZWZ-AK and is sworn in by Wacław Janaszek "Bolek".
Capt. Wacław Chojna's duties include cooperation with the Artillery Department of the Home Army HQ (KG AK) with regard to training and publications. He also undergoes two-year division commander training with 34 squadron.
In line with the KG ZWZ directives, in 1942 POZ started transferring its troops under the command of ZWZ-AK. The process continued throughout September-November 1942. On 31 October 1942, pursuant to the integration agreement Maj. Wacław Chojna handed over to the Home Army the troops and equipment from the 7 posts under his command in the following Warsaw poviats (counties): Radość, Pruszków, Włochy, Ożarów, Rembertów, Legionowo and Piastów.
Taking command in these poviat, he had a hard time putting the structures in place, not only due to staff shortages, but also certain disruptions in communications in the organisation, caused by earlier arrests. He nevertheless succeeded in completing the tasks entrusted to him.
Prior to the integration, with his superior officer Major Wacław Janaszek, he was active in ZWZ structures. After the organisations integrated, he was transferred to work at the Kedyw KG AK (Directorate for Subversion of the Home Army Headquarters), where as of December 1942 he was appointed head of the First Organisational Unit "Magistrate/Gathering", which was Kedyw's legislative unit.

| | |
| --- | --- |
| | |
Commemorative gorget from the employees of the First Unit
This First Unit was divided into two sub-units. The organisational and personnel arm was under direct command of the Unit head, Wacław Chojna. The scope of his duties included all organisational and personnel matters of Kedyw. The Legislative arm (within the First Unit), from June 1943, was led by the Unit's deputy head 2nd/1st Lt. Stanisław Wierzyński "Klara", who was responsible for supplying documents for Kedyw's current operations.
Wacław Chojna, together with Major Janaszek, was also responsible for the KG AK Archive; they were assisted in storing files by the courier "Hesia" - Janina Stępniewska, who subsequently served as Chojna's chief liaison officer during the Warsaw Uprising. For her bravery, she was decorated with the Virtuti Militari Cross V class.
In 1941, ZWZ HQ established a special organisation, "Wachlarz", to carry out subversive operations at the rear of the Eastern front. POZ troops often provided support to the subversive actions organised by "Wachlarz". Subsequently, KG ZWZ decided to incorporate the tasks realised by "Wachlarz" into the newly established "Kedyw" (Kierownictwo Dywersji, Directorate for Subversion). The group of several officers responsible for liquidating "Wachlarz" included Maj. Wacław Chojna, acting head of the First Organisational Unit at Kedyw of KG AK.
Throughout the occupation, Wacław Chojna remained in Warsaw. Due to the nature of his service, he moved apartments frequently, for a while staying at ul. Krajewskiego 2 in the district of Żoliborz. He made several daring escapes from the Germans, for instance when arrested during a roundup he jumped out of a moving truck which transported the arrestees in ul. Długa. Despite heavy fire, he managed to get away.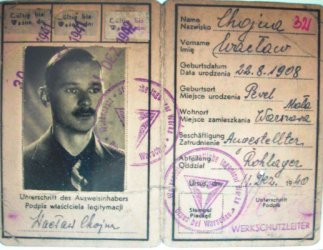 Wacław Chojna's fake ID card from Ursus
He was decorated for his involvement in POZ with the Gold Cross of Merit with Swords. In his proposal for the award signed on 5 May 1944, Maj. Wacław Janaszek "Bolek" writes:
""Świerczyński" vel "Majewski", "Świerk" (currently "Horodyński") Artillery Captain (permanent active duty), 1942, before the war battery commander 4.PAL, during the war battery commander and acting squadron commander 4.PAL, currently Kedyw 81 - head of I. Following the campaign of 1939, escaped from the transport train headed for an Oflag near Kutno. Jan 1940 - ZCZ Warsaw, Mar 1940 POZ - 2nd Unit, Dec 1941 - commander of Warsaw poviat POZ, Dec 1942 Kedyw 81 - head of I. Two-year division commander training organised by 34th squadron.
Statement of grounds: He works under hard conditions, with meagre material resources, thanks to his energy and commitment to work, he's had considerable achievements for the conspiracy organisation, especially as poviat commander for Warsaw. He restructured the troops existing in individual towns by carrying out inspections to select assets of actual value to our work. He handed over the area under his command to PZP (Polski Związek Powstańczy, codename ZWZ, AK) once it was thoroughly organised. At the same time, he devoted any spare minute at the artillery squadron he formed in Legionowo in permanent cooperation with the artillery department in the field of training and publications."

Private documents from the occupation period can be found in the WBBH collection (Military History Research Office), III/21/15, k.32-36.



Wacław Chojna's award proposal
When the Warsaw Uprising broke out, Kedyw units were incorporated into the "Radosław" Grouping. Its ranks included the battalions: "Zośka" and "Parasol", "Miotła", "Czata 49", "Dysk", "Kolegium A". Maj. Wacław Chojna "Horodyński" was the head of communicatins for the 'Radoslaw' Grouping. His POZ commander, Maj. Wacław Janaszek "Bolek" was chief of staff, deputy commander of the Grouping.
Wacław Chojna took part in the Grouping's entire combat trail from Wola in the North, through Stare Miasto, Czerniaków, Mokotów and Śródmieście. In his "Record of insurgent operations of "Radosław" Grouping he writes little about himself, e.g. we can read that:
On 1 August at 16:40, under the command of Lt. Col. "Radosław" he participates in capturing a bus with munitions at ul. Okopowa 41, thus starting the uprising before the W-hour (17:00).
On 3 September, during fighting in the Czerniaków district, he devises a communication code which was then used in transmissions by couriers with a system of shields (code signs: 5 dots, 5 dashes and their combinations, 15-20 words in total, calling signal: drawing circles with two shields).
On 5 September, he becomes a commander of a reserve battalion in Czerniaków.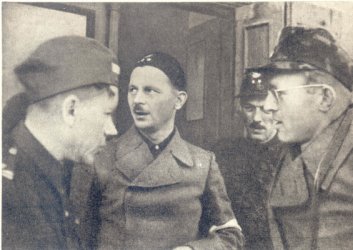 Beginning of August 1944 in the district of Wola. Standing from left to right: Col. Jan Mazurkiewicz "Radosław", Maj. Wacław Chojna "Horodyński", Lt. Stanisław Wierzyński "Klara"
On 23 September, after the survivors of the "Radosław" Grouping got to Mokotów through the sewers, he becomes chief-of-staff for the commander of 5 District Mokotów Circuit Warsaw Region.
On 24 September, he takes command of a subsection in Mokotów Circuit and is captured on 27 September as one of the last defenders of Mokotów.
For his bravery in the field of battle, he was decorated with the Virtuti Militari Cross V class. The award proposal, signed by Lt. Col. Jerzy Kuszycki on 30 March 1946 in the United Kingdom, reads:
1) "On the first night of the uprising he personally established communications between the command of the Radosław Grouping and the Headquarters with Gen. Bór [Tadeusz Komorowski], cut off in the factory at Dzika [Dzielna 72], pushing his way through German troops...".
2) "After Lt. Col. Waligóra [Remigiusz Grocholski] was injured [24 September 1944], he took the lead of the subsection at Skarpa Wiślana and Królikarnia, inspiring his troops to put up fierce resistance by his example, preventing the Germans from breaking through the section, which extended the resistance in Mokotów from 24 Sep to 28 Sep 1944."

| | |
| --- | --- |
| | |
Virtuti Militari Cross card issued in London
Together with other insurgents, he spent time at Oflags Sandbostel and Murnau.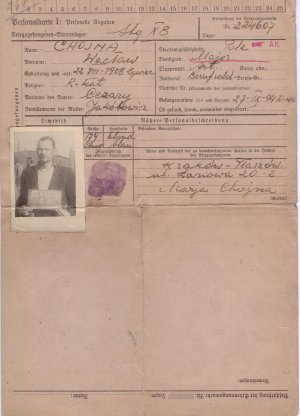 Wacław Chojna's Oflag ID card
At the Oflags, Wacław Chojna shared prisoner fate with many of his comrades from the "Radosław" Grouping. Together they participated in events at the camp.

Commemorative ticket from the meet of soldiers from the "Parasol" battalion at Oflag Murnau
While at the prison camp, together with Lt. Stanisław Wierzyński "Klara" he prepared the Record of insurgent operations of the "Radosław" Grouping. . "Klara" had been his deputy at the First Unit of Kedyw KG AK and during the uprising aide-de-camp to Lt. Col. Jan Mazurkiewicz "Radosław". The Record was a reconstruction of the Grouping's combat diary. It was completed on 3 May 1945 at Oflag Murnau and published in London in 2004.
On 29 April 1945, Oflag Murnau was liberated by American troops.

POW's provisional ID card
On 11 July 1945, Maj. Wacław Chojna was assigned to 2. PAL II 3rd Carpathian Rifle Division of the Polish Corps in Italy.

3rd Carpathian Rifle Division commemorative distinction card
Wacław Chojna (first from the left) with friends in Italy 1945
This was where he met Col. Włodzimierz Dettloff, husband of Maria, who - having left the Oflag - was appointed Town Major representing the Polish II Corps in Venice, Ravenna and Ancona; and their daughter, Olga.



Col. Włodzimierz Dettloff in Italy, 1945; right Lt. Dettloff and daughter Olga, Italy 1945
Along with the rest of Polish II Corps, Waclaw Chojna was transported to the United Kingdom.
In January 1946, he received a certificate from the Polish II Corps Verification Commission confirming his army service record and the rank of Major conferred during the occupation.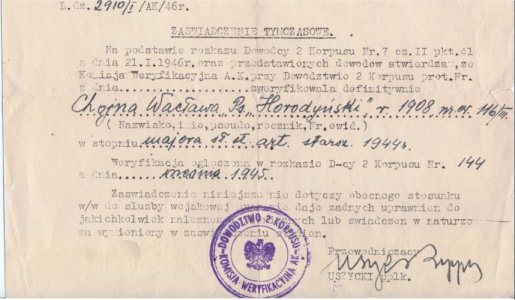 Verification Commission certificate
After failed attempts to bring his family into the United Kingdom, he decided to return to Poland, when he heard on the Polish radio that his father-in-law, Andrzej Dzikiewicz, painter and sculptor, teacher at the Kasprowicz secondary grammar school in Inowrocław, had died.
On 8 May 1947, with a group of other Polish soldiers, he was repatriated from Glasgow to Gdynia. He then went back to Inowrocław. Three months after he returned, he was arrested by the UB (secret police). He was taken to Warsaw for interrogation many times. In the Rakowiecka prison, one of his interrogators was Różański (Goldberg).
His wife Maria, who had spent the occupation in Kraków, after the war went back to Inowrocław with their daughters. She graduated from the Nicolaus Copernicus University in Toruń, achieving a Master's degree in Philosophy of History. She then taught history at the Konopnicka secondary school in Inowrocław. Her classes were regularly inspected by security and education authorities, who accused her of not teaching in conformance with the 'Marxist spirit'.
As punishment for her husband's past, the family were thrown out of their villa and not allowed to take any possessions with them. Maria with her daughters moved into her parents' apartment. Following numerous interventions, the UB officer agreed to give up Maria's piano from the confiscated villa, claiming that it was the only item to 'survive' an alleged fire, which never took place. The family were further forced to accommodate various tenants, including a UB officer with his family who terrorised the Chojnas and Dzikiewiczes. For example, he forced Maria to clean up the toilet after him and his family.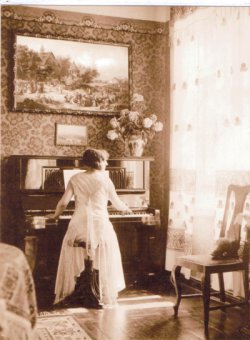 Maria playing her piano in 1928
Maria's piano survived the adversities and can now be found in the Warsaw apartment of the Chojnas' younger daughter, Anna Zofia.
After coming back to the country, Wacław Chojna took on various jobs. His application to the Faculty of Mathematics at the Toruń University of Technology was rejected. With the aid of Jan Mazurkiewicz "Radosław", he got a job at a craftsmen cooperative, which he subsequently chaired.
He was a member of ZBoWiD (Society of Fighters for Freedom and Democracy) whose vice president was "Radosław". During the June protests at the Poznań Trade Fair in 1956, he started a tank seized by the demonstrating workers.
Waclaw remained close with "Radosław" for the rest of his life. He died on 2 December 1976 in Warsaw. He was buried at the Powązki Military Cemetery, section 32C.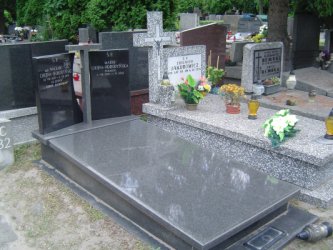 the grave of Maj. Wacław Chojna at the Powązki Military Cemetery
At his funeral, Jan Mazurkiewicz "Radosław" said: "Wacek, this is not the Poland you fought for".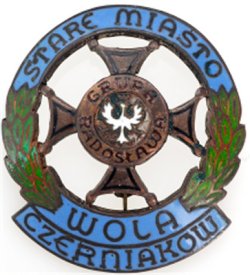 commemorative distinction of the AK "Radosław" Group
Maj. Wacław Chojna "Horodyński" received numerous decorations: the War Order Virtuti Militari V class, Gold Cross of Merit with Swords, Cross of Valour, Army Medal for War 1939-45, The War Medal (British), Home Army Cross, Warsaw Uprising Cross, Partisan Cross.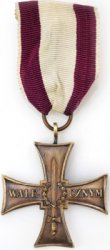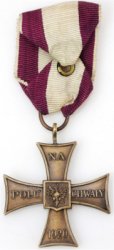 Virtuti Militari Cross and Cross of Valour
Home Army Cross card issued in London


Gold Cross of Merit with Swordsi






Army Medal for War 1939-45 and the English War Medal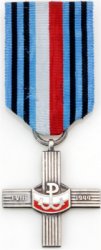 Warsaw Uprising Cross and Partisan Cross




As in many Polish families, the war left a deep mark on its members.
Zygmunt Jakubowicz, paternal first cousin, a pilot, was a prisoner at the Woldenberg camp 1939-1945.
Maria Jakubowicz's husband, Col. Włodzimierz Dettloff, the commander of 71st division of light artillery 8 PAL, a prisoner at the Woldenberg West camp in 1939-1945. In 1945, he was appointed a Military Town Major in Venice, Ravenna and Ancona by the Polish II Corps.
Stanisław Colonna-Walewski, the husband of cousin Zofia Kęstowicz, was a member of ZWZ, prisoner at Pawiak and Auschwitz 1942-1945 (prisoner number 13,417).
Maj. Jan Bryda, the husband of cousin Janina Jakubowicz, commander of 1st Battalion in 72 Infantry Regiment, was murdered in 1940 in Kharkiv by the Soviets.
His cousin, Maj. Michał Bryda, 3 Carpathian Rifle Division of Polish II Corps, fought in the Battle of Monte Cassino.
Romuald Kęstowicz, a young first cousin, "Roman", AK "Żyrafa" Group - Lt. "Kmicic" Company, fought in the Warsaw Uprising in the "Sienkiewicz" Group North.
Maria and Wacław's daughters, in spite of adversities, followed in the family's intellectual footsteps. Krystyna Danuta graduated from the Krakow Drama School and became a theatre actress. Her younger sister, Anna Zofia, completed medical studies at the Medical Academy in Poznań and became an eye surgeon.





Agnieszka Lawacz, granddaughter

elaborated by Maciej Janaszek-Seydlitz



P.S.

The Powązki Military Cemetery hides a secret, probably one of many.
Section 25A is the final resting place of 568 officers, cadets and servicemen who fell defending Warsaw in 1939. These soldiers were originally buried in various locations throughout Warsaw and then, between December 1939 and June 1940, they were exhumed by the City and moved to the military cemetery.
In that section, at the head of lot 1-14 (1st row, 14th grave), stands a cross with an inscription "Wacław Chojna, aged 32".



lot 25A 1-14 at the Powązki Military Cemetery

Two different publications shed some light on the grave:
- Ludwik Głowacki, Obrona Warszawy i Modlina 1939 [Defence of Warsaw and Modlin 1939], p. 389: "- Lt. Art. Wacław Chojna (4 Aug 1907 - 22 Sep 1939), 2 battery commander 4.PAL, 4 DP, fell in Bielany, I-44."
- collective work edited by Juliusz Jerzy Malczewski, Powązki Cmentarz Komunalny dawny Wojskowy w Warszawie [Powązki Communal Cemetery, former Military Cemetery in Warsaw], p. 220: "Chojna Wacław (1907 - 4 Sep 1939), 2Lt. Polish Armed Forces. In 1930 completed the Artillery Officer Cadet School in Toruń and then served in 4.PAL. During the 1939 Defensive War, commander of 2 battery 4.PAL 4 DP. Fell in the Warsaw district of Bielany. 25A-1-14."
The two entries provide conflicting information. One identifies Chojna as a lieutenant, the other as a second lieutenant. According to one, he died on 4 September, the other one says it was on 22 September. The provided interment sites are different, too, and one of them simply doesn't exist.
What is most interesting, however, is that the body resting in the grave is not that of artillery officer Wacław Chojna. During the September Campaign, Lt. Wacław Chojna, commander of 2 battery in the Light Artillery Regiment 4 Infantry Division (4.PAL 4 DP), fought in the "Pomorze" Army and took part in the Battle of Bzura. After the division was defeated, he was taken prisoner by the Germans on 21 September.
The subsequent events in his life are described in the biography presented above.
When he died in 1976 and the family went about organising an interment at the Powązki Military Cemetery, they found out that Wacław Chojna was already buried there. Since then, it has become a family tradition to light a candle on the other grave from 1939, too.
No-one knows who and why made the inscription on the cross in cemetery section 25A, and why a record was made of the fallen soldier's name. Probably we will never know who rests in the grave under the cross which says "Wacław Chojna, aged 32".


Maciej Janaszek-Seydlitz,

translated by Agnieszka Lawacz






Copyright © 2015 SPPW1944. All rights reserved.