5 Okrzei street - Praga Północ

The mural is to be seen on the side wall of a pre-war tenement house in 5 Okrzei street. It was painted in the year 2012 by Maciej Pakalski and Dominik Robak. This project had been funded by the "Monopol Warszawski" Association. The mural theme was chosen by nearby tenement houses' residents.
The work's background shows the scheme of Warsaw. Against the background there are faces of four notable Varsovians, the Home Army soldiers, three of whom were wholehearted friends - the Grey Regiments' scouts: Tadeusz Zawadzki a.k.a. "Zo¶ka", Jan Bytnar a.k.a. "Rudy" and Aleksander Dawidowski a.k.a. "Alek". They all lost their lives while fighting with Germans in the year 1943. Their code names were cryptonyms of the units of the well-known Home Army scout battalion "Zo¶ka".
The fourth face painted on the mural is the one of lieutenant colonel Antoni Żurowski a.k.a. "Bober", commander of the 6th Prague Region of the Home Army Warsaw District.
In the right upper corner one can see the Fighting Poland anchor as well as a number: 1944. The blood-coloured Vistula river is crossing both the scheme of Warsaw and the heroes' faces.
The mural painting is of impressive size, indeed. It takes the first and second floor of the building.
On August 1, 1944 insurgents of the 4th and 5th Region of the 6th Prague Region of the Home Army Warsaw District started the unequal fight with Germans. Due to massive dominance of enemies, despite initial successes, after few days they were commanded to cease fighting and continue underground fights.
On September 14 soldiers of the Red Army and the People's 1st Army marched in the Prague district.

compiled by: Maciej Janaszek-Seydlitz


pictures taken by: Maciej Janaszek-Seydlitz


translated by: Monika Ałasa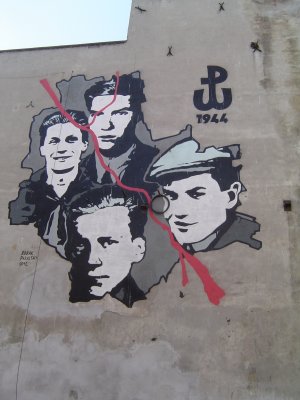 Copyright © 2019 Maciej Janaszek-Seydlitz. All rights reserved.