8 Chrzanowski street - Praga Południe

The mural, situated on the rear wall of the garage nearby the building in 8 Chrzanowski street, was performed by the supporters of the CWKS Legia football club.
In the middle of the mural one can see an inscription: Warszawa 01.08.1944 (Warsaw, August 1, 1944), whereas on the right there is an inscription: 63 dni chwały na Grochowie - Pamiętamy (63 days of glory in Grochów - we remember), with the Fighting Poland anchor besides.
In the 3rd Region of the 6th Prague Region of the Home Army Warsaw District, like in other Prague regions, insurgent units started fighting on August 1, 1944 at the W hour (5 p.m.). Due to massive dominance of enemies, after few days they were commanded to cease fighting and continue underground fights. A few soldiers crossed the Vistula river in order to join the insurgent units in Powi¶le and continue fighting.
On September 14 soldiers of the Red Army and the People's 1st Army marched in the Prague district.

compiled by: Maciej Janaszek-Seydlitz


pictures taken by: Maciej Janaszek-Seydlitz


translated by: Monika Ałasa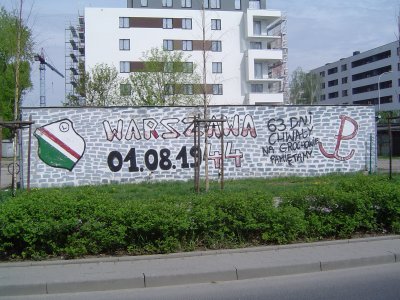 Copyright © 2019 Maciej Janaszek-Seydlitz. All rights reserved.