Imielin Metro station - Ursynów

Thanks to the participatory budget project entitled "Murale metra - pociąg do sztuki" two elevators at the Stokłosy Metro station (the Ursynów M1 line) were artistically painted in the year 2018. The project were being realized by the Municipal Transport Authority in Warsaw. The mural paintings were completed in July 2018.
On one of the above-mentioned metro elevators one can see the image of a notable Polish educator Maria Grzegorzewska, the patron of one of Ursynów streets. Maria Grzegorzewska a.k.a. "Narcyza" was an official in charge of the Government Education Department. She used to lead a one-year secret study preparing teachers to their clandestine work. She worked for the Main Committee for Aid to Jews. During the Warsaw Uprising she worked as a nurse in the Ochota district. Afterwards, she had been transported to the Dulag 121 camp in Pruszków, from where she escaped.
On the second of the elevators there is the image of Julian Ursyn Niemcewicz, the patron of the Ursynów district. A writer and politician, he co-operated with Hugon Kołłątaj while working on the project of the 3 May Constitution. During the Kościuszko insurrection he was a chancellor and an adviser of Tadeusz Kościuszko. He was an active literary man and a politician in the USA, England and France. For a few years he had been living in Ursynów, nearby Warsaw.
The murals are the examples of Low Poly art, which is becoming more and more popular in visual art. Pictures performed in this method have got not a big number of monochromatic polygons. These two murals were made with special paints that are resistant to weather conditions.
In the beginning of the Warsaw Uprising 1944 the present-day Ursynów district witnessed the insurgent units retreating in the direction of Kabaty Woods, having unsuccessfully attacked the Raceway. Soldiers of the Home Army light-cavalrymen regiment and the "Jeleń" unit of the Home Army 7th Lublin Uhlan Regiment who had been attacking the Royal Łazienki Garden were also retreating that way. In the middle of August 1944 rearmed insurgent units of so-called "Grzymała" group tried to break through from the Kabaty Woods to Sadyba.

compiled by: Maciej Janaszek-Seydlitz


pictures taken by: Maciej Janaszek-Seydlitz


translated by: Monika Ałasa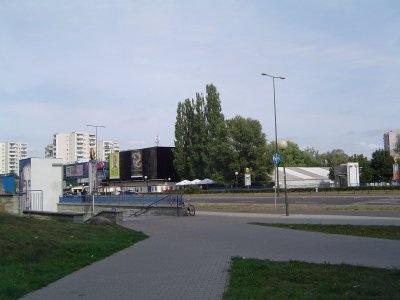 Copyright © 2019 Maciej Janaszek-Seydlitz. All rights reserved.