Stokłosy Metro station - Ursynów

Thanks to the participatory budget project entitled "Murale metra - pociąg do sztuki" two elevators at the Stokłosy Metro station (the Ursynów M1 line) were artistically painted in the year 2018. The project were being realized by the Municipal Transport Authority in Warsaw. The mural paintings were completed in July 2018.
On one of the above-mentioned elevators there was painted the image of cavalry captain Witold Pilecki, patron of one of main streets in the Ursynów district. This Polish Army officer and the Home Army soldier became a voluntary prisoner of the German concentration camp Auschwitz. Having boldly escaped from Auschwitz, as the Home Army Headquarters officer, he actively participated in the Warsaw Uprising. Then, he was arrested by communists, he was sentenced to death at the fake trial, and thereafter - murdered with a shot at the back of his head. The place of his burial is unknown. The "Ł" quarters at the Powązki Military Cemetery in Warsaw is a possible place of his burial.
The second elevator shows the WW II heroes, i.e. the Polish cryptologists Marian Rejewski, Jerzy Różycki and Henryk Zygalski. Thanks to their significant work the code to the German Enigma machine was finally broken, which had a great impact on the final result of the Allies' fights with the Third Reich. In Pyry, the place in the present-day Ursynów, the secret Polish cryptologist center was situated. There the mystery of Enigma had been worked upon, as well.
The murals are the examples of so-called Low Poly art, which is becoming more and more popular in visual art. Pictures performed in this method have got not a big number of monochromatic polygons. These two murals were made with special paints that are resistant to weather conditions.
In the first days of the Warsaw Uprising 1944 the present-day Ursynów district witnessed the insurgent units retreating in the direction of Kabaty Woods, having unsuccessfully attacked the Raceway. Soldiers of the Home Army light-cavalrymen regiment and the "Jeleń" unit of the Home Army 7th Lublin Uhlan Regiment who had been attacking the Royal Łazienki Garden were also retreating that way. In the middle of August 1944 rearmed insurgent units of so-called "Grzymała" group tried to break through from the Kabaty Woods to Sadyba.

compiled by: Maciej Janaszek-Seydlitz


pictures taken by: Maciej Janaszek-Seydlitz


translated by: Monika Ałasa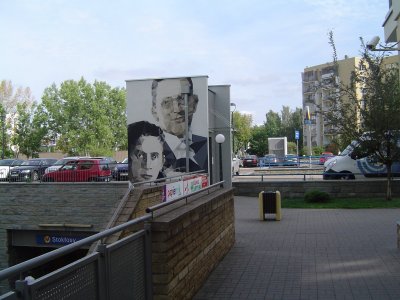 Copyright © 2019 Maciej Janaszek-Seydlitz. All rights reserved.