The photo report of the Competition for a multimedia presentation or a film) "The Warsaw Uprising at my home, in my district, in my city" - 2015.


In April 2015 the 1944 Warsaw Uprising Remembrance Association advertised a competition for a multimedia presentation or a film "The Warsaw Uprising at my home, in my district, in my city".
The competition was addressed to the pupils of Warsaw schools, divided into three age groups:
- 6th class of primary schools,
- secondary schools,
- high schools.
Future participants were to prepare a multimedia presentation (or a film) presenting the fate of their family during the Warsaw Uprising 1944 thanks to the reports, interviews, family documents or conversations with parents, grandparents, great-grandparents or friends.
The rulet of the competition were prepared by Mrs. Maria Poprawa, the member of the SPPW 1944 management, the Polish philologist and historian of the 118 Primary School in Warsaw named after the Friends of Mazovia.
The deadline was June 1st, 2015.
A dozen or so workings from four primary schools, one secondary school and one high school were sent.

The Jury of the competition:
Mr. Maciej Janaszek - Seydlitz- the president of the Jury, the chairman of SPPW 1944,
Mr. Jerzy Antepowicz - the Warsaw insurgent, the member of the Grey Regiments,
Mrs. Joanna Runge-Lisowska - the member of the SPPW management,
Mr. Maciej Białecki - the vice-chairman of SPPW 1944,
Mrs. Barbara Rumianek - the treasurer of SPPW 1944.

Having looked over all the workings, the Jury awarded the following pupils:

1st place - Wojciech Rzepiński, 118 Primary School
2nd place - Weronika Tryc, 118 Primary School SP nr 118
3rd place - Maja Zawi¶lak, 344 Primary School

The honourable awards were given to:

Julia Cichowska, 118 Primary School
Radosław Kadlof, 118 Primary School
Magdalena Kosanowska, 344 Primary School
Julia Masikowska, 118 Primary School
Aleksandra Siedlecka, 10 Primary School

Awards in the category of both secondary and high schools were not given due to small number of workings and their quality that was comparable to those prepared by primary school pupils.

On June 22, 2015 in the exhibition room in the 22 Długa street in Warsaw the awards and honourable awards were handed over to the laureates.
Diplomas, books and commemorative badges of the Association of the Warsaw Insurgents were Niven children by Mr. Zbigniew Galperyn a.k.a. "Antek" and Mr. Eugeniusz Tyrajski a.k.a. "Sęk" as well as by the chairman of SPPW 1944 Mr. Maciej Janaszek-Seydlitz.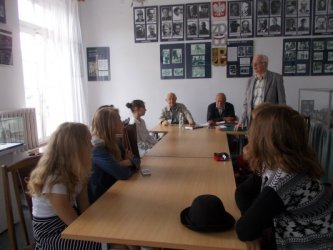 from the left side: Mr. Eugeniusz Tyrajski, Mr. Zbigniew Galperyn and Mr. Maciej Janaszek-Seydlitz


The competition undoubtedly raised the state of knowledge about the Warsaw Uprising 1944 among the Warsaw youth.


compiled by: Maciej Janaszek-Seydlitz

translation: Monika Ałasa



Copyright © 2018 SPPW 1944. All rights reservede.