The Witnesses' Uprising Reports
My stolen childhood - a story of a teenage Home Army soldier

Night raid to Siberia
---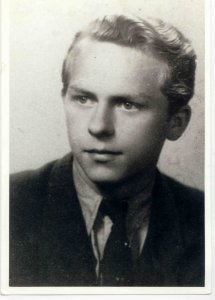 Henryk Stanisław Łagodzki,
born on July 15th, 1927 in Warsaw
Home Army soldier
wartime names: 'Hrabia', 'Orzeł'
Chrobry II Grouping , Battalion 1, Company 2, Platoon 1
Stalag IV b, prisoner of war no. 305785






Mid-august 1944. We were defending Borman's factory on Towarowa Street as well as the Hen's foot (Kurza stopka) on the corner of Towarowa and Sienna Street. It was a small building intended to be an office.
During the Warsaw Uprising it was a very important observation point overlooking Siberia. That is how we called the area on the other side of Towarowa Street. All the storehouses, coal warehouses and railway sidings in Siberia were under the controll of the Germans.
Apart from Siberia, we were also observing Towarowa Street in the direction of both Jerozolimskie Avenue and Chłodna Street.
In the front of Srebrna Street were some railway warehouses. During the Uprising the Germans sallied out from them in the direction of Srebrna Street and to the Borman factory area. The factory was under constant fire from Siberia. The Germans were constantly attacking it, their aim was to occupy the factory and the Kazimierz Wielki (Casimir the Great) square to break our defensive lines.
Borman factory was totally destroyed, only the walls remained. This didn't make the defense any easier and only the courage and heroism of the soldiers of the "Chrobry II" group let them persevere in such dramatic combat conditions.
To impede enemy attacks on the factory and civilian homes on Towarowa Street, command decided to draw back defensive lines to Wronia Street. Thanks to this manoeuvre we were safe from enemy artillery and mass attacks. But there was still the threat of a mass attack on the factory, so we tried to find a way to unable the enemy to concentrate their forces.
After coming to an agreement with Command, second lieutenant "Kos" Lech Kobyliński, head of the second company decided to sally out to the freight train station and to Siberia to spy on what the enemy was doing. With this key knowledge we could decide on the appropriate line of defense or way to attack.
The platoon commanders met with second lieutenant "Kos" to talk over the tactics and to choose and form a group from the volunteers for this difficult and dangerous mission.
Deputy platoon leader, "Zbik" Marcin Tomaszewski, had a briefing with his lads. Four of us volunteered: "Moneta" (Coin) Tadeusz Tarczyński, "Zenek" Zenon Wojciechowski, "Czapla" (Heron) Zygmunt Krajewski. Two Russians, who had previously ran away from Kaminski's army in the first days of the Uprising were also added. They were called "Żeńka" Eugeniusz Mulkin and "Miszka" N.N, who died on the 20th of September 1944. Mulkin died after the war. They were in "Lech Żelazny" company.
In Siberia, apart from Germans there was also Kamiński's Army, made up of Russian and Ucrainian volunteers. In case of contact our group was meant to pretend to be Ucrainians, which was to be easier due to the presence of "Żenka" and "Miszka".
Before our mission, we discussed on our group's objectives, our armament, reconnaissance, the location of gun points and who was supposed to be head. It turned out that "Moneta" and I were to lead, as we knew the terrain best. Preperation for the sally took quite a long time. There was only one way to get into the area, through a heavy, iron gate, but we didn't know what was on the other side. We also had to think of an escape route. Before the mission we met with our Russian colleagues, we had to get to know them and decide on a way to communicate, which wasn't easy, as they didn't know Polish well. We somehow managed to overcome this problem.
After our reconnaissance of the area and gunpoints we were supposed to burn the storehouses adjacent to the freight train station and retreat. We prepared our arms, grenades and Mołotov cocktails and were waiting for orders.
After sunset, when it was completely dark, the orders to march out came. Now everything depended on our cleverness, commitment and discipline. We had already fixed our objectives and how to communicate.
We moved out of Borman's factory. At the head of our group was "Moneta", following him was "Żeńka", I was third. We were marching alongside the factory, one by one, in the direction of Srebrna Street. We had to be careful, as there was lots of glass everywhere and anytime we would step on it, there would be an earpiercing sound. We wrapped our boots in rags we had prepared earlier. It was dark and we couldn't see anything, we walked slowly and carefully. We passed the window of one our sentries and a corpse under it, a casualty from the first days of the Uprising. Despite being poured with petrol and burnt several times, the body still smelt badly. I accidentally stepped on the decaying body, luckily I had those rags on my boots, otherwise i wouldn't have been able to go on. I quickly took the rag off and wrapped my boot with a hankerchief.
We got to Srebrna Street and were directly opposite the gate. We came to a stop, listening, but we could hear nothing but silence. We crossed the road and stopped next to the iron gate, which was partially open. We took a look inside, silence. Behind the gate was a brick cabin. "Moneta" came up carefully and looked inside. It was empty. He called us with a move of the hand, after a quite consultation we approached the railway magazines in the shadow of the wall.
Every once in a while a rocket lighted up the area, that was when we hit the ground. The light the rockets made, gave us the chance to find our way around. We discovered two machinegun posts and a gun barrel a bit further on, between buildings. We couldn't go any further, it was too dangerous. We decided to head back and to set the magazines on fire.
Suddenly a rocket lightened the area and we noticed many silhouettes and heard voices. It was our last chance to get away. Only "Miszka" stayed, he was supposed to set the magasines on fire and quickly retreat. We left him the Mołotov cocktails and quickly started moving back to the brick cabin. "Miszka" stayed because he knew Russian and in case anything went wrong he would be able to save himself, as he and "Żenka" were wearing German uniforms.
We couldn't stay any longer, we recognised only a few enemy gunpoints, but there was no chance of moving around such dangerous terrain. In concealment we slowly started making our way back in the direction of the gate. When we were near the brick cabin we gave "Miszka" the sign to set the magasines on fire.
That's when it started. The magasine started burning and in it's light we saw some silhouettes moving alongside the magasine walls."Miszka" didn't have time to light the next fuse because of the sudden outburst of machinegun fire. The area was lightened by rockets, making it as light as day. "Miszka", unable to fulfil his assignment started fleeing in the direction of the gate and brick cabin we were hiding behind. It was hell on earth. We couldn't move because of all the bullets whizing around us.
We had to retreat a few metres behind the gate, to where we would be safe. The machine gun was causing havoc, bullets were blowing out pieces of the wall, injuring us. We had to think quickly to run under the bullets. We listened carefully to every burst of machinegun fire and after each one we ran, one by one, behind the gate. It was just in the nick of time, as we could hear the voices of the approaching Germans and Ucrainians.
Our mission hadn't been entirely fulfilled, but it was impossible to stay there any longer. "Miszka" had lit the fuses too quickly and nervously and now they were dieing away. The Germans noticed that something had happened and so they started shooting their machine guns. We waited for "Miszka" behind the gate. He got to us breathless, but safe and sound and angry that he hadn't burnt down the magasines.
We had to get out of there fast, there was no time to argue about that failure. The machineguns were still firing but we were safe. Quickly, one by one, we ran alongside Siberia's wall in the direction of Kolejowa Street and only then did we cross the road. We found ourselves once again among our comrades, who were waiting, happy that we were safe.
The platoon commander's liaison officer took us to second lieutenant "Kosa" on Łucka Street so we could sum up our night raid to him. The platoon commander's deputy, platoon cadet "Żbik", had been observing our raid on Siberia from the last floor of the Garbochemia building, hidden behind sandbags.
The German's knew that there were Polish posts in this building and wanted to get us out of it at all costs. The windows were being shot at all the time and the sandbags didn't help. Apart from this, the building was being bombarded by an artillery gun. Our mission had been to find it and destroy it, but this hadn't been easy.
When we got to Command, we were first treated to some tea and allowed to rest after the tiring mission. After about an hour "Żbik" arrived and then, in the presence of "Kosa", we gave him a report about the raid. "Żbik" added what he had observed. It turned out our mission hadn't been so fruitless afterall. "Żbik" had been watching our raid from the Garbochemia building and had discovered enemy gun points. He had seen positions that we couldn't have, as we were under fire.
The most important thing, was that apart from bumps and bruises we had come back safe and sound. We could now rest in our billet on 50 Śliska Street, where we still had to get to this night. After dismissal we where treated to dinner and on the way there we had to escort the Russians to headquarters on 39 Żelazna Street, where second lieutenant "Lech Żelazny" was waiting for them.
We got to command headquarters on our way to our billet through the backyard of 81 Sienna Street, then 37 Żelazna Street, then through an underground tunnel across Żelazna Street, through a window on the ground floor on 50 Twarda Street and then along Twarda Street to 50 Śliska Street.
There was a surprise waiting for me here.I met my brother, Kazimierz Łagodzki "Salamandra" (now under the command of "Lech Żelazny"). He had been fighting in the Powiśle suburb of Warsaw in the "Krybar" group, not far from 20 Browarna Street where he had been living. After being injured in the arm he decided to move to "Śródmieście" (central suburb) to be close to our parents.
It turned out that he was useful here as well. He was accepted to "Lech Żelazny's" group as a military advisor. In the underground he had finished officer cadet school and was experienced in urban warfare. He trained young boys newly accepted to the group and in September was transfered to Command on 18 Miedziana Street.
We were both very excited by this pleasant surprise and spent the night talking and rejoicing each other's presence. On the next day me and my brother went to our parents on 14 Łucka Street, where they were staying in the cellar with the rest of the residents of the building.
Our billet was on 50 Śliska Street in the courtyard on the second floor. The first half of August was quiet here, it was the second half of the month that the Germans started mass bombarding of the Śliska, Pańska, Sienna and Złota Street region. After a few days of bombings everything was lieing in ruin.
It was 6 o'clock in the morning. We were moving from Borman's factory to our billet. On the way there, when we were crossing Żelazna Street we heard loud explosions. Near Warsaw's West Railway Station (Dworzec Zachodni), German's were bombing us with
railway artillery gun "Ziu". It was beginning to be more and more dangerous, we could be killed at any moment. But no one from our group hesitated to go on, we could feel that something was going to happen. Danger was everywhere, to add to this, we were tired and all we wanted to do was rest. But this wasn't to be.
The sight that met our eyes when we arrived was beyond our believe. The building our billet was found in had been hit, everywhere people were shouting and desperately running around the rubble. The front of the building, the back premises, everything was now lieing in ruins, our billet on the third floor had disappeared. The cellars, full of people , where now covered by tons of rubble.
Everyone who was able to was removing wooden beams and bricks. We could hear people shouting for help from deep inside the cellars. "Moneta", me and the rest of our group who had come here to rest, started helping the people trapped under us. The sight of the people we were getting out was horrific, lots of blood, arms, legs, lots of dead bodies. I couldn't bear the sight before me. On the opposite side of the street on 53 Śliska and on 62 Śliska Street there were hospitals where our nurses were taking the injured to.
Our billet and food magasines had been in the front of the building. The ceilings of a few floors had collapsed on the people that had been there. Many had died, others were crying for help. They were pressed down by the beams and couldn't move. I could see my friend in front of me, full of energy, helping the trapped. I tried to work like him, inspite of being tired, he was inspirational.
Our colleagues from the quartermaster department had been covered by debris, above them where two stories of beams, boards and rubble. They were begging us to get them out, we would need a miracle to do that. Others, knowing that we wouldn't get them out of this maze of rubble, asked us to end them their suffering.
The situation was becoming more and more dangerous. We had to make a difficult, manly decision and decide what to start from. "Żbik" and "Moneta" didin't think over it for long. I helped them inspite of being so tired.
We rescued the quartermaster without displacing any of the dangerously unstable beams. The nurses were only waiting for this. Another and another person saved. But the situation was very dangerous, we could all die.
When we moved forward and tried to save our friend, yelling from pain, everything started sliding and falling down. I got covered by debris and rubble and lost consciousness. It was only thanks to the self-sacrifice of my friends that i got out of there alive. I regained consciousness after some time in a hospital on 62 Śliska Street. Not far from there, on 58 Śliska Street flat 12 I had met the war in September 1939 and had lived there until 1940.


Henryk Stanisław Łagodzki
translated by Daniel Mierzwicki



Henryk Stanisław Łagodzki,
born on July 15th, 1927 in Warsaw
Home Army soldier
wartime names: 'Hrabia', 'Orzeł'
Chrobry II Grouping , Battalion 1, Company 2, Platoon 1
Stalag IV b, prisoner of war no. 305785

Copyright © 2005 SPPW1944. All rights reserved.