The Warsaw Uprising eyewitness accounts
Stanisław Likiernik - memories from the Warsaw Uprising
(excerpts from the book "By Devil's Luck" are published with the consent of the author)
Stanisław Likiernik was born on 25th of June, 1923 in Garwolin. During the German occupation, he was a soldier of the ZWZ (Związek Walki Zbrojnej - The Armed Fighting Association), and then took part in sabotage operations of Kedyw (Kierownictwo Dywersji - The Sabotage Executive) of the Home Army Headquarters. This period of his life was presented in a book by Roman Bratny titled "Kolumbowie" and which later on was adapted for the screen with the same title (a character named Skiernik). During the Warsaw uprising, he was a soldier of the "Radosław" Group and his combat trail ran through Wola, Stare Miasto and Czerniaków. He was wounded three times during the uprising and decorated with the V-class "Virtuti Militari". Several times, during the uprising, he was one step away from death, he was one of the soldiers who, along with the "Zośka" battalion, broke through the Saxon Garden from the Old Town to Downtown. Stanisław Likiernik wrote an autobiographical book and gave it the meaningful title "By Devil's Luck". In 1946 he managed to escape to France, where he lived until his death on 17.04.2018. While living in France, he worked for the Philips for 25 years where held management positions. He was married to a French girl, brought up two children and had three grandchildren. Stanisław Likiernik was a member of the Honorary Council of the Warsaw Uprising Museum.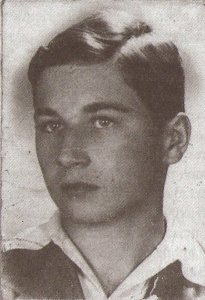 Stanisław Likiernik school ID photo (1939)

1st of August, 1944 - Warsaw Uprising
We were informed in the evening on 31st of July that the uprising will begin the next day on 1st of August at 17.00 hours.
Our Group gathered combat experience by participating in many Kedyw actions and was relatively well armed (our weapons were captured from Germans and the rest came from the drops) had the following tasks: firstly, capture the German warehouse at Stawki Street, and secondly, get to the PKO (Polska Kasa Oszczędnościowa - The Polish Savings Bank) building at Marszałkowska Street where we were meant to reside as General "Monter"'s, uprising commander, special unit. Were also instructed that after liberation of Warsaw, we were to get back to our hideaways, hide our weapons and stay in operational readiness in case of further actions under the Soviet occupation. I liked a lot this part of the plan, as a twenty-one year old young man I wanted to parade after the victory, finally openly and in the daylight, hoping that beautiful girls wouldn't be able to resist the charm of the uniform.

On 1st of August, when I came out of our den at the Płachtowscy flat at 16 Gomółki Street, I met Olek Tyrawski, a friend of mine, marching in from of the platoon. We had no time to talk, we only waved hands to greet each other. Around 15.00 hours, few minutes after I met Olek, they got under fire of a German tank while crossing Mickiewicza Street in Żoliborz Dolny (Lower Żoliborz) and Olek got killed, he was hit in the forehead. Arguably, he was the first fallen during the uprising.
We went by truck with covered box, the truck was driven by Kolumb, towards the location of our first task, it was a school building located nearby the warehouse in Stawki, presently the building does not exist, and there is a monument at Umschlagplatz and a plague which commemorates our action. The school building was the rallying point for us, Kedyw group from Żoliborz, and other Kedyw groups of Wola and Mokotów.
We got to the school at 15.30 hours. Kolumb and myself, re-parked our truck. Right after we moved the truck drove, maybe, ten metres, a shell exploded exactly in place where the truck was previously parked. It was the first artillery bombardment, luckily for us, it was harmless.
Attack on the warehouse as carried out according to the plan. Exactly at 17.00 hours, we jumped through the fence at the back of the warehouse which covered nearly a hectare of ground. The main warehouse building was occupied by the SS men, but there were not too many of them. We captured the building quite quickly and killed few of the SS men. A group of the SS men escaping the warehouse through the ghetto ruins was killed as well.
While we were coming out of the building, we were surprised to see people dressed in the concentration camp stripey uniforms who were running towards us. They were Jews deported mainly from Thessaloniki in Greece who worked in the warehouse. They could barely understand what was going on and that they were liberated. The liberation of those prisoners is also mentioned on the bronze memorial plague.
In a big room on the first floor, a young SS officer build a barricade from boxes. Every time we tried to open the door, he shot at it, apparently he had a lot of ammunition. We noticed a second entry to the room which was located next to the spot where the German was hiding. We decided to throw a "Philippine" grenade at it. The grenade was thrown by Antek Wojciechowski, and unfortunately for him, he did not take cover and numerous steel shards wounded his legs. "Kolumb", who was participating in this action, sustained a hand injury before Antek was wounded.
There was a lot of stuff in the warehouse: sugar, groats, etc. I found out already after the war that people from the Old Town took away part of the food and transported it to the Old Town on their own backs. Thanks to it, residents of the Old Town, which was cut off for three weeks, were able to feed themselves.
We spent the night at the warehouse. We found there a lot of German camouflage uniforms used by German paratroopers and called by us "panther" and obviously we all put them on. It made our group look like a regular army unit. Some of us started the uprising in civilian clothes. I had beautiful long boots and officer's jacket (so called French), which was found somewhere by Ms. Płachtowska. I put the camouflage uniform on the jacket and I was really proud of how I looked. Those clothes will be of great usefulness a month later but I will tell about it later on.
Communication route to the PKO building and General "Monter" was cut off. Germans held the route East - West. Colonel "Radosław" ordered us to go to Wola. Somewhere around Wolność (Polish for freedom) Street, we met boys from "Zośka" battalion. Antek Wojciechowski and "Kolumb" went by truck. Antek couldn't walk. They both drove the truck. One of them operated the wheel and the other one the pedals.
They drove through Okopowa Street. At some point, they turned right. Suddenly, the truck moved backwards with incredible speed. There was a German tank standing in the street in about two or three hundred meters from the point they moved in reverse. Both of them, brilliant drivers, beautifully operated the truck and managed to move back before Germans started shooting at them. This tank was later captured by us and "Zośka". Krzysztof was one of mechanics who fixed the tank. Once fixed, was in our service for a couple of next days.

The road from Stawki to Wola led through Okopowa Street, nearby the Pfeiffers tannery, where I worked for a year in 1943. Workers of the tannery, who stuck there because of the uprising, applauded us. Our unit (about 75 soldiers), dressed in German camouflage uniforms, was walking past them. I marched next to Stasinek Sosabowski and carried a Thompson under my arm. Tanners were happy to see Polish army soldiers, once they recognised their former colleague, they screamed: Hi Stach, bravo, hurra! I was happy and proud, probably the only time during the two-month uprising. It was only second day and we hope that help, drops, will arrive very soon.
Kazimierz Brandys in his book titled "Undefeated city" published a photo of our group, it was probably the only photo of our group taken during the uprising. In a garden, somewhere in Wola, we marked the area using bed sheets and created a quadrangle as a sign for planes dropping equipment for fighting Warsaw. Unfortunately, the skies were empty.



Photo of the Kolegium A soldiers taken in Wola
Stanisław Likiernik is standing in the third row, ninth from the right
On that day, 2nd of August, I was sent by Colonel "Radosław" on patrol to hospital of the St. Sophie, which was captured by German police. My report was incredibly blunt and said: Germans still occupy the building.
At the time of my report, "Radosław" worn a helmet and a cape, and that's how I saw him, the first and the only time during the uprising.
A day before, an inspection by General Bór-Komorowski (my father knew him well from one of the cavalry regiments and he considered him as a brilliant rider). Colonel "Radosław" tasked our group, under command of Stasinek Sosabowski, to capture the hospital of St. Sophie at corner of Żelazna Street and Leszno Street.
On our way there, residents of Wola greeted us cordially and presented us with valuable stuff: bread, marmalade, etc. Anything they could. It was very touching, especially, as we now know, they were all murdered a couple of days later.
On 4th of August, Stasinek, Dr Kaczyński and myself, we climbed to the third floor of a building, from where we were able to observe the building we meant to capture. Stasinek, brave as always and often too brave, leaned out and looked. As far as remember, I said: watch out, don't lean out too much. A moment later, a shot rang, and he fell on the floor and his face was covered in blood. Stasinek had sight only in his right eye, the left one was lost in an accident in his childhood years. The wound was not serious, but I heard: I can't see, I can't see. Our commander was evacuated to the hospital of Karol and Maria where previously was admitted Antek Wojciechowski, Janek Barszczewski took command over our group.
The building for us to capture was surrounded with wall. The distance from Żytnia Street to the building entry was about 30 meters. We decided to blow the wall and charge through the hole in the wall. We tried to set on fire a building located next to the German barracks, hoping that the fire will spread, but a bottle with gasoline threw by me reached the ground floor and did not set on fire the whole building. 19.00 hours, when it gets dark, was the action time. We jumped through the hole in the wall and reached the building door. While we were charging, someone played a cheerful tune on an accordion. We charged enthusiastically, finally we had another occasion to fight openly.
Big entry door was not easy to break into. Despite our efforts, we could not force the door. Some German soldier defending the building, who I could not see, threw a grenade from the first floor. I heard a very loud explosion and felt a hit in the back, painless, like a stick hit. I asked a fellow soldier next to me: something hit me in the back. What was it? He looked and said: you're bleeding, you're wounded, must go to dressing station.
I gave him my machine gun and a Parabellum and ran to the medics.
When I got there I started to become weak. It came out that I had thin steel splinters at the top and in the middle of my back, right shoulder and right thigh. I was unable to walk and I was hearing noise in my ears which was caused by the explosion.
I wanted to be carried to the hospital of Karol and Maria where Antek and Stasinek were. I didn't know that the hospital was already captured by the Ukrainian SS (commanded by German SS officers). The wounded were murdered in their beds. That's how Antek Wojciechowski got killed. Stasinek was on time taken out of the hospital by his wife, who was one of our medics and that way, in the last moment, he avoided death.
I was walked to Leszno Street, to the Sąd Apelacyjny (The Appeal Court) building, where I waited for an hour to be treated by a surgeon. The rest will not forget forever. First, the grenade splinters were taken out of my back, hand and leg without anaesthesia, and the splinters sat tight in my body. Then, the surgeon had an idea to push the gauze sprayed with alcohol from one side of my thigh to another, it was that sort of experience I wouldn't wish for anyone to experience. I swore terribly, it helped me, and apologised to nice and beautiful nurses who held me. I don't know if they really were beautiful, but in every six hospitals I was during those two months, nurses reminded me of angels and probably they looked beautifully.
My uniform and long officer boots were gone for good, I was laid to bed practically naked. One of voluntary nurses recognised me. We met one day at common friends. And that fact surely saved my life.
The hospital was full of wounded, mainly civilians. A young man next to me was dying of tetanus, and he suffered a lot and screamed, he body was literally tossed by terrible cramps.
I was like besotted, with endless noise in my head. I think I spent only one night at Leszno. Suddenly that girl I knew, ran to me along with other girl, put me on stretchers and ran out in Leszno Street. Germans were approaching and it was known at that time that they murder the wounded. Unknown girl remembered about her friend and reacted on time. Streets were full of rubble and cut by barricades built by civilians, unfortunately those barricades were unable to stop the tanks.
Until today I can't understand how two eighteen or twenty year old girls could carry a man weighting about 60 kilograms for 2 or 3 kilometres and brought him to the Maltese Hospital, getting through numerous barricades closing the streets on their way there.
That hospital was a real hospital, ran by nuns, who helped girls of the Home Army. I got there probably on 6th of August and spent there four days. Before the uprising I was renting out a flat under a fake name Wichowski nearby the hospital at Grzybowska Street. I asked a random woman to go there and bring me shoes and clothes. I don't know whether she went there, or went there and got killed on her way back, she did not show up again and I did not get any clothes.
I started walking after three days, limping on right leg. I wanted to leave the hospital as soon as possible as I was afraid of Germans capturing the hospital. I was right. The hospital was captured, however the wounded were not shot dead. Twenty German prisoners were treated in this hospital and they confirmed that they were treated as good as Polish patients. Thanks to this statement, all wounded were allowed to go to Downtown, an area controlled by insurgents. I found out about it long, long time later.
In order to evacuate I needed clothes. I covered my nudity with a blanked taken from my bed, at the time I was wearing only a shirt and it was a very short shirt. Dressed in blanket, I asked one of the nuns to get me trousers, shoes and a jacket. She replied very roughly: No. Having no other choice (forgive me God), I opened my arms showing my almost complete nudity, and she screamed: what are you doing!? And I was dressed in five minutes, maybe clothes I got were not great but at least I was dressed completely.
I went towards the Old Town through the hole in the wall.
There was a big building on corner of Długa Street and Kilińskiego Street which was adapted as a hospital. I barely got there. All nurses, there was no patients at all at the time of my arrival, ran to help me. I met among them a seventeen year old and beautiful Halinka Paschalska who I knew all my life from Konstancin.
In no time my wounds were treated at the same time by several nurses. I was, for this short time, a victim of their lack of experience. In the evening I was even invited to some performance for the wounded.
Unfortunately, it was only silence before the storm.

11th of August, 1944

Telephones were still working. I found out about death of Olek Tyrawski who was killed in Żoliborz and Stafan Graf, that Stefan who worked with me at the Pfeiffers' and who warned me that Germans are at our flat on 4th of February, 1944.
Next message related to my friends of Kedyw. After unsuccessful charge on the barracks, during which I was wounded, a general German attack on Wola took place and insurgents were retreating towards the Old Town. The German offensive from the west was to strengthen their positions on the strategic communication route east-west.
Luckless civilians, whose cordial hospitality we experienced during the first days of uprising, were systematically murdered by the SS. Thrown out of their homes, mainly women and children, were murdered in courtyards. Practically the entire district, about 400 000 people, was slayed.
On their way back, my friends stayed at the Pfeiffer tannery at Okopowa Street. Then, Stawki, now taken by Germans, had to be charged again. The way was blocked by tanks and we could not destroyed them as we had no anti-tank weapons.
Janusz Płachtowski and Janek Barszczewski, who were my closest friends, were killed during this second charge on Stawki, as well as "Olszyna" (Wiwatowski), docent of University of Warsaw and Kedyw deputy commander of the Warsaw Area, Józef Rybicki was in charge. Zygmunt Brzosko, a friend from School of Chemistry, who I met on my way to Wola, got killed soon after he found out that his fiancée, Zosia Laskowska was killed. I think that after he learned about her death he was doing nothing to avoid the danger. On that day I found out about demises of eleven very close friends.
Despite the fact that my wounds were not healed, though I could slowly walk and tried to find my unit. At first I came across boys from Wola. They were charged with disobedience and unarmed, at least partially. After so many deaths took our commanders, the command was taken by Śnica, who was a graduate of pre-war Officers' School. He was standing out with great courage and risked his own life and lives of others by the lack of common sense. Those boys refused to frontally attack the tank and it was insubordination but also they refused to commit suicide. After long negotiations, I managed to include them again into our unit and they fought bravely till the end of uprising and sustained severe losses.
On the second or third day after my arrival to the Old Town I heard shouts of happiness in the street, next to the hospital. I looked out through the window. Small tank seized by insurgents was surrounded by enthusiastic crowd. On my way down, I was walking slowly, I heard a terrible explosion, plaster fell off the ceiling and the building was shaking almost like during the earthquake. I could not see the tank in the street anymore. It came out that it was a trick - Trojan horse. The tank was filled with explosives with delayed fuse. I don't know exactly, but at least 200 people got killed in the explosion and even more people sustained injuries.
I don't want to describe the view after the explosion. People who were standing next to the tank were thrown up to the floors of the nearby buildings, the injured were screaming in pain. I was injured and I had to become a medic. I tried to find a husband of one injured woman, and a child of another. Until that time, hospital empty in three quarters, filled up with patients in a blink of an eye. There was no space for me any longer, besides I did not wanted it. Accidentally, I saw a friend from the Mokotów Kedyw group, it was "Remec" (Ceperski).
Along with him I came back to my unit, which at the time was defending the hospital of Jan Boży where the mentally ill were treated.
German bombardment was still heavy and various: artillery, tanks, rocket launchers called by us "cows" or "wardrobes" (the explosion of its rockets was preceded by the sound reminding screaming cow or a grind of a wardrobe being moved).
We paused on our way through the Old Town and thanks to it we avoided a shell which exploded just a couple of metres ahead of us. We arrive to the Church of Jan Boży just in time to attend a funeral of one of our soldiers, who got killed as the bullet hit his artery.
We held the position for several days. Mentally ill patients, without supervision, walked through the no man's land between our defensive lines and the Germans'. Others, dispersed through the Old Town and found shelter in basements among civilians, what made their situation even worse.
German pressure on our position was very strong, and we lost the church of Jan Boży. Our headquarters decided to try and recoup the church which was a very important defensive point in the Old Town defensive lines.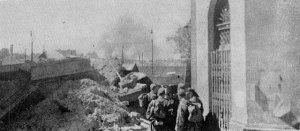 Insurgents of the "Radosław" Group on position at the Church of Jan Boży

"Kolumb" and ten boys under his command meant to attack through the hospital garden, and me and seven other boys, moving from the basement of a building at Konwiktorska Street, meant to flank. The attack supposed to begin at the same time. My group got out through the basement window and ran towards the church. Germans probably heard us as around 21.00 or 22.00 hours the night was pitch-black. "Kolumb" sustained a leg wound right at the beginning of the charge and their charged stopped (I found out about it later). We found shelter behind a twenty centimetre high wall. Luckily flame thrower could not reach us, but moving forward was impossible. In that situation knocked on unfurnished wood and said: we're safe now. Then I understood that remaining calm, even joking in a very tough situation may be tremendous help and sometimes safe a life.
I decided to retreat to the starting position. Already in the basement, I counted up my men and one soldier was missing. We were preparing to come out and look for him, when he showed up, severely wounded in the head. He was carried to hospital "Pod krzywą latarnią" (Under the Crooked Lantern) where he was murdered by Germans about 31st of August, along with many other wounded in the basement of this insurgency hospital.
All I can remember from the time we fought in this area is the mentally ill, who couldn't understand what was going on, and were walking around the no man's land between us and Germans. Some of them were wounded.
We were on position at Konwiktorska Street. Germans occupied the Polonia pitch opposite of our position. At some point I heard noise in the street which was the front line. I was just about to shoot when I saw a man in a long shirt entering our building from that side. This time there was no shooting from the opposite side of the road. He had an empty jar in his hands. He kindly offered me honey and sour cucumbers… It looked like I was hallucinating. I told him that all purchases are made by the quartermaster which is based further down our positions … and that guy went away to look them up.
Wounds sustained in Wola still were not healed. My friend "Zbylut" (Witold Piekarski) treated my wounded as much as he could (he studied medicine), but "wild meat" did not want to grow with skin. One day he called up for help an older doctor (probably forty five or fifty year old man), Greek Jew from Thessaloniki who was liberated by us at Stawki. They spoke in Latin as it was the only language they could speak and understand each other. But the wounds could not heal and even in November 1944 they were not scarred over.
The exact account of those twenty days is not possible. During that time the Old Town was bombarded by an artillery from Praga, "cows" and four bombers. Bombers flew over, dropped their load of half-ton blockbusters or incendiary bombs and flew back to the air field, then loaded up new bombs and flew over again after 40 minutes later. Obviously, there was no Soviet bombers on the horizon. Germans were dropping those bombs like during training.
Poor civilians lived in basements. There were holes cut through the basements' walls and people went from building to building without coming outside. We slept on the storeys all the time. Flats were uninhabited but we could still use bedrooms, study rooms. We felt there much better living there then living among crowds of those unhappy people in basements. It was risky, but what will be will be...
One day during the recess, four soldiers played bridge. Someone found a pathephone and records and music was played. Suddenly, there was a terrible bang. All plaster from the ceiling fell on us. Through the dust I saw four players removing rubble from the table. The game went on. Not too long. The other section of the building collapsed, three storeys, by the "cow". People were caved-in and we had to dig them out. Recess time was over.
Another time at Freta Street, I was checking the posts located at attics of the front buildings. One of the sentry was visible from the distance in the background of the evening, still blue skies. Weather was just great, no drop of rain and buildings were burning. I screamed to him: are you crazy, do you want to get killed, they can surely see you! And he replied: look, do you want me to lay down here? And the beam of the bombarded building was moving. I came closer. The wood was covered with bed bugs which were marching somewhere, one by one, an army on parade. Naturally, I changed the observation point.
Once I was informed about demise of a fellow soldier who I didn't know too well (perhaps he joined up already during the uprising). Don't remember his pseudonym or name. He got killed at the post at the fourth floor. We carried down the body to the courtyard where we wanted to bury him. We were surprised to see a dug up grave. I didn't think about it too much and thought that someone dug up that grave just in case. We buried our friend. As soon as we finished a minute of silence or a prayer, I heard a scream: damn, they stole our grave. We had to move out quickly as the approaching group of soldiers were carrying a dead body of their soldier and they did not look too happy about this misunderstanding.
This tragicomic situation was an exception. Generally, we had no many reasons to feel happy. Civilians' situation was especially tragic. They lived in basements: women, children, the elderly and often the mentally ill who escaped from hospital of Jan Boży. Their friendliness was systematically decreasing and it changed to rage by the end of August what we experienced while we sometimes walked through underground basement corridors.
This takes me back to the time where I was at "Krzywa latarnia" after the tank-trap explosion at Kilińskiego Street. I was laid next to an injured man who was in a very bad condition. He was defending his house and the incendiary bomb severely burned his body. Next to him was his wife and children and they were crying. I ran away from that basement as fast as I could.
That anecdote about bridge took place on 25th of August. Someone heard on the radio (probably Signals Intelligence of the Home Army), that Paris was liberated. I felt envy. I spoke about it to Jodła (Jerzy Krzymowski). I knew him very well, he was Roman Mularczyk's friend from the high school in Garwolin, and then for several months, he was our flatmate at 27 Mickiewicza Street. He was assigned to Kedyw, I did not recommend him or anything, and the next time I saw him already at the beginning of uprising. I told him then, I remember that very well: Perhaps Germans will capitulate as they lost Paris. If not, we have no choice, we will have to die here, and those guys in Paris are liberated after a couple of days of uprising. Obviously, we didn't know about negotiations between de Gaulle and Americans, or about General Leclerc's division coming to Paris to support the Paris insurgents.
The area of the Old Town in our possession, still defended by us, was shrinking under the pressure of Germans. On 26th or 27th of August, a big concrete building of Państwowa Wytwórnia Papierów Wartościowych (PWPW - The State Security Printing Works) and a redoubt defending the Old Town from the north was lost.
We had been sent to Zakroczymska Street to patch the hole. Our group which at the beginning was 75 soldiers strong, at the time had only about 20 soldiers. The rest was killed or injured and was in hospitals. Among those twenty was several wounded soldiers including me.
At that time, Antoś Tuleja showed up in the Old Town (our friend, wounded in the assassination of the Gestapo officers Jung and Hoffman on 15 of June 1944 in Wisłostrada). When he found out that we are in the Old Town, he got a sewer pass in order to join his friends. He came through sewers, often on his knees, to find us at the moment of the Old Town agony. Antek was with eight boys on corner of Franciszkańska Street, myself along with seven boys, slightly on the right from the Czwartacy barracks, at Zakroczymska Street. We were to take positions in buildings along Kościelna Street. I had no news from Antek. So I sent someone to establish communication between us. There is no one. The entire group was injured by the mortar shell. Antek ran. All were evacuated to "Krzywa Latarnia". Our group of eight soldiers including myself, tried to take position at the burned down building on the other side of Zakroczymska Street. Walls of the building were still there but their beams were weakened by the fire. Some German soldier tried to stop us and fired his flame thrower at us. And suddenly a wind blow directed the fire on this soldier and set him on fire. I need to admit it, I did not feel sorry for him.
When we took this burned down building, the bombers flew over. We heard them from the distance, their engines and first explosions. Generally, bombers dropped their bombs one by one to cover certain area, so I thought that next bombs will be for us. Because our building was barely standing, I sent the entire unit to a big gate on the other side of the street which, I thought, was safe and would give us shelter. Boys jumped through the street and already on the other side it came out that one new soldier whose pseudonym was "Broda" was missing. I did not want to retreat without all my men. "Zbylut", a doctor, whom I have already mentioned, stayed with me because we were friends. We were screaming: "Broda", "Broda", the bombs dropped from the sky. Black dust was everywhere, pieces of the walls and the ceiling fell on us. When we finally could see and the dust settled, "our safe gate" evaporated. Bombs fell exactly on the gate and destroyed the whole building. My boys were caved in. Maybe 50 metres from where we were, there was another unexploded bomb laying on the street, perhaps it did not explode thanks to sabotage of a Polish or French slave-worker forced to work in German factory. There was only a head of this seventeen year old volunteer coming out of the rubble, at the time he had been with us for two or three days. He screaming of pain. I ran over and heard him saying: I'm sorry I'm screaming, Lieutenant. We had to dig him out. I ran to the church of Franciscans where a whole mass of people was hiding. I screamed: I need help, my friends are caved in. Nobody moved. There was a man in his prime standing next to me. I said: Come with me, and he replied: No, I won't. I got angry and put a Parabellum to his belly and said: You're coming with me or I'll shoot. And he obeyed me.

We managed to dig out only this seventeen year old boy. He had broken legs. I sent him to "Krzywa Latarnia" hospital where he was shot dead by Germans. The rest of my unit was caved in deep under the rubble. Among those the caved in was "Budrys" (Stanisław Budkiewicz). He carried a leather bag in which he had a combat diary of our unit started at the beginning of uprising. I thought that the diary was lost for good. However, when the Old Town was being rebuild after the war and this bag was found. Loose pages of the diary, difficult to decipher, were given to "Stary" (Józef Rybicki). During the Stalinism era in Poland those pages had to be hidden well. Rybicki was often raided by the UB (Security Office) and this valuable document could have been confiscated. After long years, Rybicki tried to find the diary and could not. Finally, his daughter, Hania Rybicka, found the diary in her father's hiding place. She rewrote it and hand it to Mr. Giedroyć at Maisons Laffitte ("Zeszyty Historyczne" No. 94).
After this story, I am coming back to events of 29th of September, 1944.
I suppose, on that day, "Zbylut" and I came back to the rest of our unit which was defending buildings at Kościelna Street. Two excellent shooters: "Śnica" and "Kryst" had positions in the attic of yet not destroyed building. They shot at Germans in the park at the back of the Czwartacy barracks at Zakroczymska Street. Germans tried to over-smart the shooters. Two Germans carried a sofa and tried to hide behind it, so only their legs were visible. Two shots and two bearers collapsed covered with the furniture.
On 30th of August at 22.00 hours, I got an order to withdraw the men from their positions and march to 7 Koźla Street. The order was strange as did not mention what unit would replace us. I shared my concerns with the area commander and he ordered me to follow the order. And then I knew, after 30 days of defending the Old Town, we were leaving. Overground or underground, but we were leaving.
It came out that we were going overground. The first target of our action was Bank Polski. In order to get there, we had to manage to get through a massive crowd which, informed by don't know who, was waiting to pass.
Major "Jan" had a following plan: "Rudy" company being a charging company under command of Andrzej Morro, goes first through the rubble towards Bankowy Square. Major "Jan" goes with us. Medical units to collect the wounded along with other units go in accordance with order. "Wigry" company attacks on our left flank between Teatralny Square and Bank Polski, along Senatorska Street. The charge was to begin at 24.00 hours. Finally, at 2-3 a.m. all units are on positions.
We are informed about that plan at meeting with Major "Trzaska" (surname is Konopacki, I guess), with presence of Major "Jan" and "Morro" (Andrzej Romocki). We are waiting outside the Bank Polski at Bielańska Street.
First group led by "Morro" jumps through the street. We are the second to cross the street. Major "Jan" says: we run covering behind the wall, slightly on the left from the bank. Major "Jan" himself goes further towards Senatorska Street where meant to be "Wigry", but they are not there. Hände hoch! And Major "Jan" gets killed.
We run through the courtyard among mountains of bricks and under fire. I can see my friends pass me by, I want to run faster, but I am unable to do so. Two weeks of hospital and unhealed wounds take its tall.
I reached a shelter, one more push and a short rest in a burnt out store opposite of the St. Anthony Church. German heavy machine guns shoots along the street. We stand up safely behind the wall. Getting on the other side of the street is impossible.
It was dawning.
Major "Trzaska" of "Wigry" battalion, who was with Major "Jan", is with us. He does not know where his boys are. Nobody but us went forward. We are surrounded. We take positions in an annexe. German gendarmes approach surely and are finished with grenades. Sixty people in the middle of German positions. There is Saxon Garden in front of us, and Bank Polski behind us. There is no point going back to where we came from. Our wounded left along the way get killed. Besides, it does not make any difference, get killed here or there. We can hear a scream from the St. Anthony Church. It is "Morro" who realised that his unit won't be able to go any further and took positions at the church. Heavy machine gun drowns out his voice. Suddenly "Morro" and "Witold" from "Rudy" company jumps through the street, they run and reach our position. Both wounded but just slightly wounded.
Things go quick now. "Amorek" as "Morro" was also called, takes command. Two grenades thrown in the middle of the street lay a smokescreen. German heavy machine gun stops shooting. Our whole unit jumps through the street and with no losses get to the church, it is better to defend ourselves over here. Sentries need to be put at every entry as we are surrounded, completely cut off from the Old Town and Downtown, we are left to our own devices.
"Zbylut" and me, take positions in a small courtyard, as if monastery courtyard, next to the church. "Zbylut" sat down against the wall under the crenel situated opposite of the church entry. I was in a niche on his right, few metres away from him. Suddenly, we hear a shot rang. I see "Zbylut" is wounded and tries to get to me on all fours. I shoot my Thompson towards the crenel in the wall, but my gun gets blocked as it is dusted as a result of three day bombardment. I exactly see bullets hitting "Zbylut"'s head. Bullets come from the roof or the crenel. I feel a hit on my lower back. Medics come over. Danusia (Mancewicz) and another medic carry us to the church and place us on the coffin slings instead of placing us on stretchers. I see "Zbylut" next to me. He is in agony.
Medics start to treat our wounds. Mine, both buttocks shot, a bullet came in my left one and went out the right one. Up to today this wound is the object of jokes. I don't know what is going to happen next, neither will I be able to walk, so I start cleaning my Parabellum as my Thompson has already disappointed me. I planned to kill one or two Germans or Ukrainians serving under German command. And then, either they shoot me dead or I shoot myself, so I can avoid a terrible death which was experienced by one of our fellow soldiers, who was wounded before jumped to the church. We heard his screams while he was tortured.
When laying on the coffin slings in the church, I thought I had an hour of life left, at the tops. I remember it perfectly. I was thinking as I had nothing better to do and the place was appropriate.
More or less about 1942-1943 I lost my faith in God who allowed the war atrocities happened which I observed. Will I pray? I decided, I won't. If I am wrong, then God should congratulate me bravery. Up to now I have not met him. It will or it won't happen, but I won't write about it.
In the meantime, "Morro" and "Trzaska" made a decision and about 6 a.m. an order was given: everybody runs in complete silence through garden behind the church and get to a building at Alberta Króla Belgów Street (somebody told me after the war that it was Zamoyscy Palace building). Palace or not, the building was completely burned down. I was lucky, bullet didn't touch the bone. Barely, but still I could join the unit.
Germans didn't know where we went. We can see their legs through basement windows. We are not allowed to speak, cough, moan or move. The building walls, heat up by the fire, are like radiators which are absolutely obsolete at this time of the year. It's hot as hell.
We wait. How long and what for? At 6 a.m. we went to the basement and at 10 p.m. we left this damn basement. About 11 a.m. Germans heard a noise.
Just in case, they threw in a couple of grenades. Explosion and then silence. Luckily, no losses on our side. We hide in the basement and wait, coughing dust. Explosions again, short rounds at our windows and silence again. No matter what, Germans are afraid to enter the building.
Our medics give the rest of water to the wounded. "Bor" (Zygmunt Siennicki) moans, we cover his mouth. Silence, silence, this is our only chance.
Sweat floods our eyes, wounds hurt, grenades are thrown into our basement every half an hour are our only "entertainment".
It was probably the longest day in my life.
21.00 hours. Stand up, repeated quietly. Is everybody present? We come out quietly through a small basement window leading to the garden.

Halt! We lay low. Two German gendarmerie trucks drive about three steps from us.
Jump. We form a marching column and move out. Trenches and German positions are everywhere.
It's night again. German uniforms and helmets we are wearing cause no suspicion (white and red armbands are taken off). We approach Marszałkowska Street. We have to cross the street.
Halt! German barricade across the street.
"Dobrosław" (Jan Więckowski) of "Zośka" approaches the guard. And asks in perfect German to show him the positions of those "Polish bandits". He says we are a special unit sent from German command at Brühl Palace.
Parole (password) asks the German. We don't know the password, we were sent urgently and gave us no password, "Drogosław" gets nervous.
Jawohl (yes, sir), you can go, says the German.
Królewska Street. Jumping through the ruins reminds me of my wound. A shot from the insurgents' defensive lines and one of us falls dead. We run and scream: Radosław, don't shoot! Luckily, they believed us and stopped shooting. We are Downtown.
I found out later that Janek Bagiński ("Socha") and two young men were left in the basement. Whispering order didn't reach them. Their position was far from the main group as they guarded the other end of the basement. "Socha" together with those two boys went the same way, crawling from time to time, and luckily got to Królewska Street.
Reception of our group was enthusiastic and together with the Królewska Street insurgents we even sang "Boże coś Polskę" or "Rota" (Polish patriotic songs), I don't remember, as I was in hurry to get to the hospital, but the welcoming ceremony was priority. And then my wounds were treated as I demanded it. And this way I got to the PKO building (where we supposed to be on the second day of uprising), where hospital was located in basements.
It came out that the Maltese Hospital, my second hospital during the uprising, was evacuated Downtown and located in the PKO building. Nurses recognised me, warmly welcomed me, washed me, treated my wounds, and registered my old and new injuries. They were really nice. After three sleepless days and nights I was shattered, but that night I could not sleep.

1st of September, 1944

On that day, a surgeon opened a tunnel in my left buttock by cutting the skin and flesh. I don't know why he does not do the same thing with the right one. Almost a year later, when I already was in field hospital, I only could sit on one buttock, as I said before. I had an ulcer on the right buttock and when it perforated, a piece of fabric which was dragged into the wound by a bullet which wounded me, finally just came out. It went "overground" as we did during the uprising.
Two or three days went on. I started roaming again and look for my friends. For the time being, we were left for recess Downtown where building were still standing and there was even glass in the windows.
In comparison with the Old Town which was turned into a sea of bricks and burned down buildings, it seemed like we were in an untouched city.
Some unit from Downtown invited three of us for dinner to tell them about the August fights. Each of us was sitting at a separate table and when the alarm sounded (there was no alarms in Old town as they would need to sound non-stop). In a blink of an eye, everybody disappeared from the room which was located underground. Only us three left at the table (Janek Bagiński remember that thing and reminded me recently about it, and said that only put helmets on which were under the table).
Before I write on about my further fate, I must tell about my friends who left at the Old town. The overground pass, opening a way by us, was unsuccessful. The walking wounded, even wounded soldiers of the Home Army, they had to enter sewers. I did not experience it myself. Kolumb (Sobieszczański) with injured leg, Stasinek Sosabowski led by his wife, our doctor Jurek Kaczyński got that way Downtown. I was told about this trip. They walked through sewers in the stinky dirt which was reaching over their waist, sometimes they had to go on their knees as the sewer was too short to stand up. The wounded were exhausted and as a result of that they collapsed and drowned. Sometimes doctors injected them with a morphine overdose to save them from drowning in the dirt. It was nightmare, but many of ours survived. Germans were shooting dead all insurgents, even the wounded in the hospitals. Residents of the Old Town could leave Warsaw but could not take anything with them.
Our severely wounded friends stayed at "Krzywa Latarnia", hospital based in a basement at Podwale Street. "Remec" (Olgierd Ceperski) and about fifteen others were told to come out and lay down on the street ("Remec" told this story in 1945). Germens went down to basements and murdered all the left wounded. They had the same intention when they approached those were laying on the street. When the commanding officer approached him, "Remec" blessed him with the sign of the cross. Surprised officer screamed: what are you doing?! And "Remec" said: I am a priest. I know you are going to shoot us all dead, but I bless you and forgive you...
This genius trick saved the whole group. Even the German officer was impressed with the courage and mercy of a "Polish priest".

After that, they were evacuated to a hospital in Wola where "Remec" still was a "priest". The hospital patients ask for a prayer. The "priest" had not prayed for years and while saying "The Our Father" forgot to say: and forgive us our sins as we forgive our …". Patients applauded him, and obviously they thought it was intentional and addressed to Germans.
Nurses at the hospital in Wola placed "the priest" in a special room. Of course other injured priests wanted to know what parish he was from and what seminary he finished. "Remec" had to tell them his story. After he had told the truth, he was transferred to a room with ordinary patients and nurses were not too fond of him, pretending to be a priest is cheating, despite the fact that it saved fifteen lives from certain death. There are things you simply don't do.
I come back to the chronological order. When I was leaving the hospital in the PKO building, I found out that "Stasinek", "Kolumb" and some others are in hospital at Marszałkowska Street, on the other side of Jerozolimskie Avenue which were under the German fire from the Poniatowski Bridge direction. It was difficult to cross the Avenue as the dug-out through the street was only fifty-seventy centimetres deep, there was a tunnel underneath the dug-out therefore deepening of the dug-out was impossible.
Thanks to warehouse at Stawki, there was no problem with food, especially sugar, in the Old Town. When we arrived Downtown, the district was suffering a serious lack of food. One day, someone borrowed my Parabellum and went hunting, someone saw a badger dog. He came back with no trophy. Another time, a hen killed by the battles and landed on our table. It came out that it must have been killed long time before it was found. It had to be cooked several times before we could eat it. However, I participated in the feast only by the sense of smell.
Roman Mularczyk visited me at the hospital. At some point, he met Józef Rybicki and asked him if knows anything about Stanisław Likiernik. He knew nothing. Roman explained: he's called Machabeusz (and this pseudonym was given to me by Rybicki what I discovered already after the war). And "Stary" (Józef Rybicki) gave him my address at Marszałkowska Street. I gave my Parabellum to Roman as I thought that my fighting time is over. But I was wrong.
Someone came to visit us. Told us that fifteen boys from our unit are able to fight and had gone with "Zośka" battalion to Czerniaków. Our guest was encouraging us: there is a lot gardens, vegetables, tomatoes, there are vitamins, and finally our wounds would start to heal. "Stasinek" - a blind, "Kolumb" - leg injury and immobile, so it was up to me to check whether it was worth to change hospitals.
Limping, as I had wounds from Wola plus "tunnels" in my lower back were causing me a lot trouble while walking, I got to Księżeca Street, there was a dug-out which led to Czerniaków, corner of Rozbrat Street and Szara Street. Gardens located the opposite side, up the hill towards Sejm were seized by Germans. My arrival caused a surprised: what for did you come here, Germans just started their attack on Czerniaków, should have stayed Downtown.
On the day of my arrival, 7th of September, the road to Czerniaków was cut off. This was a new area to be conquered by Germans. After Wola and Old Town, Germans chose again a district where "Zośka" battalion was based along with my unit and myself from that day.
The first day in Czerniaków I spent in a building at Szara Street, two-three hundred metres from the front line at Rozbrat Street. I was resting. I was visited by a priest, I suppose it was Father Paweł (Józef Warszawski). He wore a German camouflage uniform ("panterka") as everybody, he had been with "Zośka" battalion throughout the entire combat route. He had plenty of time, me too on that day. We discussed for maybe two hours or more about God, religion, Jesus Christ. Especially eloquently, Father Paweł talked about Christ and his love for us. There is no way to question what he said to us. We have to believe… Unfortunately, I was not graced by God. I was attached to my agnostic beliefs. Experience I had at the St. Anthony church only strengthen my lack of faith. I finished my discussion with the priest with a question: Father, is uprising lost? Yes, undoubtedly - Father "Paweł" replied, so I said: let's surrender then. Father replied: no, my son. So, I don't capitulate with my beliefs either - I said. The priest said: think about it, if you change your mind, you can coma and take part in a communion, our discussion replaces the act of confession.
Obviously, I did not take this opportunity.
German planes started bombarding the area. I saw them through the window, they lowering, leaning left and right, and dropping bombs. They were perfectly visible. An explosion two hundred meters before us, and another explosion two hundred meters behind us.
On 9th or 10th of September, "Śnica" (Górecki) came to my quarters and informed: Janek Bagiński is wounded. Can you replace him and defend the half of a building on corner of Szara Street and Rozbrat Street?
So, I was back in action. I walked the positions, improved something, but my mobility was very limited. I had no Parabellum any longer. I got another revolver which I put under the bell on my belly.
At some point, Germans started their attack supported by a tank. When they ran over to our building and were entering Szara Street, "Kryst" (Czesław Kraśniewski) threw at them a bunch of grenades from the first floor balcony. He killed several of them, the rest withdrew. One of the dead soldiers laid on the street in about two-three metres from the window of our basement. "Irys" (Irena Wnukówna) despite my order, the risk was too big, crawled outside on the street in order to take away the demised soldier's rifle and ammunition. She made it.
A moment after we repelled the attack, I came into the courtyard at the time when a mortar shell hit the courtyard. The splinters killed a boy from "Zośka" and torn off the leg of one of the girls. I was standing afar from them and I was sprinkled from head to toe with the splinters but rather small ones. One of those splinters hit my right shoulder and paralysed it.
This fact saved my life. I was really decided to shoot my head next time I am wounded. I sick and tired of hospitals, dying people next to me, unnecessary sufferings. One way or another, we were all to die (I did not take capitulation into consideration). It was very inconvenient to pull the gun with my left hand. And when I finally manage to pull the gun, Zosia and Danka were standing next to me. They took away my gun and started to pull the splinters, plenty of which I had inside my skin. I had them all over my body, even in my private parts. Zosia kept in her memory that "splinters pulling". The splinters were small and I have children. I pulled myself a small splinter which hit my face only a centimetre from my right eye.

Danka and Zosia decided to move to hospital at 2 Okrąg Street which was located about 500 metres from where we were. They had to carry me under fire. A sniper, hidden somewhere, fired at us. I told them: don't look after me, he will shoot you and all of us we will be wounded, run for your life. But there was no way they would change their mind. Besides, throughout the entire uprising they showed a great courage. At the Old Town I saw myself a seventeen or eighteen year old girl took a man from the fire, and that man was huge.
Luckily for us, that sniper was not accurate and I was carried to the hospital. I was laid in a basement, next to another wounded. Apart from other wounds, I had a splinter in my belly, I could not eat or drink. At some point, I probably fainted. I returned to consciousness when a volunteer nurse was taking off my trousers, complaining I was a filthy boy. As far as I know, while I was unconscious I did not control my physiological needs.
Again, exactly the same like at the Maltese Hospital, I had only a shirt on. But this time I could not walk, my left leg was injured by a bunch of splinters. I heard very clearly German shouts coming from the building entry.

A young Home Army soldier was passing my basement. I called him and asked to help me get out of the basement. I held his neck with my left hand (the right one was paralysed) and that's how he managed to drag me to another basement, further down from the entry and opposite side of the corridor, which was not facing the street. There were two women looking after their husbands. At the time I arrived, they were having an apple compote. We still heard German screams. I thought: one more compote today, and asked those ladies for some, and as they did not know I was not allowed to have it, gave me a full cup of it.
In the meantime, a Goliath (tiny tank filled up with explosives and electrically operated) exploded by the basement where I was few minutes before. A wounded who was there with me was caved in for sure.
By accident, I was seen and recognised by a passing close friend, Irka Minkiewicz. She was a certificated nurse (later on finished medicine), and decided to move her friend to hospital located in the basement of building at 14 Wilanowska Street. She ran for help and I was moved to the hospital on a chair which was used as a stretcher. Our doctor, Jerzy Kaczyński, was there as well, and some nurse which remained in my memory as an absolute beauty. Obviously, Jurek, disallowed me to eat or drink anything and his diagnose was: peritonitis. I think I got to the hospital on 14th of September, but I am not absolutely sure about it. I don't know why but they left me my marching boots with laces (those boots played a huge role later on), especially I could not walk at all.



At the time, three important events took place:
1. Polish Army (General Berling's Army) and the Soviet Army captured the right Vistula bank opposite of our positions;
2. Several kukurizniks (small planes which engines made noise similar to that done by motorcycles) dropped bags with food and weapons but those were just dropped from the plane without parachutes. So, the drops landed damaged and we needed those drops badly;
3. Few companies of the army under command of General Berling crossed the river and landed on our side of Vistula. I saw a couple of them in my hospital basement, they talked with Lvov accent. They totally did not know how to fight in a city and sustained a terrible losses. They crossed the river at midnight as an order from their Soviet boss did not come through. Finally, waiting no longer, Berling order the crossing by himself, but it was already dawning.
In our situation, this help was in accordance with Stalin's politics: give Germans time to eliminate the best Polish forces.

The wounded in the basement at Wilanowska Street
At this point, I leave history by the capital H and come back to my personal history.
I don't know the exact date when our friends still able to fight had no choice but to leave us and we left waiting for the enemy to come. We all knew what it meant.
There were three people in our basement plus Irka Minkiewicz and that beautiful nurse about whom I know nothing else. There was also a female doctor who I didn't see, as I could not move from my basement.
I advised my fellow soldiers, as I had previous experience, to get rid of everything what was the German uniforms, otherwise if they see it, it will mean death. It needs to be mentioned that on 1st of September (why so late?) the allies released an official statement in which we were given full combatant rights and were considered as a regular army. According to the Geneva Convention, Germans had rights to execute civilians captured with guns in their hands. Later on you will find out that our rights were not respected by Germans, at least on Czerniaków.
After our friends left, we were alone for a couple of hours. Then we heard German screams: Alles raus! All people able to walk were ordered to come up. At the same time, we heard sounds of army boots hitting the floor, shots and screams of wounded being shot dead in a room next to ours.
Irka and the other nurse did not come out, despite the order. Some German soldier saw them, stood at the door, gave them a signal to stay where they were and told his comrades: finished, here. After the war, I found out from Irka that she knew this soldier's surname, it was Freitag.
Some time passed by, maybe an hour, maybe two hours, and suddenly a German Sergeant (Feldfebel) got into our basement. I was seen as the first, wounded and alive, it was something unreal. He saw my boots about which I wrote above. He grabbed my leg and lifted it up to have a better look. He screamed: German boots! And pulled a revolver from the holster. But before he pulled the trigger, he saw another wounded in a quite dark shelter and said: second bandit. Luckily for me, it was a quite unorganised man for a German. Before he finished one job (with me), he got distracted by another wounded. The third of us, far older than us and speaking fluent German, once heard the Sergeant saying second bandit, he said: but no, we are all civilians.
A cow speaking the human language would not have surprised the Felfebel more than those words. He asked: are you German? No, but I speak German. So he said: Your papers. Pan Burchardt had his ID, we did not. Your name is German. And this began a polite conversation about the origin of the Burchardt family, their arrival to Poland, etc.
Civilian trousers of Mr Burchardt, shot through where his wound was, were another evidence that he was not a soldier. In fact, minutes before the German soldier arrival, he had an army trousers put on civilian's he threw them out a moment before Germans came.
We were saved. We were in the basement for three days. Feldfebel and other German soldiers came to visit us. It came out it was Strafkompanie, i.e. a penal company consisted of the politically suspects and convicts charged serious crimes and offences.
My "almost a murderer" told me in French (it was the only language we could both speak and our French was very poor) that his parents have a hotel in Rhine. He never told them he fought in Warsaw. His French was better than mine as he lived very close to the French-German border. He was sent to the penal company for slapping his Lieutenant. His French girlfriend cheated on him with this officer. As a penalty, he was sent to the East front and then Warsaw.
Other German soldiers came too. One of them, a Silesian, spoke Polish and his name was Romanowski. This one, it seems, was a politically suspect.
My unshaved-for-several-days face was covered with hair. I thought: another German may come and shoot me dead for an untidy look, you can never tell. So, I asked one of the visiting us German soldiers for help. That soldier was almost crying while shaving me, as the blade was blunt and it hurt me. At first, he wanted to give me a small beard but eventually I managed to persuade him to shave me clean.
A day before, the same soldier who shaved me was given an order by the penal company commander, and shot dead the wounded soldiers.
One German soldier forgot and left a bunch of hand grenades in our basement, and we kindly gave those grenades back to him. Another soldier sat on my bed, he was a bit tipsy and said in German: I regret I am not Polish, if I was, I would have been an insurgent as well. Obviously, I protested and said: I am a civilian, and not an insurgent. He patted me on the shoulder and went away.
The district was under the Soviet artillery fire, their artillery was located on the other side of Vistula.

Evacuation of Czerniaków
Finally, we were carried out of the basement, but I am unable to tell when it happened. There were ten of us out of over a hundred. We were laid in the courtyard of a building. The adjoining building was just burning down. Suddenly, we heard moans coming from that building. A German officer risked lives of his soldiers and sent them to the building where burning beams could have fallen on those soldiers' heads at any time. They barely dragged out of the building a Pole in civilian clothes. He was half-alive and was brought to the officer. The officer ordered to execute the survivor, he said that he was a soldier as he had wrinkles on his jacket's right shoulder. The same soldiers who saved him and took him out of the burning building, took him aside and then we heard a shot. Befehl ist Befehl (an order is an order) as the old German saying says.
We were waiting to be evacuated, but when and where to? At some point, two Poles along with escorting them soldier approached and put me on stretchers. It happened so fast and sudden that I had no time to say goodbye to Irka and the other nurse - that beautiful one.
I was laying on stretchers and I was carried on the bearers' shoulders. There were also an elderly man coming with us. I did not see him but I heard a German soldier shouting at him: Schnell, schnell! That elderly man had a leg injury and could not keep up with us. I heard the soldier loaded his rifle. A shot, the elderly man got killed because he walked too slow.
I was carried somewhere through Ujazdowski Park next to The Army Hospital where Stasinek and Jurek Kaczyński studied medicine to become army doctors. When I was carried, I saw from certain height a lot drops dropped a couple of days ago which landed in the area held by Germans: weapons, ammo, dressings, parachutes were still there. The help so needed ended up at the wrong address.
Planes coming from Italy had only few minutes to drop their load over Warsaw, and it was because they had very limited amount of fuel, so they had to drop as soon as possible and go back. Stalin refused the allies planes to land on territory held by the Soviets. They replied: there was a lack of landing grounds.
I finally was carried to Szucha Avenue and laid on the floor, by the door of a building which was located opposite of the Gestapo Headquarters. Apart from me, there were also five other wounded, among others, a girl who was wounded in the lung with a dum-dum bullet (a hollow point bullet which upon entering a target penetrates and disrupts more tissue than a normal bullet).
This district of Warsaw was untouched by the fights as it had been held by Germans throughout the entire uprising. Sometimes, a shell shot by the Soviet artillery located on the other bank of Vistula exploded in the area, but impression of calm and silence, after the last seven weeks, was overwhelming.
A SD officer (Gestapo) walked with his dog. He stopped next to us and asked in fluent Polish where we were brought from, etc. A young boy, sixteen or seventeen year old, who laid next to me told the officer: I am a civilian, I was not treated, only the Home Army soldiers had a good care. I did not like such talks of this boy, almost denounce. My dressings were changed before we left the basement, the dressings were made of paper but they were clean and fresh. The Gestapo officer did not react and went away.
Night fell when we were brought down to the Gestapo basements where people I knew and people I did not know were tortured. A doctor who spoke Polish treated my numerous wounds and asked no questions.
Then, we were put onto the German army medical vehicle and taken to Hospital of Dzieciątko Jezus which was ran by nurses. We got there very late, I think it was about 23.00-24.00 hours, and we were put in the front building where was pitch-black as there was no electricity. At dawn, only me and the seventeen old boy was alive. During the day, the boy died. I was the only survivor out of the whole transport of wounded.
I was in bed by morning. It was 25th or 26th of September. It was getting cold and there was no doors in the hospital at all. Patients had to be moved from the walls as the rain fell on them.
Health-wise, I was not in best shape. The right hand was paralysed. None of the wounds was healed, neither these from 4th and 31th of August, nor that one sustained on 11th of September. By accident, I discovered that my right hand ring finger about two centimetres above the joint was moving funny. Doctor said: you have a broken finger, I did not realised that. He put a piece of wood on it, and the finger healed crookedly and even today is still crooked and leans right.
Dressing changes during which I was naked with the temperature from 5 to 10 degrees, often lasted about an hour. My belly injury somehow healed itself. One day, a fountain of pus flooded out through the splinter entry wound. And the splinter probably came out with the pus. I don't know. After a long break, my belly started to function as normal. Against the doctor's diagnose, I lived through this.
There was a lack of food in an overcrowded hospital. Nurses had more work than they we able to get done. Soup, the only food, was put on my chest and I had to eat it with my left hand without spilling it what wasn't easy.
On 2nd of October, there was news: insurgents signed a capitulation and will be taken to P.O.W. camps in Germany.
I could not believe the news, but after a few days it came out to be true. Civilians had to leave the city practically with nothing. Many of them were taken for forced labour in Germany. Certain transports, for reasons unknown, took part of the Warsaw civilian residents to concentration camps.


author: Stanisław Lakiernik

text selected by: Wojciech Włodarczyk

translated by: Janusz Kocerba


Copyright © 2018 SPPW 1944. All rights reserved.