First-hand accounts of the Warsaw Uprising
War reminiscences of Zbigniew Galperyn - a soldier from "Chrobry I" Battalion


Further destiny

---



Zbigniew Galperyn,
born: 1929.05.18, Warsaw
rifleman, a soldier of Armia Krajowa (Home Army)
a.k.a. "Antek"
battalion "Chrobry I"

After 2-3 days a young boy visited us and started persuading us to leave Warsaw. He said hospitals had been created near Warsaw in Milanowek and in Podkowa Lesna and they could transport us there. There was electric light, proper care, food. We should not stay in Warsaw, because soon it would get even worse that it already was. There would be no water, there would be no light.
On second thoughts I and several others decided to leave the city. A complete surprise awaited us. We were put on stretchers in a coach that had driven up. The stretchers were laid on the backrests of seats so that more of them would go in. It was possible, because the stretchers had firm horizontal bars. A German in the driver's seat, two Red Cross flags. They were transporting us through Aleje Jerozolimskie to Dworzec Zachodni. Through the coach windows we saw debris piles everywhere, burning debris piles.
On Dworzec Zachodni we were carried from the coach into a suburban train. Already without the stretcher, I was put on a bench. The train set off. After the next braking I saw that a small onion was rolling on the floor forwards and backwards. After yet another braking of the train I managed to catch it. It was probably on September 10th. Since the beginning of the Uprising I had not eaten vegetables. I ate that onion with a great pleasure. It was a pure sweetness.
We reached Pruszkow. The train stopped. We had already heard that Pruszkow was a camp. However, after a moment the train set off, we went further. That boy had said but truth about those hospitals. We were taken to Milanowek. The train stopped. On a platform in Milanowek waited a crowd of hospital nurses with stretchers.
I was put on a stretcher and taken to a large hospital next to railway tracks. It was a Red Cross hospital named "Villa Gloria". A large hospital. I was carried to the ground floor. The doctors, the beds, the white sheets. The local community. Wonderful. On afternoon snacks they would bring us the cakes baked by local women. We would even get cacao, we were being supplied addition nutrition.
I came in a very bad condition, with bloody dysentery. I could not eat anything. One of the local volunteers, a young girl about 18 years old claimed that on my stomach I should eat chicken broth, and not an ordinary food. But how should I get it? Fancy, her sister came the next day and brought, in mess-tins, the dinner from home. It was a broth with noodle and chicken. That younger, about 16-years-old girl would bring me a dinner in mess-tins every day. They must have lived somewhere nearby. That set me on my feet.
In the hospital in Milanowek we were lying in ordinary beds, not the bunk ones. After the end of the Uprising, around the end of October, the doctors went somewhere to obtain dressings for the hospital. One of them brought pants, which he gave to a man that was lying next to me so that he would take them in. As it turned out he was a tailor and remade by hand the pants for the doctor. He taught me hand-sew buttonholes. I was skilful in manual works and I was so successful with this job that the tailor started persuading me: "You must become a tailor, it goes you so well." In order to be useful I also helped rolling up bandages. My hands were but fit. After washing bandages still had the stains of blood and pus, but they were soft and could be used again.
The beginning in Milanowek had been very good, there was electric light, specialist equipment worked, the food was not bad either. After some time the situation started to get worse. The light was off at various hours, the food was short in supply. Those who in principle did not have to incur Germans' displeasure were being urged to leave.
"Listen, go to Cracow. There is everything, light, good food. You're from hospital, wounded, nobody will take you anywhere." And without any special consent from my part I was signed for that departure. The goods wagons with bunk beds were waiting. I was walking then with crutches. I was dragging the right leg, I could not bend the knee. On the left leg I could lean on and somehow I was hobbling with crutches. Somehow I scrambled into a wagon, on a lower bed.
There was a heater in the middle of the wagon, it was the end of the October of the beginning of the November and it was rather cold. On the heater there was a tin with the coffee. The heater was attended by a German, a private soldier. On train halts, when the train stopped, he ran with a canister to get water and restore the coffee supply. We were given it, while sitting on beds.
In the wagon we had coeducation, women and men together. I'll never forget a girl sitting with me in the same wagon. A pretty face with thick hair. She had a headscarf on her head all the time. I told her: "You have such nice hair. Take the headscarf off." She did as I had asked her to do. She had only a wisp of hair in the front. The whole head in the back was shaven to the skin. A German grenade exploded near her, a concussion one. She had the whole her back wounded with bigger shrapnels, and in the skin of her head lodged the smaller ones. The sight was appalling.
We were riding from Warsaw to Cracow 36 hours with breaks, during which the supply of water was filled up. In the corner of the wagon stood a bucket, which everyone used. We were riding actually without food, we had only been given a sandwich at the departure.
At last we reached Cracow. Those who could not walk were carried to a camp, on Montelupich Street. I could recount that I was in a camp, but this is not completely truthful. A bath house and a delousing chamber were there. Our clothes were hanged on special tin hangers and then they were transported to special chambers where they were heated up, killing the insects. At the same time we were taking shower, the water was falling down from the shower strainers placed under the ceiling.
After the shower I hobbled with crutches before the table where the qualifying committee was sitting on. German doctors, wearing white smocks on uniforms, sitting at the table, decided the further fate of newcomers. They examined my bandaged legs and decided that I was no good. I was called to the table and the stamp with the letter "K" - "Krank" (ill/sick) was placed on my hand. I was qualified for care at the hospital.
I was transported with the others to hospital in Cracow. The hospital closed, a German guard near the entrance. A lot of civilians were lying in there. I remember one of them. He was a civilian that had in 1939 both legs amputated below knees. An ordinary plain man, he liked to drink a bit. For this purpose he was going outside the hospital. It was illegal of course. One could not leave near the guard. In the back of the building there was a wooden fence. The bottom nails fastening the two of planks were sawed off. The planks could be set ajar and that way one could get outside.
The cripple would often use this way to get to the city. He would come back tipsy and then the hospital was all his. He would take his artificial limbs off, which were not comfortable as they were chafing his stumps. Carrying the artificial limbs along under his arm, he was roaming through the hospital. This is how life looked like there.



postcard from hospital in Cracow

One day a representative of the then ZUS (pl. Zaklad Ubezpieczen Spolecznych; eng. Social Insurance Institution - translator's note) visited me. People who were officially employed were paid a sickness benefit for the hospital stay. The clerk was asked me about my remuneration and suggested additional benefits: "Maybe you were having breakfast in the workplace? Maybe you were getting dinner there?" In that manner the notified sum was getting bigger. A couple of days after his visit I received some money from ZUS sick benefit. I still have that slip of paper.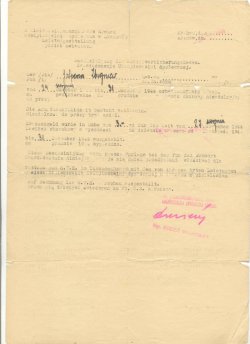 certificate from ZUS in Cracow

In the hospital I met a friend from the Uprising. At first he had an arm in a traction device, then in a sling He was a good friend of mine, even in the school days. He said to me: "Listen, they send those almost or fully recovered to camps in Germany, and the healthy ones to work. Two or three weeks and they will take me for sure. We should run away. " Where to? - Obviously, to the partisans in Kielce Voivodeship (a type of administrative division - translator's note), to the "Jedrusie".
I was not sure whether I could do that. I was barely walking. Apart from that, I did not have clothes that would let me to go out to the city. The whole ward chipped in. He was in a better situation, he only had an arm in the sling. I borrowed shoes, pants, a jacket and we left the hospital. He had already established the first connections. Near the Old Town Market Square, in a house which I remember vividly even now, a dental technician lived. We went to see him and we got an address in Kielce Voivodeship.
I asked him to provide me with some clothes. He gave me low shoes, clothes and money for the ticket. The day we chose to escape the train did not set off until the evening. Walking around in the city we got across a gendarme patrol, but somehow we managed to flee from them. Finally we got into the train and arrived to a village near Radomsko. There we stopped.
Unfortunately, my unhealed wounds did not let me go further. I told my friend: "Listen, I am going back to Milanowek, to hospital. They know me there and they will receive me for sure." We parted. After a couple of transfers I arrived successfully in Milanowek. Before that, on the one of the transfer stations I had used the help of RGO (pl. Rada Glowna Opiekuncza; eng. Central Welfare Council - Polish social organization - translator's note.) Where it was only possible, RGO was organizing medical aid posts and food distribution points. I wanted to change the dressings. There was a nurse in the medical aid post who, as it turned out later, practically did not know how to do anything. I took off the pants and told her exactly what to do: "Take off the bandages, please; now Rivanol, a yellow ointment that heals, rub the leg with ointment, please; bandage it, please; change it all." The wounds did not look good.
After the arrival in Milanowek familiar doctors took me to a ward without the slightest problem. I heard from patients that all the friends from the uprising had been given soldier's pay. In December, just before Christmas, a payer had come and paid the overdue soldier's pay out. I was passed over. The food supply was getting smaller. One of men had long boots, sold them and there was food for a group for some time. He himself was severely wounded in the back of the head, the doctors cut a bone out. Friends comforted him that after the war they would put the metal plate in and he would live with that.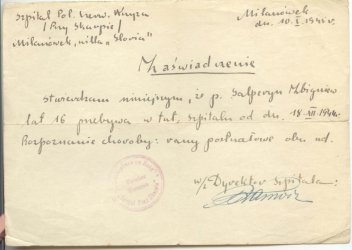 certificate from the hospital in Milanowek

Another one had his left hand in a traction device. He kept asking everyone whether he was moving his fingers. He had graduated from a musical school and for the whole life he had played violin. Left hand, he would not play. Or maybe the fingers were getting better, maybe he would play? That was what he was constantly thinking of.
Friends started recalling their experiences. One of them had been in canals, he had got lost. Because he had been walking in the mud, the unhealed wounds on his legs had become inflamed, he had got high temperature and the inflammation of the whole body. He was telling that they had had hallucinations because of hunger. There are handles in inspection chambers in canals. They had been hallucinating that those handles had been shelves stocked with bread. After reaching a "shelf" it had turned out that it had been an illusion. Such and other tragic stories could be heard back then.
Till the March 1st, 1945 the wounds on my legs were healed. On March 2nd or 3rd I left for Warsaw. I was already walking without a cane then. I arrived in the city by a train, riding on the roof, because it was so crowded. The trains reached the Dworzec Zachodni (Warsaw West Station). The smell of burning was in the whole city. And the first incredible impression. Near all the gates, on the remaining walls - millions of slips of paper. It was correspondence: "I live. I am here and there. This and that were taken away."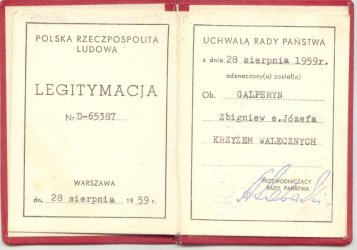 the Cross of Valour certificate

A new life started also for me.


Our group started the Uprising in 10, even in 11, counting a messenger. 6 of us survived the Uprising, only 2 had not got wounded.

Died:
- the corporal (officer cadet), the group leader, volunteered to repair a tank, died in Wola District,
- the boy I was sent for, later he joined the group and died in Wola District,
- the messenger "Maria", who had been slightly injured and helped the medical crew, died during the bombing of Simons Passage,
- N.N. died in the Old Town,
- N.N. died in Srodmiescie District.

Survived:
- Leszek Czerny failed to arrive at the rally point, he got wounded in Srodmiescie District,
- Jerzy Jaskiewicz got wounded in Wola District, he lost an eye,
- Zbigniew Galperyn "Antek" was wounded in Simons Passage, he got to the hospital in Milanowek, and later in Cracow,
- Zdzislaw Galperyn "Zbigniew" the older brother of "Antek" got wounded in Simons Passage, he was taken to a prisoner-of-war camp, prisoner nr. 105306,
- Antoni Kowalski "Lubicz" he jumped out of a train that was transporting the insurgents to a prisoner-of-war camp after the surrender,
- Jozef Kuczynski "Andrzej" was taken to a prisoner-of-war camp, prisoner nr. 105305.

Zbigniew Galperyn

translation: Paweł Boruciak




Zbigniew Galperyn,
born: 1929.05.18, Warsaw
rifleman, a soldier of Armia Krajowa (Home Army)
a.k.a. "Antek"
battalion "Chrobry I"

Copyright © 2010 Maciej Janaszek-Seydlitz. All rights reserved.