The insurgent accounts of witness
My war 1939-1945


---
Janusz Walkuski
born 3.01.1934 in Ciechanów

Froim
In the spring of 1940 I was smuggled to the Reich for the first time. I went to Ciechanow in a familiar Volksdeutscher's care.
At the beginning I was with paternal uncle Vick as aunt Mary moved to "Wasserwerke" (filter and pump station) - it was probably connected with uncle's job. Soon through "the green border" mum arrived- the move was finished we got all accommodated in that flat on the above-mentioned "Wasserwerke."
The building was near the river, by the bridge (a wooden one) through which Pultuska Street was crossing. Several dozen metres from the house there were two huge swimming pools. Going along the path beside the swimming pool one reached a concrete spout that reinforced the opening of water to the canal, delivering it to the settlers. It was an amazing place for playing games! The thing I liked most was sitting on the concrete spout and looking at mysterious ruins of the castle and over the rooftops one could see a small turret of a town hall situated in the corner of Ciechanow market square. Noises of the steam engine were heard in the nearby mill and a brewery smell of beer.
On "Wasserwerke" terrain many peers were coming willing to play and bathe. I had various friends: Ciechanow-boys, German-boys, those not so long ago coming to "Zychenau." There was also Froim coming, a Jewish tailor's son, who had sewn for our family for many years. In spite of that specific personal composition there were no "personal" tensions. Germans were our enemies, cruel enemies, but I didn't transmit that hatred onto my peers. That was why I was surprised when the hatred appeared.
When it happened I started thinking in a mature way. The game was over... Suddenly hatred appeared. Increasing. Hatred to everything that was German!
It started when on the terrain of "Wasserwerke" appeared, "as the name suggests", Adolf, a son of the German Police Chief. He was older than me, two, or maybe three years. His (older) brother was the commander of Ciechanow Hitlerjugend. Adolf came with mother who sat on a bench under a chestnut tree and called my Mother - Haline! Haline! - she took a special liking to her as she was her interlocutor (Mother knew German). It was difficult to rid oneself of her, but she tried to be "grateful," - she gave to Mother a card that allowed to do the shopping in German shops. Mother had never used it - as what her friends would have said? Mundek (uncle) had less scruples, as he was a very savvy boy and he had a flair for business. As he had the same surname he used this card "on a large scale."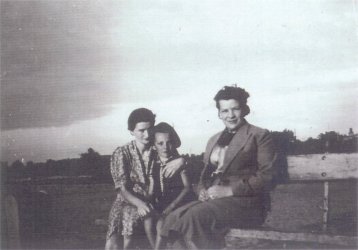 A photograph taken on the swimming pool of the pump station in Ciechanow.
We were sitting with Mother next to Adolf's mother

So that "as the name suggests" Adolf tried to bend us to his will and to impose on us his "style" of playing. Often he came in the Hitlerjugend uniform and then another German-boys followed his example. Games lost their former charm and spontaneity, and they started resembling a military drill. We shot even from an air-gun to the match hammered in a potato - it so happened that nobody could defeat me in it (although I had never before shot with an air-gun).So Adolf started making up different competitions, to which me and the rest couldn't face up due to the considerable age difference - it should be added that Adolf wasn't a physical weakling: he was tall and a well-built boy.
Less and less I liked it, oftener I avoided our meetings.
Once we played dominoes with Froim, we were hidden behind the walls of a dustbin. Froim was more and more scared with this that happened to Jews and got out of German-boys' sight. But we were spotted by Adolf nevertheless. He came. He tipped the dominoes over. He pulled me by the hand - Froim stood undecided ,he didn't know what to do...
- Froim, komm hier! - Adolf screamed - we are going to swim, we'll jump off the springboard! We followed Adolf (unwillingly) but not in the swimming pool direction, but to the group of boys that was awaiting us.
And here everything started!
They surrounded Froim, pulled off his clothes. Froim hunched and started crying. They pushed him into a dump of high nettles. I started scolding them, I pushed Herman away that was standing on Froim's clothes, but Herman and Adolf twisted my arms, and probably I would have been the second naked in the nettles, but for Adolf's mother that came running up. She told her boy off and the rest of German-boys.
- Mum it's a Jew! - Adolf said. It minimized her passion for being just, but she drove the boys off from Froim, and she took me by the hand and we directed home. When I turned around, Froim had been already dressed and went on the second side of nettles in the river direction from where he could go home.

It was the way my games with German "friends" ended.

Froim I had never met anymore - he went away forever...


Janusz Wałkuski


Janusz Walkuski
in our times

drawn up by: Maciej Janaszek-Seydlitz

translation: Małgorzata Szyszkowska
Copyright © 2011 SPPW1944. All rights reserved.