The insurgent accounts of witness
My war 1939-1945


---
Janusz Walkuski
born 3.01.1934 in Ciechanów

Rainbow
A storm as it had started then it finished suddenly - sun came out from behind the clouds. The last rain-drops that fell on the ground, hitting puddles, made spraying bubbles.
Kids ran onto the street, thumping in puddles and in the rushing brook, flowing in the gutter towards the sewage grating. Flies screamed: "May little rain is falling on children's heads!" Courtyard bugaboos - to which I belonged as well - didn't deprive themselves of the pleasure of a mutual spattering with water.
Suddenly, Kazik stopped and put his hand up in the sky.
- O, gosh! Look what a rainbow!
- Kiss German arse! - Zbyszek screamed, cutting water stream towards him.
To such an insult Kazik couldn't turn a deaf ear, he approached him and hit him on the nose! Blood trickled down from the nose and Zbyszek ran home with a scream.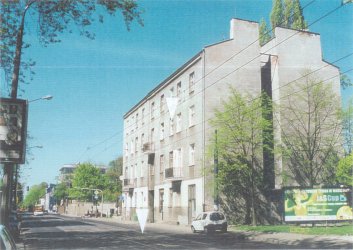 A house at Mlynarska 34.In the gutter we were spattering in the storm water.
Here Zbyszek got hit on the nose. Kazik lived on the second floor

Soon he came, still crying, with a father showing Kazik, he sobbed:
- It's he who hit me!
It seemed Zbyszek's father would lay into Kazik, but out of the window there had been already looking Kazik's father.
- If you touch him I'll hit you! - cried from upstairs and so the exchange of ideas about bringing up children started.
The place in the window was taken by Kazik's mother who expressed her ideas as well. Father went out onto the street and a mutual search for the truth commenced.
- As he said I would kiss German arse! - Kazik justified himself.

It was a weighty argument.

- As he said "a rainbow..." - Zbyszek defended himself ineptly.

- You shitty poet, you say to your friend he would kiss German arse!?! So I'll kiss you with a stroke on the spot - and Zbyszek's father grabbed the trousers belt buckle.
- Leave them alone Waldek, he was hit on the nose and that's enough - Kazik's father tried to please Zbyszek's father. - Let's wash the insult away with beer! - added smiling and they went on the corner of Mlynarska and Gorczewska Streets to Weitknecht's pub - to "German" as everyone said it...

Weitknecht - German - whose family from three generations had settled in Poland. Forced with sabotage by German authorities to sign Volkslist. Grandfather said to me after the war that Weitknecht (they were close friends) worked for Polish underground movement and his pub was the place where the Polish were bought out from "Gesiowka," "Pawiak" (German prisons) and from another prison at Skaryszewska Street. Also "Little Carol" a pre-war major of the Polish army (his sister was our neighbour) bought gun there from slightly drunk Germans and it was stored in the scrap metal store at the corner of Leszno and Mlynarska Street. Weitknecht delivered smuggled food to the ghetto, across the terrain of an evangelical cemetery at Mlynarska Street.
When the war ended, detained together with a daughter, released on guarantee, despite a resolute will to stay in Poland, deported to Germany.


Janusz Wałkuski


Janusz Walkuski
in our times
drawn up by: Maciej Janaszek-Seydlitz

translation: Małgorzata Szyszkowska
Copyright © 2011 SPPW1944. All rights reserved.