The insurgent accounts of witness
My war 1939-1945


---
Janusz Walkuski
born 3.01.1934 in Ciechanów

Cudna
Lots of tragedies effaced out of my memory, but this one is still alive.

Having left home at Chlodna Street, when Germans were near we got to the Old Town.
We stayed at friends' on Podwale in the house touching the Paulines' Church. The flat they had shared with us was located in the attic, but soon we had to leave it and start a cellar existence...
Here I met Cudna (= marvellous) (it was the way everyone called her). She was walking a little bit bent, greying hair she wore it in plaits and tied up at the back of the head. She was always dressed in a dark dress and at first glance she resembled a nun.
Lots of time she dedicated to kids, who came to her even from the cellars of the neighbouring houses. She knew many fairy-tales, stories and she was always able to conjure up some titbits!
I thought myself to be mature - I was after all ten years old! - even if I sat in the cellar still my thoughts were with them upstairs, though sometimes I brought into the shared plays. Cudna had an exceptional gift of arousing one's imagination. During her stories we became the participants of the plot forgetting about the surrounding reality.
There were difficult moments as well, when the house was shaking due to the nearby explosions, and from the cracked ceilings debris was pouring out onto our heads- then we repeated a prayer after Cudna:
"Go Lord Jesus, God Father and the Holy Spirit, the whole Trinity and Mother of God - what will happen to them let it happen to us!"

Cudna could always be found there where the help was needed. Once, she had been absent in the cellar for almost a day, she came in the evening exhausted, dusted - she brought milk (!) to an ill child who was so weak it couldn't even cry...
The region of the Old Town was decreasing. All the Nazi squall of fire focused, every now and then, on the smaller space. We almost stopped reacting to the incessant explosions, shooting, earth shuddering with convulsions, shaking of buildings. Omnipresent dust irritated eyes, blocked up lungs, dried up lips that couldn't be moisten with anything. Darkness - darkness with difficulty lighted up by smouldering lamps, burning some old, smelly oils.
It was our world - a faint border between life and death.

I was lying on my shakedown. Probably I fell asleep, as suddenly I felt that somebody was pulling at my hand.
- Mrs. Cudna is calling us! - repeated Jadzka.
I followed her unwillingly...
In Cudna's cellar there had been already some children. Her small group had become smaller in the last few days- there were adults that died, and children that died.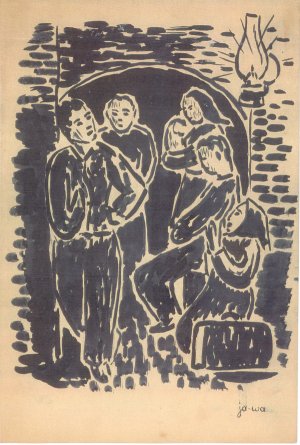 Cudna was looking at us with anxiety, she took us in, and after a while, as if changed she said:
- I've got something good for you!- each of us got a fritter from a hot plate with three lumps of sugar!
I hadn't swallowed hard yet when a hot blast of a nearby explosion broke into the inside of the cellar!
Muffled voices of women saying in a hurry words of a prayer as if in fear of being unable to finish it:
- "Hail Mary full of grace..."
Somebody ran onto the stairs, falling down - those who were near him ran up to him.

People got buried - one wheezed out with difficulty and before they managed to support him he had fallen on the face and died...
Men with crowbars and pickaxes had been already upstairs, disappearing in a shining spot of the exit...

Places for the injured were prepared in a hurry, clothes were torn into bandages, the remains of water were collected and so was the pot of a church wine. The anxiety about the injured was increasing, and also about those who were removing debris sliding down, ignoring the breaking bullets, a hail of brick chips, smashed roof tiles. They knew, they were fighting for people ticked off the list of the alive.

They were waiting...

A vain effort...

Cudna said:
- For those who didn't live to the end of the present day we'll say "Our Father..."
Words of the prayer drowned out the rumble of the explosions...

In the morning Germans forced their way into Podwale. The Old Town died.

With difficulty we were going out of the cellar, rushed by the Germans' screaming. One should hurry up - grenades were thrown into the cellars, those that were about to collapse were finished off. I was intoxicated with the air, the light, this that was happening around me. With fear I was looking in the sky at Stukas circling around like vultures looking for carrion. It was the time of their preying activity, but the bombs didn't fall down... Eyes with difficulty got accustomed to looking at the world. It was a world of an inconceivable ruin. It was difficult to believe in our rescue!

We were driven away in the direction of the Palace Square. I was walking next to Cudna that with difficulty kept her balance on the brick rubble. We went into a narrowing gorge of ruins. On the walls lashed with bullets there is hanging a twisted plaque with the remains of the street name:"...ski Dunaj." Suddenly a shooting breaks up! Surprised people impulsively pressed their bodies against debris - after some minutes we moved forward.
I saw Cudna take off a ring from the finger and I heard a quiet, resonant clanking- it stayed forever in the debris of the Old Town. It was noticed by others and they threw any valuables in the debris as well. We passed indifferently a box on the bottom of which some golden ware was lying. A woman following us refused to take off a medallion- she was hit on the face with a rifle butt! German didn't allow to lift her up...

Soon we stood on Mariensztat Marketplace before the steel muzzles of tanks. We were convinced of our last minutes... Germans finished drinking coffee. They looked at us with an executioner's interest that was to behead the victim. Our funeral procession moved on - in the direction of Wola.

The last time I saw Cudna it was near St. Charles Borromeo's Church. Here I was just looking at the direction of out house where we had been recently living. It was standing abandoned as if its soul had flown out of it... Then I didn't know the Nazi would turn it into a ruin.
When we caught up with our friends at Mlynarska Street - Cudna had been already absent- she died reaching Kercelego's Square.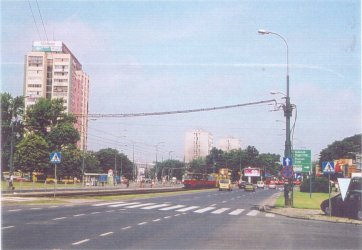 In the inside there was Kercelego's Square. More or less in that place
where the car park is standing, Cudna died

- "Her heart burst' - they said.


Janusz Wałkuski


Janusz Walkuski
in our times

drawn up by: Maciej Janaszek-Seydlitz

translation: Małgorzata Szyszkowska
Copyright © 2011 SPPW1944. All rights reserved.