The insurgent accounts of witness
My war 1939-1945


---
Janusz Walkuski
born 3.01.1934 in Ciechanów

I minded cows in Zychorzyn
We left the Old Town ruins. We were walking looking at this that remained of Warsaw...
I didn't know what I was thinking about I was going ahead...
Eyes were wandering involuntarily around hardly recognizable, well-known places. The Theatre Square was covered with debris - sad remains of the Town Hall, under the skeleton of Theatre the Great two, long-barrelled tanks. On the right Bielanska ruins, an immense edifice of the National Polish Bank incredibly burrowed with bomb and bullets. Senatorska view - in front of the Bank Square on the right side the statue of St. John Nepomuk and hidden behind it burnt, Nazi shop. On the square an armoured car and quite a large group of Germans- looking at us- one with a bandaged head (he got hit!). That gorge of ruins, which we are entering, was a beautiful Elektoralna one month ago - just one complete house on the left. We are crossing Solna. Mirowskie Halls are smoking. St. Borromeo Church can be seen- the main altar churned up with a bomb.
At the back of the church a fire pool filled with various litter. In front of the church a small square next to the shelter built by Germans, one grave by another... Crosses knocked down... Now there'll be our house. We're slowing down. The house battered, but is standing not burnt. The open gate tempted to jump into it! I am holding fast my Mum's hand! Nearby there is standing a group of Russia Asians, probably they would catch us! We are moving further. "Nordwache" is in good condition. The Walkuski' uncleship house burnt( what about them?). "Bialy"'s house destroyed as well. Next to the "Komet" (= a comet) a camp of Russian Asians. The courtyard with uncle Pers' house demolished. Kercelego's Square burnt. The beginning of Wolska - on the right a complete house, just ruins further on. "Venice" destroyed - so are the merry-go-rounds and swings, a wooden little theatre "Chochlik" (= an imp) disappeared without a trace. I am looking at Mlynarska Street, probably I can see from a distance standing Grandparents' house where I was brought up. But did they survive? We learn about Cudna's death - a shocking piece of information! St. Adalbert's Church can be seen.
The procession is swelling and slowing down. Slowly we are getting onto the church terrain. Mum doesn't want to get in, she's holding my hand fast so that I wouldn't get lost in that cramped crowd of people.
We sat on the grass under the tree. Mum adjusted my bandages on the legs. Sandals had almost fell to pieces "what shoes are you going to wear?" Mum worried.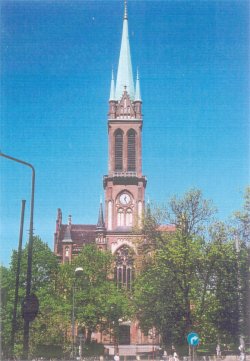 St. Lawrence Church where the selection
of the expelled Warsaw residents was carried out.

A kind of commotion started. Out of the car a few Gestapo officers went out and we had to pass them. They divided people into groups. I hid behind Mum as it was said they had been collecting children. When we approached one German, they were more interested in Mum than in me.
- Das ist mein Sohn - Mum said dragging me out from behind the back.
We drew the attention of the other Germans. German hesitated, finally he waved his hand, we would go on the other street side. We had to allow through a group of men led in the direction of the rail embankment. Suddenly shots sounded...
We were driven at Bema Street to the West Station. We got to Pruszkow by train.
Everybody knows how the Pruszkow camp looked like and I won't describe it.

In comparison with that horror an amazing event took place. In the camp soup was served - overcooked, slightly sweet slops made from, nobody knew, what. To get it one had to have their own pot. We had a problem with it. Mum got some bent can and I went for soup. Getting back I fell down and spilled the soup. My despair was enormous! I stood in a line for the second time but there had been no more soup yet. Everyone left, while I was standing next to the fence gripping the can. A soldier came to me, took the can out of my hand and entered the building. In a few minutes' time he brought soup that German ate and a thick slice of bread. I was so surprised that I even didn't thank him (he deserved it, didn't he?). He looked at me and went away...

After a few days we left Pruszkow by train in the open freight cars. People standing by the railway were throwing bread and fruits to us.
The train stopped in Tomaszow Mazoviecki. They uncoupled a part of the freight cars. Here the help was organized on a large scale. It was commanded by a priest standing on a kind of chest and like a conductor he directed those people running with baskets and water. German armed escort didn't react, as probably they were surprised with so efficiently carried out an action.
When the train moved on bread, sausage, carrot and fruits were justly divided.
Let God make them good for their effort and sacrifice, I'll always remember about those people as they shared their poverty with us maintaining our will for survival.
We were in a group that was transported to Opoczno. We were kept in old stables near the very river. There we got so much louse-infested that we were unable to deal with it. From Opoczno, on the wagons we were driven to the nearby villages. We, me and Mum, we were driven to a beautifully situated village, called Zychorzyn. Mum was assigned to the Koryckis farmers, while I was assigned to their neighbours. When for some days I was visiting my Mum all bawling as they had been calling me "spongers" (though they weren't poor) Mr. Korycki said: "So many mouths are fed here so your mouth will be fed here as well!" In this way we had become a kind of family for many years.
It was very hard for them, the farm being small, but their cordiality was great, almost everyday we ate a red borscht and potatoes. On Sunday there were potatoes with added fat. I liked roasted potatoes with mushrooms very much - I have been eating them up to now. We were sleeping on dry stems of pommelled peas spread on a clay threshing floor, covered with a hand-woven blanket.
I tried to be useful as far as my abilities were concerned. I looked after sheep, getting persuaded about the malice of young rams that tried to play with me in a ram's way giving me several bruises.
It was pleasant to mind cows near the forest as there was quiet and peace around. Sometimes the cow mooed or a dog barked far away. Bees were buzzing quietly, moving from one flower onto another one. One could hear a brook among the stones.
Often memories got back nevertheless. Then the buzzing little bees weren't heard, neither was the swoosh of rippling grass - the head was blown up by the howling of Stukas, wailing "cows" (mine-throwers), that turned all streets into debris, the swish of bullets, moaning and screaming of the injured. Sometimes a dead silence of the buried cellars fell.
The autumn came very quickly, while we had no clothes, no shoes.
Using a circular road (I remember Konskie station, Skarzysko-Kamienna station) we got to Cracow. We stayed at friends at St. Mark B Street.
After a few days I got wangled for a job in which I was experienced - I delivered "moonshine" to the dives. Cracow was small so I mastered the topography of the joints very quickly. Sometimes a drunken company passed the hat round for "a poor kid from Warsaw." I brought home lots of food given to me - sausage, head cheese, blood sausage, fat bacon that Mum was melting with onions.
There was also a dive for Germans - I did what I was to do in silence and went out - I would gladly plant a bomb for them...
This way I earned for clothes and shoes for me and Mum and we even had "financial resources". Friends fixed me up with a job in Wieliczka and there one winter night the Russian Army "liberated" us.


Janusz Wałkuski


Janusz Walkuski
in our times

drawn up by: Maciej Janaszek-Seydlitz

translation: Małgorzata Szyszkowska
Copyright © 2011 SPPW1944. All rights reserved.