The Warsaw Uprising eyewitness accounts
Edmund Baranowski pseudonym "Jur" - War impressions ... and more
---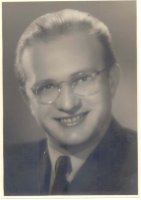 Baranowski Edmund
Born 22nd of September, 1925 in Warsaw
Second Lieutenant of The Home Army, pseudonym "Jur"
The Home Army "Radosław" Group
Company "Jerzyki" of the "Miotła" battalion
P.O.W. number: 222825




I was born on 22nd of September, 1925 in Warsaw and I spent my childhood in Wola district. I went to school there, Primary School No. 166 at 1 Dworska Street, currently Kasprzaka Street. This school building still exists and is the location of the Grey Rows Gymnasium No. 44.
I was brought up by my mom as my father died when I was 3 years old. I recall my childhood years as very pleasant. Good friends, interesting classes at school. I was totally into sports. It took me a lot of time which had its impact on my school grades. My mom and I lived in a house at 82 Krochmalna Street. Every summer, I regularly lived at my aunt's at 4 Dąbrowski Square.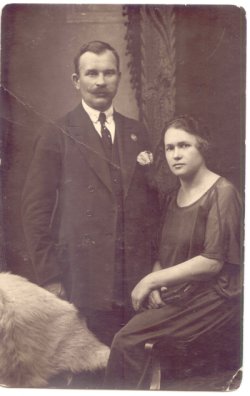 Edmund's parents: Marianna i Józef Baranowski
After one hundred and twenty three years under the partitions, school played a very important role in bringing up a first generation of free Poles who were born in an independent country. It made us very patriotic, and time to prove it came very soon in few years.
In the years 1937-1939, youngsters participated in arming the Polish army. Along with adults, we took part in the Maritime and the National Defence Fund. Students' money were used to buy, among others, machine guns for the army. I recall in 1938 along with other several dozen students I took part in celebration of conveying for the army 4 machine guns mounted on wagons and pulled by horses, the celebration took place at Piłsudski Square, and those guns were bought from students' penny savings.

* * *

The outbreak of war in September 1939 and years of occupation made adolescent boys became men who many times had to face challenges which were pretty difficult even for the adults. It look similarly with me. At the time the war started I was 14 years old.
Many events from that period stayed in my mind. I still have them right in front of my eyes as they were the movie frames. Some of them are mentioned in my book "Warszawskie gry wojenne" which I wrote together with my friend Jurek Kulesza. Other events, as the time goes by, are difficult to be shared with other people which may sound quite paradoxical. Those are very personal and dramatic, and make me emotional.
I remember my last vacation before the war in summertime 1939. I spent that vacation at my mom's family in Grójec near Warsaw. On 15th of August, I took part in traditional run commemorating the route of the First Elite Company between Kielce and Warsaw. When I came back to the capital in the last days of August, I could tell there was something in the air. There were air raid test alarms, people bought gas masks.
People withdrew their savings, stashed spirits, matches, cigarettes, fat as future exchange goods. They did it as they had such an experience from the years of WWI. Nobody suspected that the upcoming war will be so different comparing to that from twenty years ago. But at the time, everything was normal. Four days before the war outbreak, the Poland football team played against Hungary at the Polish Army stadium. As a true fan, I watch the match. Despite the fact that Hungarians won the second place in the 1938 world cup, our team beat them very badly. We hoped that the result will be exactly the same in the potential clash not necessarily football clash.
On 1st of September, 1939 in the morning, I went by train to Podkowa Leśna. And I experienced there my first air raid. One of three planes flying towards Warsaw dropped 2 bombs. One of those bombs exploded next to the EDK station (Electric Train), the second in the garden of one villa. Few people sustained light injuries. After I came back home I found out that the estate at Obozowa Street and industrial works at Okęcie were bombarded.

I saw first Germans on 1st of October 1939. My mom and I walked from Dąbrowski Square to Krochmalna Street and about Hala Mirowska we saw a motorcycle with sidecar. There were two Germans on the bike, and a machine gun was mounted on the sidecar. Germans asked the passing Jews how to get to the City Command which was located next to the European Hotel. The passers were quite eager to help the soldiers. Yiddish language in general is quite similar to German. Jews did not know yet what fate was prepared for them by the occupier.
On 6th of October, Hitler observed the parade in the conquered city from a spot located in Na Rozdrożu Square in Ujazdowskie Avenue. Standing on the corner of Kredytowa Street and Marszałkowska Street, I saw German soldiers coming back from the parade. Huge horses pulled the cannons and artillery trailers, mechanical vehicles, marching infantry looked great. The victorious army demonstrated its power.

* * *

Occupation began. Living conditions were very tough. In 1940 I started my first job in order to help my mom. My job was unloading the coal at the Warsaw Tram Power Plant which was located in Wola and currently is the place of the Warsaw Uprising Museum. It was a very tough physical job. I earned very little but at least I was allowed to take some coal home.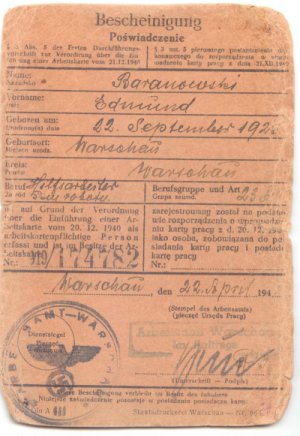 Edmund Baranowski employment ID

By accident, in April 1940 I managed to get a job at the nearby located Philips Works. I worked there until July 1944, at first I dealt with radio lamps and bulbs, and then assembled transceiver devices for the German fleet, including submarines. After the fall of the Netherlands in May 1940, the works were completely taken over by Germans. The name had changed to Philips Werke and three-quarters of the entire production was for the army.



Part of the assembly belts was a target of our sabotage and we used a special solder to sabotage it. Points of elements soldered with this special solder easily corroded in the sea condition and devices stopped working. Many German submarines never came back due to malfunction of the transceiver devices. Workers who used that special stop were not even aware that they were part of the sabotage action. This was only known to workers of laboratory ran by engineer Andrzej Sołtan, outstanding physicist.
Despite the strict control of Germans, the Philips Works produced transceivers for the Polish Underground State and the Home Army. In total, the factory produced 57 radios, 130 transmitters and about 1500 universal and battery operated radio devices.
Apart from working at Philips, I also was a member of the Philips Works fire brigade. Thanks to that experience I gained a knowledge in terms of fire fighting which stayed with until today. A fire fighter ID was a very valuable document. It allowed to move around the city during the curfew hours and at night. I was also allowed to wear a fire fighter uniform which was an additional mean of security in case of round-up.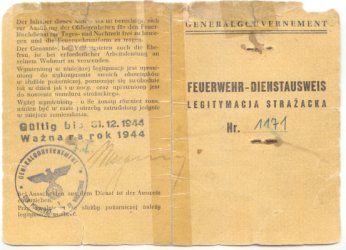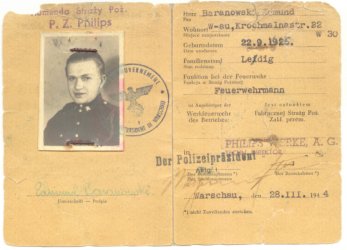 Edmund Baranowski fire fighter ID
Our fire fighting unit cooperated with the 4th unit of the municipal fire brigade at Chłodna Street. Along with the 4th brigade we participated in extinguishing fires caused by Russian planes during their air raids over Warsaw after the German invaded Russia in 1941. We also extinguished the fires in the Warsaw Ghetto during the Ghetto Uprising in 1943.
Under cover of the fire brigade actions and practices, we formed a company "Philips" of the Home Army. Most of the fire brigade staff were soldiers of the "Philips" company. They very well trained, during the exercises they even train the goose steps.
"Philips" company wrote history during the uprising. It started its fights in Wola, then it defended City Hall at Teatralny Square which was held by the company until the end of uprising. The company also defended Nowy Świat Street and Powiśle district.

Working at Philips Works, at the same time I carried on with my clandestine classes. Actually it was quite normal and necessary as the occupier cancelled the Polish educational system and all the high schools and universities were closed. We studied in few-people groups in the area of the streets Raszyńska and Filtrowa. Sometimes we could not participate in classes. Teachers were pretty understanding and knew that the absence was not caused by the fact that we were not hungry for knowledge.

By the end of 1940 I made my first connections with Resistance. At first, it was the scout movement. I made it thorough through my friend Tadzio Zając pseudonym "Gryf". Then, it was Marian Dąbrowski pseudonym "Kangur". We were organised in the fives. The four fives created a unit, three units made a platoon, three platoons it was a company, etc. we were mainly interested in our five. At first, our tasks were not really important: writings, flyers, some transport.
At first, we did not even know what organisation we belonged to. Then, when we were swearing an oath, we found out that we were the Home Army soldiers. I swore in 1941 at "Gryf"'s flat at Staszica Street. There were two fives which swore the oath at the time. It was very touching for me. Our five was part of the 334th platoon of the 3rd Home Army Area.
I really wanted to get involved deeper and take part in more serious actions than writing on walls or carrying flyers. In order to be treated more seriously, with my uncle's help, Władysław Baranowski, who had access to various ID cards at the City Hall and the Employment Office, I changed my date of birth to 1923. And that way I was 2 years older.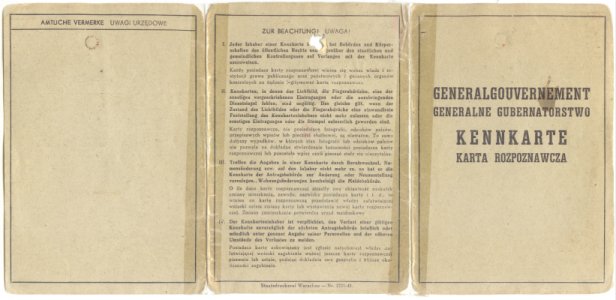 Edmund Baranowski Kenkarte (work ID) with the changed date of birth
At first, I finished school for lower rank commanders, and then Cadet School between 1943 and 1944. And that's where I gained my army training.
I took a pseudonym "Jur". Exactly like in case of many friends of mine, the inspiration was a movie or literature character. In my case, it was the Polish Socialist Party revolutionist from 1905, Jan Gorzechowski who later became General of the Polish army. Gorzechowski dressed as Lieutenant of the Tsar gendarmerie and accompanied by false gendarmes, during a very brave action liberated ten political prisoners who were imprisoned at the Pawiak prison. Those events were commemorated by a Polish movie called "Ten from Pawiak" which I watched as a ten year old boy.

My mom, as many other Polish mothers, knew that I was in Resistance. She did not question it as she knew that the occupation circumstances required that sort of activity.

* * *

Fifth year of German occupation in Poland was coming to an end. I would like to describe the situation at the turn of July and August 1944. Warsaw at the time, was a front line city. From 28th of July, Russian fighters were showing over the city, and the German railway junctions in Praga and Targówek were bombarded at night.
It seemed to us that our freedom is within our reach. From 28th of July on the foreground of Warsaw, in Radzymin area, raged a huge tank battle, the biggest from the time of the Kursk battle in 1943. The Second Russian Tank Army charging towards Praga clashed with weakened but still operational fine German Tank divisions.
All Varsovians heard the cannons' roars. We knew that a moment of uprising is coming soon. The same point of view was probably shared by the High Command of the Home Army.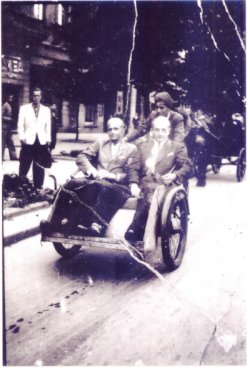 Jerozolimskie Avenue, July 1944. Edmund Baranowski "Jur" in the pedicab on the left.
Next to him, Eugeniusz Adamski pseudonym "Lew", pedicab is driven by Zenon Wilczyński pseudonym "Zenek". The both "Jur" friends were killed during the uprising.

But events which happened on 31st of July had impact on our uprising and made it unsuccessful. Soviet tank army lost the battle on the fields of Radzymin. They lost over 300 tanks and the commander of the tank army, General Radzijewski, ordered his units to take defensive positions. On the same day, the Command of the Home Amy decided to start the uprising on 1st of August at 17.00 hours.
One of the reasons an order to start the battle for Warsaw was given was an information that in the outskirts of Praga were seen the Soviet tank army reconnaissance avantguarde units and it seemed like that the Soviets would capture Warsaw within days. Unfortunately, mobile phones were not invented yet and no one informed the Home Army Headquarters about General Radzijewski order to take defensive positions by his units and not to start any offensive action towards Warsaw. Those two decisions were completely different and had tragic consequences.
Soviets withdrew towards Wyszków and it was a military decision. However, soon after, due to political reasons, the front line froze on the Vistula line for weeks until 12th of September, 1944. Yet on 2nd of August we heard the cannon roaring, as the battle was ending, but on 3rd of August we already knew that we were left alone. And we fought alone without any support for 63 days.
Decision of the Home Army Headquarters to begin action did not surprise us. We were sure that it was the right time. I feel I should tell you about an interesting event which consequences could have ended the uprising right after it started, more or less at 17.30 hours.
After the uprising outbreak, the Home Army Headquarters stationed at Dzielna Street, at the Kamler factory, however it was not the original location of the Headquarters, according to plans the Headquarters was located at Pilecka Street in Mokotów. The Kamler factory consisted of two buildings. The left side was location of carpenter's shop, formerly the Szczerbiński Furniture Factory, and the right side was th location of the mechanical workshops and a pretty big chemical laundry which washed German uniforms, especially the Bahnschutz uniforms. German trucks came to pick up the washed uniforms on 1st of August about 12.00 hours. The laundry owner who did not know that the Home Army Headquarters was located in the left side building, arranged with Germans to pick up some more washed uniforms the same day at 16.00 hours.
A German truck came to collect uniforms at 16.00 hours and at that time Kamler's carpenter's shop was seized by insurgents. The truck crew was dealt with in no time. However, shots were heard by German soldiers stationed at the Tobacco Factory located at Pawia Street, the distance between those two buildings was about 70-80 metres, and those soldiers decided to come out and see what was going on. The Headquarters Security Platoon engaged in shooting with overwhelming German forces. Germans informed the German Police about the situation and soon after, a German "pacifier" showed up with 20 German policemen carrying machine guns. The Home Army Headquarters' situation was more than serious.
Luckily, one of Polish officers managed to get out of the building under siege and got to Okopowa Street where the "Radosław" Group was stationed at time, and informed them about the predicament of the Home Army Headquarters. Three platoons under command of Captain, currently in the rank of General, Zbigniew Ścibor-Rylski, moved out at once. The rescue platoons dealt with the German siege forces and at the same time advanced the Tobacco Monopoly. Which was taken after a short combat. Insurgents captured many prisoners, almost 2 millions of cigarettes, a lot of weapons and ammunition. But the situation was serious and the Home Army Headquarters could have been liquidated and killed or taken prisoners on the first day of uprising.
It is not a commonly known fact about the uprising which decided that fights in Wola which supposed to begin at 17.00 hours, in fact began earlier. The whole situation was additionally complicated by a police vehicle which withdrew from the siege and moved along Górczewska Street, reached the Warsaw suburbs and spread the word about the situation in Warsaw. So, Germans were not surprised.

At the same time, we were preparing to start our action. Our two platoons were gathered at the Wola hospital at Płocka Street. We got the armbands, great happiness, but weapon was given to every fifth insurgent. However, every insurgent soldier got a grenade or two, so called sidolówka (the R wz. 42 hand grenade, manufactured by the Polish resistance during World War II and commonly used during the Uprising. The name of the grenade came from metal can for Sidol which was a metal-cleaning agent produced and sold by Henkel in Poland at the time) which was the main weapon for the first hours of the uprising.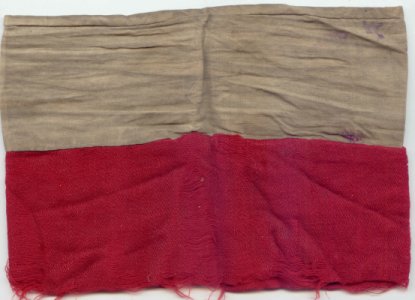 White and red armband with which Edmund Baranowski started the uprising
Lack of weapons was caused, among others reasons, by the fact that the Hermann Göring parachute-tank division was deployed at the railway station in Pruszków. The division took up positions in certain streets in Wola, among others, Karolkowa Street as well as the Ulrich Gardens where our unit's secret arsenal was located. In that situation part of our weapons was unavailable. And we had only rifles and grenades available for action.
A mission given to our unit was seriously difficult. Our task was to attack a big German fuel station so called "Naftusia" located at Obozowa Street. The target of our mission was fenced by a four-meter high wall with the barb-wire on the top of the wall, and the watchtower with heavy machine guns on every corner of the wall surrounding the station.
We were preparing to this action for weeks, we carried out the area scouting. The plan was the watchtowers crew are eliminated by our heavy machine guns, sappers blow up the gates and the steep-track weapon i.e. mortars engages with fire the German crew.
The reality was completely opposite comparing to the plan. At 17.00 hours we realised that we had no heavy machine guns, there was no sappers, and we had no steep - track weapon i.e. mortars. We had 100 poorly armed boys and 4 nurses. We started the charge but after ten minutes or so, we sustained certain losses, we had killed and wounded. Our girls, nurses, barely managed to drag a few wound from the field, the dead remained in the field. Carrying out the orders by our unit was impossible. The commander of one of the unit, Lieutenant "Wit", ordered retreat.

That's how uprising in Wola began. It looked almost the same in every district. Poorly armed insurgent units were unable to successfully compete with perfectly armed German units which had artillery, tanks, and heavy machine guns. The German advantage could have been reduced by the air drops. We looked at the skies and asked ourselves:
- Will they come or not?
The London based Polish Government in Exile was informed about the uprising on 2nd of August, 1944. The building steel construction where at first the Home Army Headquarters was based made impossible sending such an information earlier without special antennas. It was possible after the Headquarters changed its location. First wire sent to London in one line informed about the action started in Warsaw, and the next 4 lines basically were "arrange for air drops and supply us with weapons and ammo immediately". There were also mentioned places where the weapons and ammo meant to be dropped.

The ally planes showed up over Warsaw on the night of 4th and 5th of August. And it happened in very unusual circumstances. 17 four-engine planes with supplies for Warsaw supposed to take off from Brindisi on that day. However, in the very last moment, the British Commander of the Mediterranean area, Marshall John Slessor, cancelled the order. There was flight to Warsaw. The planes were ordered to drop their cargo elsewhere. From certain perspective the decision was explained logically, it was said that Soviet landing grounds are located 40 kilometres from Warsaw and because of the distance, Soviets should take care of supplying the Warsaw insurgents and give them help.
Despite the order, 4 Polish crews, with silent approval of the base commander, Colonel Maciuszkiewicz, decided to fly to Warsaw. The crews were commanded by the Captains: Kleybor, Daniel, Jencki and Mioduchwski. Three out of the four planes got to Warsaw and dropped their cargo in the Wola cemeteries area. The fourth plane of Captain Mioduchowski engage in fight with German jet fighters, dropped its cargo in Piotrków area. Luckily, the cargo was safely found and acquired by the 25th Home Army Infantry Division.
Help came right on time, as on early morning of 5th of August, German forces located in Wola, tanks, assault guns and tank grenadiers, started their advance in Wola. And thanks to the fact that we had the PIAT's, excellent Gammon grenades and machine guns, we were able to throw back the first German advance.
However, the amount of weapons in our possession was insufficient and we waited for further air drops. The next air drop took place three days later. A significant air drop took place at night of 12th and 13th of August and it happened thanks to Churchill's personal intervention who at the time was at the conference of the Mediterranean war theatre commanders in Naples.
Apart from the 1586th Polish Squadron, the action was carried out by the 178th British Squadron and 31st South-African Squadron. And then the action was intensified. Additionally joint the 178th British Squadron and the 34th South-African.
The South-Africans engagement was especially valuable for us. They were young people as us. The South-African crews consisted of 20 or 21 year olds, without vast experience. They suffered the biggest losses while flying to Warsaw.
5 planes were shot down and crashed into streets at night of 14th and 15th of August, three of those had South-African crew. One of the three crashed at Miodowa Street. There is a story attached to the plane shot down at Miodowa. The crew had a mascot, a small dog which always accompanied the crew. The dog, the 10th crew member died along with the rest of the crew at Miodowa Street.
There were different rumours regarding the crashed plane. First said that the crew was Polish. After few hours, it said that the crew was Canadian. And that version lasted even for several years. In the "Parasol" quarters at the Military Cemetery at Powązki, there is a symbolic grave of that Canadian crew. It came out that it wasn't even British crew, but South-African and consisted of 9 young people who died there.
Flights to Warsaw were carried out in a very difficult circumstances as pilots had 1 400 kilometres to Warsaw. On their way to Poland, they met night jet fighters, which recorded a lot of shot-downs in the Lesser Poland region. Up to this day, there is a quarter of the British, South-African and Polish fallen pilots at Rakowicki Cemetery in Cracow.

Americans already during the very first days of uprising planned to carry out a massive supply drop for the fighting Warsaw. Russians disapproved the plan, despite the fact that Americans had 3 landings on the Russian territory: Połtawa, Miłgorod i Piriatyna. It was within the reach of the American bomb squads which carried out the air bombardments of targets located in Europe mainly in the Balkans and Romania. American planes refilled and reloaded bombs there. They bombarded targets on their way back and came back to their bases in Western Europe.
Just after a month, Stalin, agreed to organise a massive drop of supplies for the fighting Warsaw, so called operation Frantic 7. It was a great effort. And a great admiration and respect needs to expressed for the British and Americans. The operation took place at the time when 3 paratroopers divisions, 2 Americans and 1 British, took off for Arnhem. It required a great amount of planes and gliders as part of the supplies was located in the gliders.
Despite the situation, 110 planes took off for Warsaw on 16th of September, however they had to turn back after just an hour flight, and they took off again in the early morning on 18th of September. Today we could say that it was a very complicated logistics operation. Each of the plane taking off for Warsaw had to take 11 tons of fuel in order to reach Połtawa. Apart from that, 110 bombers were accompanied by 154 Mustang-51 fighter jets. 90 of the jets turned back to the base in the Kołobrzeg area, they fought with German fighters and bombarded an air field in Jagel, and 64 fighter jets carried on and accompanied 110 bombers, and then only 107, on their way to Warsaw and then Połtawa.
Even today when we look back at that sort of an operation, we must admire and respect the organisation abilities of the British and American air forces which were able to send during one night and one day almost 450 planes and 100 gliders on extremely dangerous mission to Warsaw and Arnhem.

Air drops carried out during the first days of uprising definitely improved the situation, but the amount of dropped supplies were insufficient to change the course of battle for Wola. Under pressure of overwhelming German forces, insurgents of Wola under command of Lieutenant "Hal", on 5th of August started retreating towards the Old Town and Downtown.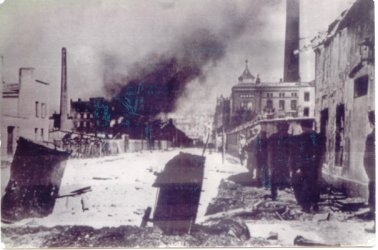 Wola, 6th of August, 1944. Burning building at the corner of Krochmalna and Towarowa, in which Edmund Baranowski lived.
On the right, Tram Power Station building (presently premises of the Warsaw Uprising Museum)
Me, and three friends of mine who belonged to the same platoon found ourselves in the operational area of the "Radosław" Group which fought in the area of Okopowa Street and the Evangelical and Calvinistic cemeteries. We were incorporated into Lieutenant "Szczęsny's" company of "Miotła" battalion.
Considering the situation during the uprising, the "Radosław" Group was very well armed and had very well trained soldiers. Yet on the 1st of August they had a number of very spectacular successes. Apart from capturing the building of the Tobacco Monopoly which was mentioned above, soldiers of the "Radosław" Group based at Obozowa Street opposite of the Evangelical Cemetery entry gate, noticed 2 army trucks approaching from the Koło direction. The trucks were instantly attacked by insurgents. The crews were killed. Stuff they found in the captured trucks were kind of irrational: almost 450 shells of the 75mm calibre. It would had been a very valuable trophy, if insurgents had cannons. Chests with shells were unloaded and placed between graves and at the grave digger's hut, and the trucks went to the Stwaki warehouse which was captured few hours before by a unit of Lieutenant "Stasinek" Sosabowski.
And that way the "Radosław" Group was fully uniformed in German camouflage uniforms already on the second day of uprising. Some boys even had army backpacks. The Stawki warehouse was very well stocked, there was a lot many valuable things, plenty of many types of uniforms: camouflage uniforms, so called "panterki", winter clothes and plenty of food, meat cans, sugar, etc. During the first hours of uprising the "Radosław" Group became reach. There were not only weapons or boots there. Many things were still in the warehouse when we were leaving the premises on the night of 16th of August and moved to the Old Town.

The "Radosław" Group defended the northern part of the Old Town, from the PWPW, along Konwiktorska Street, then on the left, along Bonifaterska Street. The "Radosław" Group was engaged in combat all the time. There were very intensive fights for the Jan Boży church and hospital between 22nd and 25th of August. There was lack of water and food, there was no electric light. Building were burning all around. The Old Town was dying.
On 30th of August we were on positions at Sapieżyńska Street. We learned from the command that they were working on a breakthrough plan in order to regroup from the Old Town to Downtown. Our unit was split, people selected with best weapons. There were six of us who stayed on positions, 4 boys: "Czesław", "Wirch", "Wrona" and myself, and 2 girls: nurse "Basia" and runner "Joanna Krystyna". We were defending our area. But to be honest, if Germans had attacked, we would not stand our ground. Every half an hour I was sending a runner to Koźla Street where the Headquarters was located to find out what we were to do next?
The rest of our unit was selected to take part in an extremely dangerous sewer mission, they had get through sewers to Bankowy Square, and get out of the sewer through 3 manholes and take up positions at streets leading to Bankowy Square, so the Old Town advance unit was save on the flanks. The signal to start the action was 3 flares. For us, the signal meant that it was time to vacate our positions, join the rest of the breakthrough units and advance from the Bank Polski.
We heard machine gun fire from the Bank Polski area, but soon after it was all over. We waited for a long time. Almost before dawn, we were ordered to leave our positions at Sapieżyńska Street and support the breakthrough units. We barely managed to get to Bank Polski. The breakthrough action was top secret, however it came out that Długa Street and Krasińscy Square were full of people and it was almost impossible to come through.
We were stopped by some Major who asked us:
- Where are you going?
- We're going to support the breakthrough.
- Where are you coming from?
- From Sapieżyńska Street.
- And who stayed there?
- Nobody.
- So, go back to your former positions.
But it was impossible to come back, as the crowd was everywhere.
When we were on the Bank premises and the breakthrough unit was forming, a bank officer showed us the way to get to Daniłowiczowska Street. I leaned to the Bank Polski wall, and Bielańska Street was on fire, the fire was 1.5 meter high. We had to get through the fire and get to the other side.
At that time, Lieutenant "Gram" of "Czata 49" showed up and brought an order to stop the advance. Colonel "Radosław", despite the fact that was urged by "Wachnowski" to carry on, said:
- Until I had no information what is going on with those advancing platoons, I am not sending there more people.
And perhaps thanks to it we lived through it.
We had to come back to our previous positions. Along the way we saw a lot of wounded left on blankets, doors, stretchers. People who carried them, took care of them until they had hope that they would be able to get out of the Old Town and get to Downtown along with the wounded. But when it came out that the breakthrough was unsuccessful, the wounded were left on streets, and looked anxiously in the skies expecting German fighter jets to arrive.
Our previous positions were taken over by Germans. The front line did not lie along Sapieżyńska Street and Franciszkańska Street as before but Świętojerska Street. Then we were in sewers. Sometimes, there are talks about inferno in the sewers while evacuating from the Old Town. But to be honest, comparing our sewer journey from Mokotów to Downtown, or storm drain in Żoliborz, our evacuation from Old Town was comfortable. At first, the sewer was 1.6 meter high, but under Krakowskie Przedmieście it was 2.2 meter high and had brick benches on the sides. We could lay down on those benches and rest. And we had no any traumatic experience such as grenades thrown into the sewer or poured carbide.

And then, we were Downtown. We were there for not too long. We were sent to quarters at Czackiego Street. It was 2nd of September. For the first time since many days we slept long enough and had a delicious and full breakfast.
One of our girl-runners, Barbara Szerle pseudonym "Basia", asked the company chief to let her go, in a company of some fellow soldiers, to Mokotowska Street where she lived and see whether it was in ours of Germans' possession. "Sławka", her future husband "Wszechbor", "Igor" and myself, we marched out to accompany "Basia" in her trip to Mokotowska. It was a very interesting journey, especially the look of the Downtown South district. Glass in the windows, clean courtyards. Underpasses lit up with electric light.

We got to 5 Mokotowska Street. It came out that the building was still standing and the area was in our possession, however it was located on the front line. On the other side, the Lardelli confectionary was held by Germans. Very kind lady, "Basia"'s mother, offered us horse meat, some pearl barley. We also got some bread. We were received very kindly. At some point, a very nice "Basia"'s sister, Halinka, came back from her work shift at hospital, she was a nurse at hospital at Jaworzyńska Street. We met each other. Then we came back to our quarters. But only for two hours, as we were transferred to Downtown South and where we were based in the area of Mokotowska Street and Ujazdowskie Avenue, for a short period of time. On the night of 3rd of September, the rest of the "Radosław" Group, at the time only in the number of 450 soldiers, was transferred to Czerniaków.

I was not for too long in Czerniaków. I was wounded and then I was at Książęca Street, Probably that is the reason why I survived. Most of friends who stayed in Czerniaków can be only reminded and live on only in our memories. Here's how I sustained a wound. I was in a small bunker made of paving slabs at Książęca Street. I was checking the area with binoculars. It was already dusk. I heard a noise in front of me, cocked the rifle and carefully came out of the bunker. Suddenly I heard a horrible noise and saw a wall of fire. I felt a strong hit in the left side of my face and I saw I was bleeding. Just below my left ear, blood was flowing out like a fountain, and I tried to, without any sense, catch with my helmet I held in my hand. I moved to the dressing point shouting:
- "Sławka", "Sławka"!
My friend, a nurse, looked at me and calmly said:
- It is a classic example of an artery haemorrhage, you will be fine.
I wasn't too convenient and said:
- Do something! I am bleeding!
She carefully bandaged my wound with a paper bandage. And once again told me it was nothing serious.



Nurse Halina Jędrzejewska pseudonym "Sławka"
In the morning I was in hospital at Mokotowaska Street to change the dressing. I had injured the upper jaw and left cheek, I lost a few teeth, but in accordance with the initial, "Sławka's" diagnose, the wound was not serious. My friend Halina Jędrzejewska pseudonym "Sławka", after time she spent at the P.O.W. camp and a short stay in England, came back to the country. Finished medical studies and became an orthopedist.

I kept in my mind three events. On 4th of September we were sent to quarters at 5 Okrąg Street. The building was renovated after it was burnt out but it is still standing. The area was not destructed at all. And part of Czerniaków at Rozbrat Street had very descent houses. We had an impressive place on the ground floor. The bedroom with a bed made of Karelian birch, beautiful thing. The bed was 2.5 meter wide. We were washed, but our uniforms were unclean, so the boots. The owner of the flat came over and asked for our permission to the bed clothes away. He told us that his wife, who left Warsaw before uprising, is very particular about cleanliness in her flat. It appeared as a very weird request. We came through hell of Wola and Old Town. We were aware that death and destruction walked behind us.

The second thing was a provision-culinary thing. Our quartermaster, "Mohort" of "Czata 49", gathered us and said:
- We are going to the YMCA building. There is a stock of food, we will take it away and we will have our own stash of food in Czerniaków.
The YMCA building at Konopnicka Street was unexpectedly captured on 2nd of September. There was a very well stocked food warehouse, it even had over a dozen of pigs. There was a swimming pool in the basement. Some friends took this opportunity and had a swim. We took away barley, sugar, beef, marmelade, coffee, tea and even several bottles of mead.
Once we got to our quarters, our friend, "Gwiazda", prepared delicious and thick barley soup. When it was being eaten, it came out that the soup had a lot of barley worms in it. Those who were really hungry, ate the soup, I only had a plate of onion.
Each district during the uprising had its specific food products. While we were in Wola and Old Town, we could use the stash from the Stawki warehouse. It had a good selection. Pork, beef, plenty of food. Not mentioning that the local residents feed us on the first and the second day. In terms of Czerniaków, there was a lot of pasta there. Społem warehouses were located there. There was no big selection. Apart from that, there were small gardens there, and we had cucumbers and tomatoes there. But also flowers. And there were boys who despite the big risk as those gardens were on the Sejm (The Parliament) scarp, went to the gardens to bring flowers for girls. And not every one of them came back. But the need of heart was stronger. Mokotów ws full of artificial honey. And it was available until the very end of uprising. Those were, as if, culinary specialities of each district.

The third story of Czerniaków, this one was related to morality in our unit. It was about half past nine in the evening. We were visited by three female friends: Halszka Jędrzejewska "Sławka", "Basia" i "Joanna Krystyna". Me made some sour coffee, there was no alcohol, and were talking. Lieutenant "Janusz" entered the room few minutes before ten o'clock and said:
- Girls, what are you doing with boys, it's almost 10 o'clock.
I said:
- Lieutenant, nothing's going on, we are just drinking tea.
It was touching how they cared about morality in our platoon.

* * *

We were at the quarters at Książęca Street until capitulation. Yet before the capitulation, on 30th of September, we had an armistice. We met with Germans at Trzech Krzyży Square. Both sides were looking at each other with curiosity.
We decided to bury our weapons before the capitulation. Those were mainly guns from air drops: Stens, Colt pistols, Gammon grenades. We buried those guns on scarp at Książęca Street, on the corner of Trzech Krzyży Square and Konopnickiej Street, and at other location, in an orangery at the Institute for Deaf and Mute. Then we had a gathering at Krucza Street by Piusa Street, currently Piękna Street. I learned that I was awarded a Cross of Valour.
At the beginning of uprising the "Radosław" Group started consisted of 2 300 soldiers. The elite units as "Zośka", "Parasol", "Czata 49", "Miotła", "Pięść", women unit "Dysk", Sosabowski's "Kolegium A", the best of the best. At the gathering at Krucza Street we had only 252 men and women. The rest were killed, wounded and missing in action, their fate remains unknown until today.
We marched through Śniadeckich Street towards Polytechnic Institute and surrendered our weapons in the courtyard of Kraftfahrpark, and then moved out from 245 Niepodległości Street towards Glass Works in Ożarów. Then we were loaded into cattle train carriages, 50 people in each carriage, and sent to Sandbostel P.O.W. camp in Northern Germany.

The train was going west. It was already the 6th hour of our journey. In the carriages, there was no sanitary facilities at all, and we had physiological needs. We demanded a stop in German. Finally the train stopped in the field, the door were opened and we were allowed to come outside. There was certain problem, as in carriages on the right and left there were girls but the need was stronger.
We arrived in first big German station, Frankfurt an der Oder. The train was slowly passing the platforms and people in carriages sang "Jeszcze Polska nie zginęła" and "Marsz, marsz Polonia". The train stopped at a small train station by the big railroad siding. They let us out and formed a marching column. It was raining, it was October. Seven kilometres away, there was a small camp with a big drill square. We were placed on the square. P.O.W.'s who already were in the camp asked us why we arrived there. There was no additional space. We answered that we had no idea. We stood on the square. Germans brought some liquid in the water cart, the liquid was suspicious. A soldier who brought the liquid, probably a Silesian or a Pomeranian, when asked by us why we were there, and it was already night time, answered that it was punishment for singing patriotic songs at the station.
We stood on the square the whole day and night. Early in the morning, soaked to the bones, we were hastened again 7 kilometres to the train. And we moved towards the P.O.W. camp. We were unloaded at a station called Bremervörde. It was a small station with a big railroad siding. After 14 kilometres of march we got the Sandbostel camp. The first thing we experienced was a search and a bath. Our ID's and photos after stamping were returned to us.

Situation in the camp was pretty good because there was a group of Polish soldiers from the September 1939 Campaign, with Warrant Officer Pośpiech. They did not have much, and that what they had shared with us. It meant a Red Cross package shared with six people. There were different things in the package, among others, what was really important for smokers, 120 cigarettes, real treasure.
The camp was situated in a very interesting spot for us, P.O.W.'s. We had Hamburg on the right, and Bremen on the left. Those places were attacked by Allies air force. Americans attacked during the day, and British during the night. We were standing on the drill ground and up high 6 000 metres above us there were flying hundreds of American bombers. And Mustang fighter jets on the sides as small fleas.
It was both, a great and tragic view. German anti-air craft artillery did not shoot directly at the Allies planes. There was a barrage over the city. The planes had to enter into the barrage area. And from time to time we saw as one of the planes fell down after it was hit by a shell. And if it was hit in the bomb chamber, then we only saw a ball of fire.
And then P.O.W.'s grouped in 50's or 60's, especially Polish ones, went to Bremen or Hamburg and were ordered to save whatever they could after the bombardment. Among other things they cooperated with sappers and defused the unexploded bombs, dag out the dead and wounded from under the rubble.
In 2010 I was invited by a letter to an anniversary of the Sandbostel camp liberation by the British army. An invitation was sent by the German Sandbostel Camp Foundation. I took part in the celebration in a company of my granddaughter Joanna. I took some photos of the survived barracks, met with former P.O.W.'s, but also with youngsters from gymnasium and vocational school in Bremervörde. It was an amazing and sentimental trip.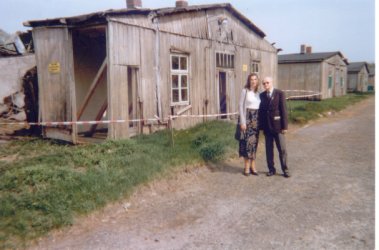 Edward Baranowski with his granddaughter on the premises of the Sandbostel Camp in 2010.
In the beginning of January we were brought to Markt-Pongau camp in Austria. It was located about 6 kilometres from Bischofshoffen. There were Yugoslavs, Greeks and Frenchmen in the camp. Conditions in the camp were pretty good. The French even were equipped in special French-German dictionaries prepared in Switzerland for P.O.W.'s.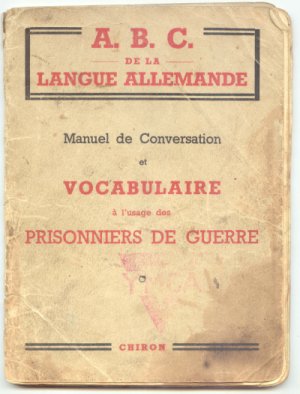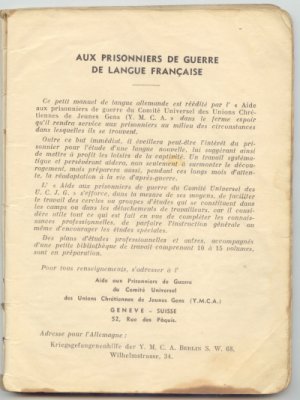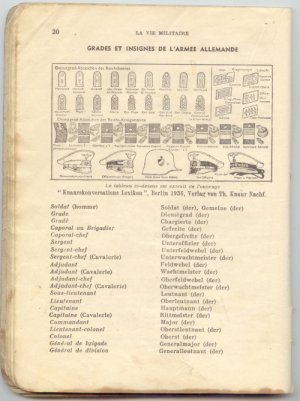 P.O.W.'s French-German dictionary
We removed snow from roads and helped with the avalanche consequences. One day, few Ally bombers going back from an air raid probably had to get rid of the rest of their bombs and dropped it on Bischofshoffen.
At last we moved in two carriages pulled by a motor locomotive. Once we got there we started cleaning up. The train station and building around it were hit by bombs. We collected victims drag out from the rubble. Bodies laid on the street covered with blankets. Then there was another air raid alarm and we were moved further down, nearby some wooden construction. When I took a closer look I realised it was a ski jump.
Nowadays it is a beautiful thing. However, every time I watch the jumps from Bischofshoffen, there is a moment when a skier goes up from the edge of the ski jump, and I can see the train station. But I always can see the station in a different way, I can see it as it looked back then. Ruins of the station and rows of bodies covered with blankets.
From 2nd of May, 1945 Markt-Pongau camp was practically without supervision. German guards just disappeared.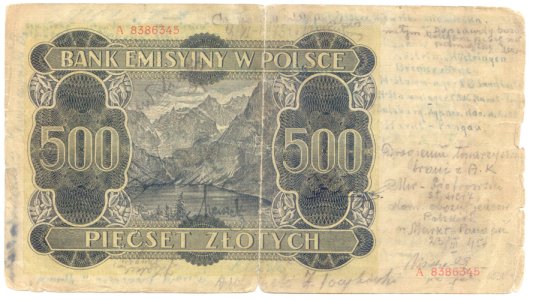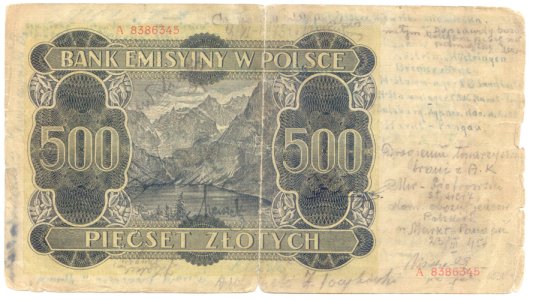 Polish 500 zloty note containing fellow P.O.W.'s memorials
We were waiting for end of war and Americans. German forces in our region capitulated on 5th of May, and an Act of unconditional capitulation of the Third Reich was signed on 7th of May, and entered into force on 8th of May. The war was over.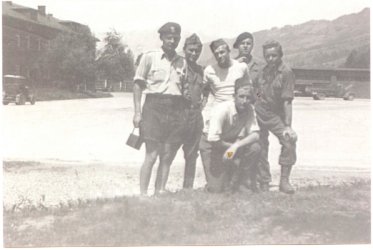 Edward Baranowski, in the middle, standing in the courtyard of the barracks in Markt-Pongau, 1945
* * *

I decided to come back to the country as soon as possible. After a short stay in the 2nd Corps of General Anders, along with a group of about 80 former P.O.W.'s we got on American trucks to town Dziedzice on Polish territory. Polish border guards looked at us with disappointment. They could not understand why we came back from the rich west to a poor, destroyed country.
At the local Repatriation Office, a photo was taken needed to issue an ID, I was given a train ticket and money in the sum of 100 złotych. I also had there a long conversation with two men without uniforms, workers of Security Bureau. I was entering a new reality.
When I arrived in Warsaw on 10th of August, 1945, I saw a city of ruins. There was no public transport. Instead, there were old trucks adapted to carry people, horse wagons and pedicabs. Tams were going only in Praga. At first, I really did not know what to do with myself. Building at Krochmalna Street was burned, I did not know what was going on with my mother.
The only address I had in mind was that one at 5 Mokotowska Street where I went on 2nd of September, 1944. I wondered if the building was still standing. I went there. And the building was still standing. I rang the doorbell and the door opened. The same nice lady. I asked about her daughters Basia and Halinka. She answered that the both of them survived and worked for the SPB at 24 Żurawia Street. I paid them a visit straightaway. And then me and Halinka started going for walks, and trips. Night stays at Ujazdowski Garden. One time we were even locked there for the whole night. Pleasures only. Halinka became my wife in 1947.

We have been together for 66 years. Then we had children, grandchildren, grand grandchildren. I always say to my wife that she is my most precious spoil of war.

Then I went to Grójec where my mother's family lived. I found out that my mother was staying at her friend in Włochy near Warsaw. She miraculously avoided death on 6th of August, 1944 when our building at Krochmalna Street was burning, and Germans were killing civilians around in hundreds. I stayed there and lived in a small flat of my mother's friend. At the time, it was absolutely normal that people were helping each other as much as they could.
The next day I went to Warsaw to look for friends and connections. Life in the post-war Warsaw was practically concentrated in two, not-yet-fully-decluttered streets. The social life street was Marszałkowska Street between Jerozolimskie Avenue and Zbawiciela Square. There were opened some primitive coffee shops, restaurants. The commercial life street was Poznańska Street, from Piusa XI Street (presently Piękna Street) up to Jerozolimskie Avenue by the Polonia Hotel. And Polonia Hotel was the location of many embassies. Because of those many shop the street was called Poznań trades.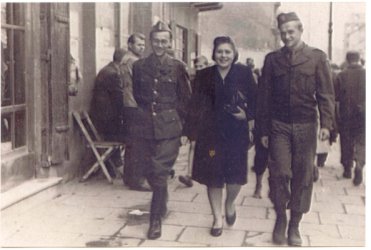 Marszałkowska Street, September 1945. Edmund Baranowski first from the right.
Already during the first walk I met Staś Sieradzki pseudonym "Świst" of "Zośka" battalion who introduced me to the current situation. There was a lot going on and it wasn't really good. Arrests had started. Colonel "Radosław", Commander of Group, was arrested on 1st of August while going to the Powązki Cemetery.
I found out that a liberation action was being prepared. It was a big thing. A group of friends formed a strike group which meant to carry out the action. They decided to exchange "Radosław" for a high rank officer, for example, Military Attaché of the Soviet Embassy, General Victor Masłow. The action was carefully planned. And supposed to take place near the place where the General lived, I guess it was Klarysew near Warsaw. He was driven by car and boys of "Zośka", among others, Staś Sieradzki, organised a car to block the Attaché car at the height of so called death turn which was located a kilometre away from Wilanów, these days the turn is not a death turn any more. But the General's driver realised that something was going on, turned the car on the rails of the narrow-gauge railway and went away. I guess General Masłow did not even realise that something was going on and he was in danger.
"Świst" told me that the next day was arranged a meeting of few friends at Pomianowski pastry shop on the corner of the streets Marszałkowska and Piusa. Before I got back to Włochy, I also visted the Military Cemetery in Powązki. There were carried out burials of the exhumed fallen insurgents. It was an enormous job.

After I came back to a friendly flat at Sowińskiego Street in Włochy, after supper my mother happily told me that she managed to wash my stuff and showed me a small balcony on which were hanging my underwear and … my camouflage uniform, that one from the Stawki warehouse. I was really emotionally attached to that uniform. It went with me through the whole uprising. There was my blood on the sleeve which came from a wound I sustained in Czerniaków on 15th of September. 1944. I managed to keep it hidden throughout my stay in P.O.W. camps. It was a folded package of 30x30 centimetres, I managed to keep it hidden on my chest under the shirt or on my back during the checks. Now it was washed. I could not stand losing blood from my uprising uniform. I did not say anything to mother. Actually it was my fault as I could have said how valuable for me the uniform was.

During the meeting at the Pomianowski pastry shop, Leszek Jaskólski, he already passed away, presented another plan of releasing "Radosław". He said:
- Listen up. I know very well a place at 83 Kazimierzowska Street where the Mokotów Prison Warden lives, his name is Noga. Pay him a visit and invite him for a walk.
But it came out that Mr Noga could not be exchanged for "Radosław" as he wasn't that important in the hierarchy. There were another ideas but "Radosław" himself solved his case as few days later he issued his famous appeal addressed to the Home Army soldiers and urging them to disclose and leave the Resistance.

There were funny things related to the disclosure. Before we made our minds, we met several times, I won't hide that we drank moonshine during those meetings, but not too much. And we were thinking: should we disclose or not? Who's for it and who's against. Our last meeting took place at the night of 19th and 20th of September, 1945 and … four of us moved towards the BGK on the corner of Jerozolimskie Avenue and Nowy Świat Street.
Nice atmosphere, administration was taken care of by our girls, nurses, runners. The whole thing was overseen by the Security Bureau Major, Mr Czaplicki, real name Izydor Kurc. We called him "Akower" as his duty was to spy the Home Army soldiers. While we were filling in the disclose papers, Colonel "Wolański", former Home Army Chief of Staff, who was a member of the Committee, said:
- Officer cadets, you sign the disclosure papers as the Home Army Second Lieutenants. I will sign it.
And in such an extraordinary circumstances I learned that I was promoted and I was an officer.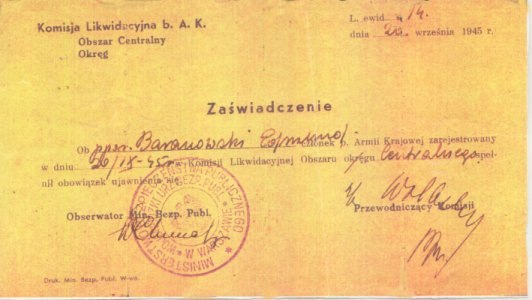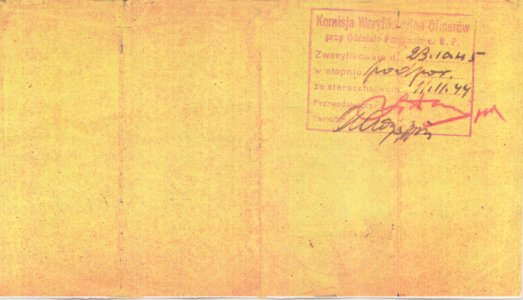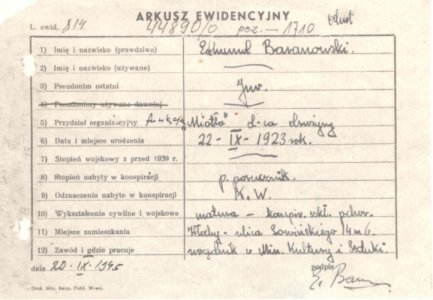 Edward Baranowski disclosure documents
During conversation with me, Major "Akower" told me:
- Well, I know that hid your weapons (the Security Bureau officers always were very well informed).
I replied:
- Well, I will get in touch with my friends to see whether they know something about it?
And I ran to "Wolański" who was "Radosław"'s deputy in the Committee. And I asked him:
- Colonel, they ask about weapons.
- How many places did you hide your weapons at?
- Three.
- So, show them one spot.
I came back to Major Czaplicki and told him:
- Major, my friends witnessed such a thing, there's weapons hidden in the orangery of Institute for the Deaf and Mute.
- I'll give you an officer and other three people.
We went with him to Książęca Street, it was not far from the BGK. We went into the orangery. The weapons were buried in the orangery, next to the tap.
- It's here, for sure.
Deaf and mute people at the Institute were surprised why we came there. The Security Bureau officers who accompanied us started digging. And found what was buried there. There were weapons from the air drops: STEN's, 3 Colt's 11.4 calibre, 2 revolvers and 1 magazine pistol, several Gammon grenades. Our stash was revealed. Documents were signed by "Igor", one of commanders, and the Security Bureau officers, and that way one of the three places where our weapons were hidden was revealed.

Liquidation Committees registered about 50 000 Home Army soldiers. The Security Bureau gained knowledge which later on was used in their many repression actions. Many were repressed and arrested. But it happened later on. On 1st of August, 1946 a monument Gloria Victis commemorating the Home Army soldiers was unveiled and consecrated at the Military Cemetery in Powązki. The celebration gathered crowds of Varosvians. We entered the cemetery, some of us in camouflage uniforms and forage caps, through the main gate.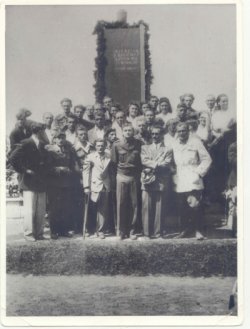 Unveil of the Gloria Victis monument on 1st of August, 1946
At the turn of 1948 and 1949, which was the peak of the repression period against the former Home Army soldiers, I got ill joints for many months. I was nailed to bed for months. Actually everybody crossed me out. I could not move neither hand nor head. It lasted for several months. I even hand a visit from the Security Bureau. They saw the condition the patient was in, and who potentially could be taken away to the Rakowiecka Prison and decided that I should live my last days at home. Luckily I got better after a year, and avoided arrest.

Life went on. In 1949 our whole group was demoted to privates.

In 1951 I got an invite to the RKU (Army Reserves Bureau). I did not know what it was about, and from the moment I went into the building I was watched. Captain who asked me to come, said:
- Give me your Army Book.
I gave him the document.
- I should arrest you.
- Captain, why?
- You falsified your Army Book. This is not your date of birth. You wanted to avoid the service, as your year - 1925 - was due in 1946.
I don't know how they found out. I explained the circumstances in which I changed my date of birth. And finally they let me go. In my Army Book which I have until today, they wrote a line, in red ink, under the round stamp, correcting my date of birth and putting the right one, year 1925. Suddenly I was 2 years younger.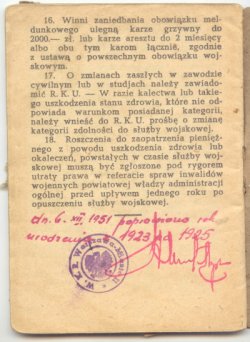 Edmund Baranowski Army Book - date of birth correction
And slowly the nightmare of war and occupation was behind us. However those days are written deeply in minds of people who took part in war. They remember the hard and injustice times which came later on. They should be happy they lived long enough to see times when their merits for the country were recognised and they were properly honoured.

* * *

There are many books written, and movies made about the occupation of Poland and the Warsaw Uprising. The truth about those times shown in those movies or books looks differently, especially when it comes to movies. As the time goes by, a screenplay writer feels free to interpret the facts and behaviour of the characters.
We don't know how the battle of Lake Trasimene, which took place 2230 years ago, really looked like, and even battle of Somme which took place only 97 years ago. We know what is written by the screenplay author. And screenplays are seldom written to achieve specific goals or make some people happy. These days, films commemorating true events look more like action movies with totally unbelievable screenplays.

I watch "Time of Honour" and get angry. Everything was completely different. Few facts. The movie was made to make viewers happy. Please notice that in "Time of Honour" all characters carry their weapons on them. They reach the weapon, pull it and shoot. And it was completely different. If there was an action, then the participants got to the gathering place without weapons. We had our reliable girls who brought our weapons and took them away after the action. We had certain rules we followed.
When we talk about actors skills, then they actually act as they were instructed by the screenplay. None of them does not know how it really was back then. There is an episode which was based on so called "Behind the curtain action". A Gestapo agent and confident was eliminated and along with his female aide. By the way, the action took place at the coffee shop, several people got killed. Few months ago I saw an episode where a group of young people found out about the location of a meeting of high rank German officers and officials. They blow up the wall and then they shoot the machine guns and kill the officers. It's nonsense.
Another episode is about a Polish-Jewish married couple who decide to escape to Israel. They got a letter from Haifa which was impossible, they could not get out from Poland for money. In fact, there was a case of so called "Hotel Polski", hundreds of wealthy Jews accepted a German proposition to pay them a lot of money and in exchange, they would get the South-American countries passports and with those passports they would be allowed to go to Canada. In the movie, "Time of Honour", it is very simple. At some point, the couple is taken to the courtyard and shot. But the truth was more, I would say, movielike. A group of Jews which resided at the "Hotel Polski" was taken to the railway station by cars, uploaded on to the 1st and 2nd class railway carriages and taken to Auschwitz. And they were murdered there. I think this story should have been shown as it was and it would have been more convincing comparing to one more killing scene shown in the movie.

In 1970 was made an excellent movie and TV series "Kolumbowie" based on the Roman Bratny book "Kolumbowie rocznik dwudziesty". The film is remarkable, great cast, perfect acting. And most of all, it perfectly shows the reality of the Warsaw occupation. The "Kolumbowie" film is not only about the uprising fights but it's about the Resistance in Warsaw between 1940 and 1944. The film could be coloured. And once it's done and shown to the public, especially young people, it could play a very important role to commemorate Warsaw uprising anniversary.

The 70th anniversary of the Warsaw uprising outbreak is coming soon and it will take place in August 2014. I hope that General Time will allow me and my friends take part in this celebration.
In connection with the above date, there is a number of initiatives going on. I would like to mention two of them, they are very interesting.

Just recently 3 young architects presented their idea to commemorate the 70th anniversary of the Warsaw uprising outbreak by erecting a 45 metre mast in the centre of Warsaw which would have a white-red flag with the Poland fighting symbol put on the top and the flag would have 100 square metres. According to the project, the mast would be erected at the "Radosław" roundabout. Very important is that City Hall supports the idea and declared to finance the project.



Project of the mast with a flag on the top
It is a logistically complicated operation. The "Radosław" roundabout is a square through which go 4 trams, there are overhead lines. It is difficult to come up with ideas related to how to put a 45 metre high mast there? We proposed that the mast, which we find to be a great idea, is located on the side of the roundabout. There is a monument and a plaque commemorating the "Radosław" Group and sufficient place for such an idea. I think that would be the best possible location.
If that option is impossible to pursue because of the land ownership issues, we have an alternative idea which is to locate the mast in the south-west edge of the Krasińscy Garden, at the place where Pasaż Simonsa was located and currently is a symbolic grave of the "Chrobry" battalion soldiers. Two levels underground, there is buried an estimate number of 300 soldiers. It would be a good way to commemorate those who are buried there. Apart from that, this place is, as if, an entry from the Wola side to the Old Town. There is also another alternative third location. And the third location is Krasińscy Square nearby the sewer entry through which soldiers of the Old Town evacuated to Downtown.
The designers think that the white and red flag is a holy symbol of both, Poland and Warsaw. And the flag witness our history, days of glory and defeat. Our city should pay a tribute to the flag and heroes who fought in its defence by creating space to decently locate the flag. The designers think the Roundabout of the Home Army "Radosław" Group is a place sanctified by insurgents' blood and where three Warsaw districts meet: Wola, Śródmieście and Żoliborz. And each district witnessed the heroism of insurgents. However, the flag not only relate to the Warsaw uprising legend but should also be a symbol of great and strong Poland, the symbol of the national pride which can be observed not only during Day of Flag, Independence Day, but every single day.
I admire those thirty-year old people who reach to history. It is a very rare example when young people reach to history.

Second project which I wish to mention is a film "Miasto 44". According to schedule, the film was meant to be finished before August, 2014 and the first screening is planned during celebration of the 70th anniversary of the Warsaw uprising. The screening will take place at the National Stadium on 30th of July, 2014 at 19.00 hours. There will be a sector on the pitch reserved for the veterans only and space for about 20 000 people. The film will be shown on a gigantic screen. This project definitely deserves every possible support.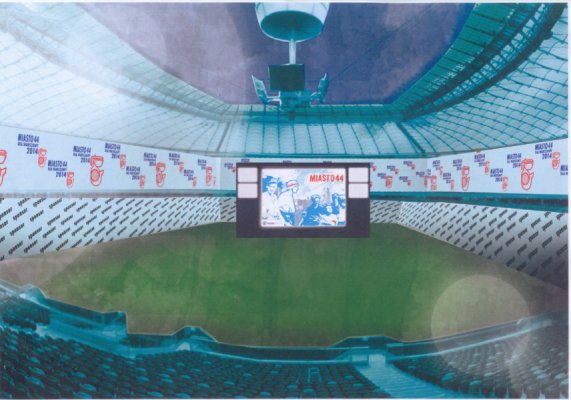 Design of screening "Miasto 44" at the National Stadium
Unfortunately, veterans, Warsaw uprising participants, have their doubts about screenplay. The screenplay relates to certain true events from the uprising and reading the screenplay it can be assumed that characters of the movie belong to one of the units of the "Radosław" Group. Presenting the uprising events requires being strict with the facts. The eye witnesses are still alive who were and fought in places shown in the movie. At the moment, the fourth version of the screenplay is being consulted. Certain suggestions came from insurgents and those were accepted, however, there are still many questionable cases. We can not agree to the manipulation of history, showing insurgents as conflicted people, vulgar or sometimes simply brutal. Soldiers of the Group never murdered defenceless German P.O.W.'s The film shows sex scenes in Czerniaków and those are simply funny. It needs to be remembered that insurgents fought there for 2 weeks and they were unwashed, they wore dirty clothes, and were permanently depraved of sleep. In such a situation you just don't think about sex. Grotesque scenes are when the SS-men parade all in gold and in company of Polish prostitutes who wear high heels and carry suitcases from inside of which, at certain point, wealth comes out. Such things never happened, as Czerniaków was rather a poor district. Being, as if, a group of viewers to who the film is addressed, we would wish that the film mirrors true events and facts. If it is a movie about uprising and insurgents, then insurgents in the movie should be like us, as we were then. I don't know how our consultations end up. I hope that idea to satisfy not-always-the-most-demanding public taste will not win and will not be more important than the truth in this film. At the moment, consultations are still conducted. The last subject which I wish to mention is a meeting of insurgents with youngsters of several Warsaw high schools. It took place at the Nowak Jeziorański room at the Warsaw Uprising Museum. 4 uprising veterans invited youngsters of 3 Warsaw high schools: Batory, Rejtan and Staszic. Over a hundred of youngsters came out. The proportion was right: half girls and the other half boys. We wanted to tell them what shaped our personalities and what impact our schools, families, scouting movement, literature had on us. A lot of our pseudonyms came from literature. At first our discussion was slightly boring. But at some point I asked them a question: - My dear, do you fell citizens of Poland or more citizens of the Europe of all countries, as it was called by de Gaulle? And from that moment on, we had more vivid discussion which had to be stopped after an hour and a half. We were out of time and everybody wanted to express their views on the subject. Everybody felt Polish. But what interesting, everybody felt that their future both, private and professional, is there in Europe. I feel that there is a lot to do in this subject, so youngsters become aware that "I am Polish", and repeating Dmowski words; "but I would like to live and work here, in Poland". And that's a big task as this case is more than difficult. We would like to meet again and talk to youngsters, but also to their teachers. In the recent time, there was published a lot press releases, for instance in "Polityka" magazine, on youngsters and their attitude to the passing generations. Those articles are very interesting, but also make us think about the subject. It shows that things are not always as we want to see them. Exactly like in that pre-war song: "But in the real life it is always different, And that's why you sigh and cry, Sometimes you write poems when you're young, For the same reason. Because dream is chasing a dream, And when it comes to real life, you get nothing".

Edmund Baranowski

March 2013

Editor: Maciej Janaszek-Seydlitz

Translation: Janusz Kocerba



P.S. Lieutenant Colonel Edmnd Baranowski is the Vicepresident of the Warsaw Insurgents Association, Secretary-General of the Foundation Polish-German Reconciliation, and member of the Trust Council of the Warsaw Uprising Museum.
Awarded Cross of Valour for bravery in the field. Also decorated by the State, among others, the Commander's Cross with the Star of the Order of Polonia Restituta. He is an author of several books and researches relating to the Warsaw Uprising.

Baranowski Edmund
Born 22nd of September, 1925 in Warsaw
Second Lieutenant of The Home Army, pseudonym "Jur"
The Home Army "Radosław" Group
Company "Jerzyki" of the "Miotła" battalion
P.O.W. number: 222825

Copyright © 2018 Maciej Janaszek-Seydlitz. All rights reserved.