The Witnesses' Uprising Reports
My stolen childhood - a story of a teenage Home Army soldier
---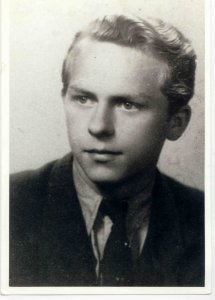 Henryk Stanisław Łagodzki,
born on July 15th, 1927 in Warsaw
Home Army soldier
wartime names: 'Hrabia', 'Orzeł'
Chrobry II Grouping , Battalion 1, Company 2, Platoon 1
Stalag IV b, prisoner of war no. 305785



We present a moving story of a Warsaw boy who witnessed the cruelty of war time and experienced the tragedy of his own and his hometown. He was 12 years old when the World War II broke out and only 14 when he joined the Underground organization. He took the Home Army soldier's oath at the age of 15. He was arrested by Gestapo when he was 16. He was imprisoned in Gestapo headquarters in Szucha Avenue and later in the Pawiak prison and KL Warschau concentration camp. After his successful escape from the transport, he had to stay in hiding. On September 1st, 1944, as a seventeen -year- old soldier of Chrobry II Grouping, he joined the Uprising. After capitulation, as one of the youngest insurgents, he was sent to the German POW camp. He came back to Warsaw in 1945 . He was not the only one to go through wartime ordeals. Many of his comrades paid the ultimate price. He survived to testify to history and the truth.
Maciej Janaszek-Seydlitz
translated by Gabriela Sudacka


German occupation


First battle


Night raid to Siberia


The barricade on Wronia Street


The Panska 108 reboubt


"Stork", "Heads" and "Coin"


"Defence redoubt 105 Panska Street


The liaison officer


Capitulation


Captivity

Copyright © 2005 Maciej Janaszek-Seydlitz. All rights reserved.